Russia's trump administration's smog policy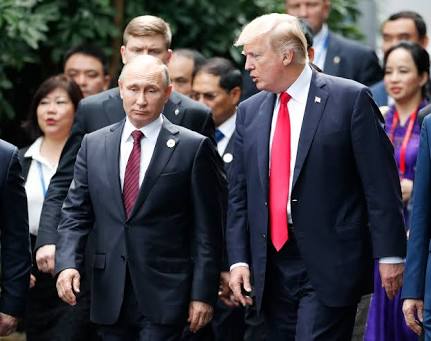 After the Cold War, the 'cautious' diplomacy with Russia has maintained diplomatic relations with allied nations including the United States. In many cases the country has been kept in suspicious list. After the Crimean Crimea took place in Ukraine, the United States gave a big block to Russia. Still, America's relations with the country have progressed through a 'clear' policy. But after the 2016 presidential election, there was a lot of change in the scenario. Getting Donald Trump's nomination as a Republican candidate was as surprising for many; There was a greater surprise than being his president.
Since the election, the fingerprints of the charges are in Russia. It is said that Russia has influenced the United States presidential election in 2016. Not only that, the investigation is going on in front of many of the Trump Campaigns in connection with the connection and collusion of Russia. Robert Muller, former Director of the FBI, was appointed as special counsel for the investigation. President Trump and the people of his administration have been very strong since the beginning, there was no involvement with Russia in the elections.
Although the Special Counsel has already filed a complaint against some of the people related to the Trump administration. 13 people and three organizations of Russia have also been blamed. But after taking power, many people commented that President Donald Trump's policy on Russia is not clear. Donald Trump praised Russian President Vladimir Putin many times during the election campaign. Even then President Putin is a better leader than President Barack Obama. Despite being elected, Donald Trump has expressed interest in working with Russia. From that point of time, he never wanted to comment directly against Russia's President Putin. Although there was a new ban against Russia during the Donald Trumpur's duties. Special Counsel Robert Mueller, who accused the 13 people of influencing elections, along with a few others, the Treasury Department has banned 19 people. Some Russian companies have been blacklisted. When the former Russian detective Sergey Screepel and his daughter Eulalia were tried in the UK for trying to kill them with toxic chemicals, it was alleged that the President Trump took some time to criticize Russia. Although the American ally of the United States blamed Russia for the incident, Britain has also expelled 23 diplomats, including President Putin, directly responsible for that incident. And the trump administration itself shows the biggest reaction to the side of the Allied country. 60 Russian diplomats were expelled. The Russian Consulate in Seattle is closed. Many countries join with Around one and a half Russian diplomats were expelled worldwide. And during the reign of President Trump, this initiative is seen as the toughest against Russia. Although Russia also expelled diplomats from different countries including the United States, they responded counter-replies. But after all, there is no doubt that there is a smog on Russia's President Trump's policy, analysts say. On one hand, President Trump is congratulating Mrs. Putin on telephone after being elected again in March, while on the other hand, the administration is implementing a stringent measures to expel the diplomat and close the Seattle Consulate Office. Commenting on such a situation as 'contradictory', security analyst Clint Watts expressed surprise. He said that the country has been accused of influencing elections. How can the President Trump congratulate Putin after the country is still running cyber attacks in many ways, after being elected as the country's president! Former CIA Director John Brennan said he had worked with six presidents. But he can not match President Trump's position on Russia. Many people may have forgotten that the Secretary of State Rex Tyleron has warned about Russia in his outgoing speech. Especially the country was also advised to be careful about the country. Outgoing National Security Advisor General H.R. McMaster also said that America and NATO have failed to take proper measures against Russia. In his outgoing speech, he reminded Russia that in many ways the western world was hit by modern society. He cautioned that failing to take necessary action against all these means, the Kremlin will become more desperate. Although HR McMaster praised the role of trump administration in spite of attempt to murder the spy in Britain. President Donald Trump said about the interest of working with Russia a few days ago. As a result of some action taken against Russia's sanctions and diplomatic expulsion, criticism has been ongoing on the issue of President Trump's unusual "silence" for a long time. Meanwhile, NBC News reported that the president has now ordered everyone in his administration, to talk publicly on Russia-related issues. On Monday (April 2th) a Kremlin spokesman told Russian reporters that on March 20, the President Trump proposed talks with Russian President Vladimir Putin in a face-to-face meeting. After the speech came from Moscow, White House's press secretary Sarah Sanders talked about the issue. He said Trump-Putin could be meeting face-to-face. Sarah Sanders said that the White House is also considered as possible place for the meeting. If so, then you may see Trump and Putin face-to-face in the White House. Again, on Friday (April 6th), the United States has banned Russian partner Vladimir Putin's seven associates and 17 senior government officials. The ban was given by the Treasury Department. According to the ban, there are 12 companies owned by Putin partners, state arms exporters and a bank. Among those close to Putin's list are the billionaire Oleg Dripipaska and lawmaker Suleiman Karimov. Russia's ongoing 'vicious behavior' has been called the reason for the new ban. As a result, there is no clear idea about President Trump's policy with regard to Russia due to two different types of behavior. There are many analyzes about Putin's 'fascination' with President Trumpk. Although there are many floating data in the media, there is no clear connotation. Owing to international barriers, with President Putin, trying to keep a record of President Trump, many security analysts surprised. So many questions of the people of the country, what is the principle of trump administration in Russia?