The collapse of Carillion smacks of Lehman Brothers, Bear Sterns and the 2008 Financial Crisis all rolled into one. This is just the beginning..!!
Why the collapse of Carillion should be setting off alarm bells, not just in the U.K., but all around the World..!!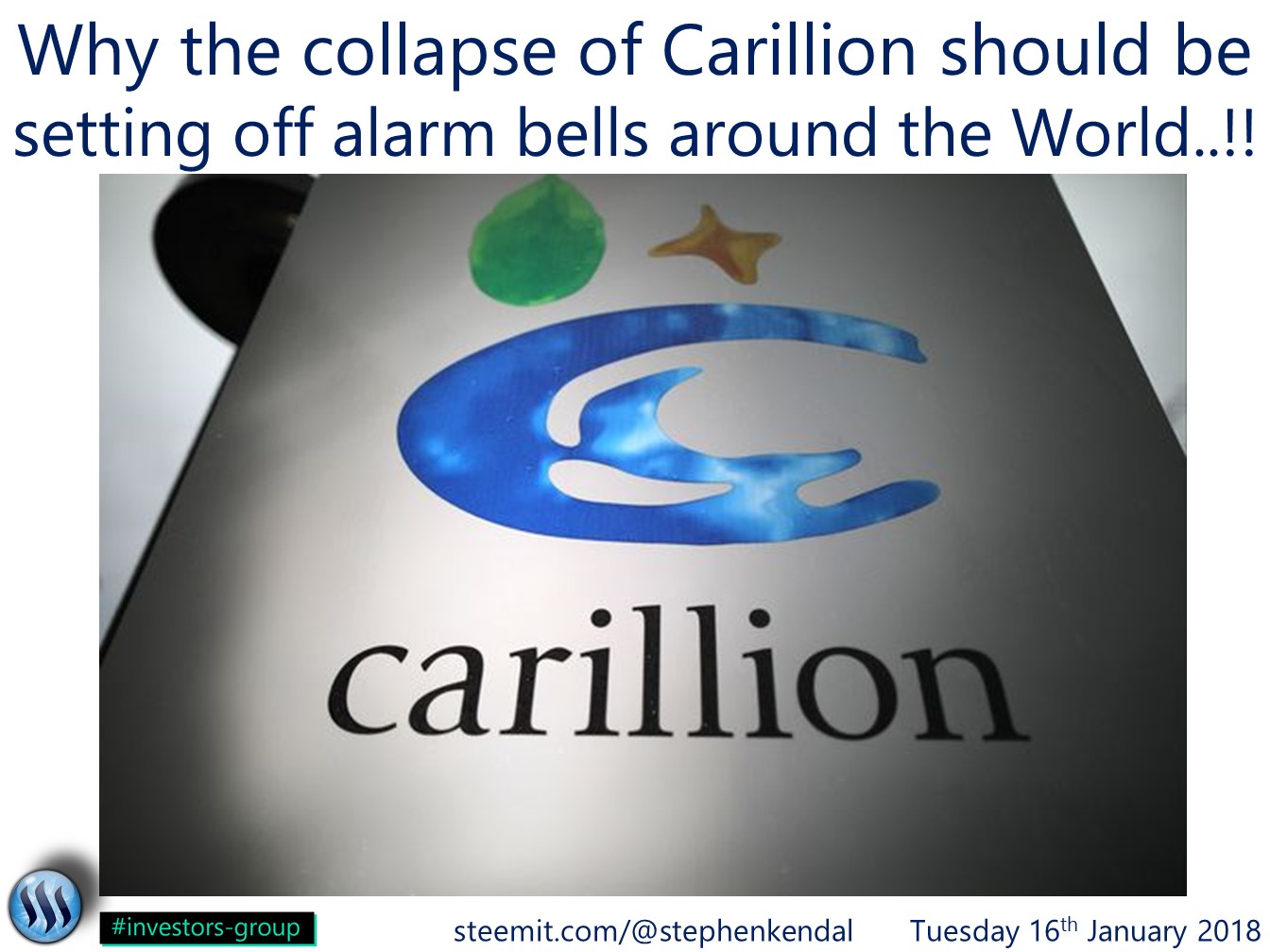 Collapse of Carillion should be setting off alarm bells..!!
Most of you who follow the financial news will be well aware of the recent collapse of Carillion in the U.K.
Yesterday morning Carillion went into receivership with debts that are currently being reported in excess of $1.4 billion and I have no doubts at all that this figure will be much higher as the contagion of their demise spreads through the supply chain.
For the ones unfamiliar with Carillion, they are a large Construction Company and Service Provider that has seen a rapid expansion of the last few years through acquisitions and takeovers.
Over +30 years experience in the Construction Industry
Regular readers who have followed me on #Steemit over the last 17 months will know that I have over +30 years experience in the Construction Industry, having focused most of my career in: Construction Finance, Construction Management, Contract Procurement, Cost Management and Data Systems.
With this +30 years experience in Construction Finance under my belt, it has helped me sniff out many problems, on many occasions before they occur, and with the recent collapse of Carillion, my sniffing senses tells me that this is just the beginning..!!
Private Finance Initiatives (PFI) Projects
For anyone unfamiliar with Private Finance Initiatives (PFI) Projects, rather than trying to explain them in my own words, I thought it would be simply easy to share this with you.
It helps explain them in simple terms.

Credit: wikipedia
I am very familiar with PFI Projects as I as was personally involved in creating them in the late 1990's / early 2000's when they were first introduced and I am fully aware of the risks associated with them.
In very basic terms, a PFI Project supposedly brings together the Public and Private Sector together in a Strategic Partnership and by doing so transfers Debt and Liability over to the Private Sector.
These PFI Projects are ok when when they work, but when they fail the consequences could be unimaginable simply by the mis-allocation of Debt.
Public Debt vs. Private Debt
Over the last 10 years since the 2008 Financial Crisis, debt has spiralled out of control, but it is not just the debt, it is the type of debt that should be setting off alarm bells.
Public Debt is one thing, but Private Debt is a whole different ball game and with the recent collapse of Carillion in a sea of Private Debt, this story is far from over.
Over the next few weeks I suspect that we are going to hear a lot more, a hell of a lot more, from the collapse of Carillion and I would not at all be surprised if we witness a domino effect not only through the Construction Industry, but across Banking, Finance, Manufacturing, Insurance and Service Sectors, to name just a few.
Accountability and Transparency
I have no doubts at all that the two factors that will take centre stage throughout the inquiry into the collapse of Carillion will be: Accountability and Transparency.
The ink is still wet on the Bankruptcy Papers and already it is common knowledge that the U.K. Government were well aware of the dire financial position of Carillion in the run up to their collapse, and yet continued to award huge Infrastructure and Service Contracts to them despite the continued alarm bells being rung.
It is this Accountability and Transparency that are the two issues that I am most particular interested in, as fits nicely into what I have been championing now for over 4 years, and that Administration of Central Government has to be lifted out of the archaic and antiquated systems used in the dark ages, onto the Decentralised Distributed Ledger Technology of the Blockchain.
This migration of Administration has to take place now, or we will simply be papering over the cracks knowing that nothing has really changed.
Roads, Bridges, Tunnels, Drains and Infrastructure collapsing
It is not just in the UK, but right the way across the Western World, that our: Roads, Bridges, Tunnels, Drains and Infrastructures are collapsing, and this is a MASSIVE PROBLEM.
For decades, the Private Sector has focused on quick Profit Margins for the benefit of the Shareholders with a total disregard to the future liabilities of our Infrastructure.
I am sorry to be the bearer of bad news, but with +30 years Construction experience under my belt, I have kind of earned the stripes to say that as far as the Infrastructure goes in the U.K. things are bad, they are REALLY, REALLY, REALLY, REALLY BAD..!!
The next time you drive around your Neighbourhood, Town, City or out in the Country, take a good look at the roads, bridges, tunnels and infrastructure, and tell me whether they are falling apart or not?
I bet I know what most of you will say..!!
Thanks again for reading.
Stephen
Please feel free to use the #Investors-Group tag for: Stocks, Cryptocurrencies, Commodities and Investment related Blogs.