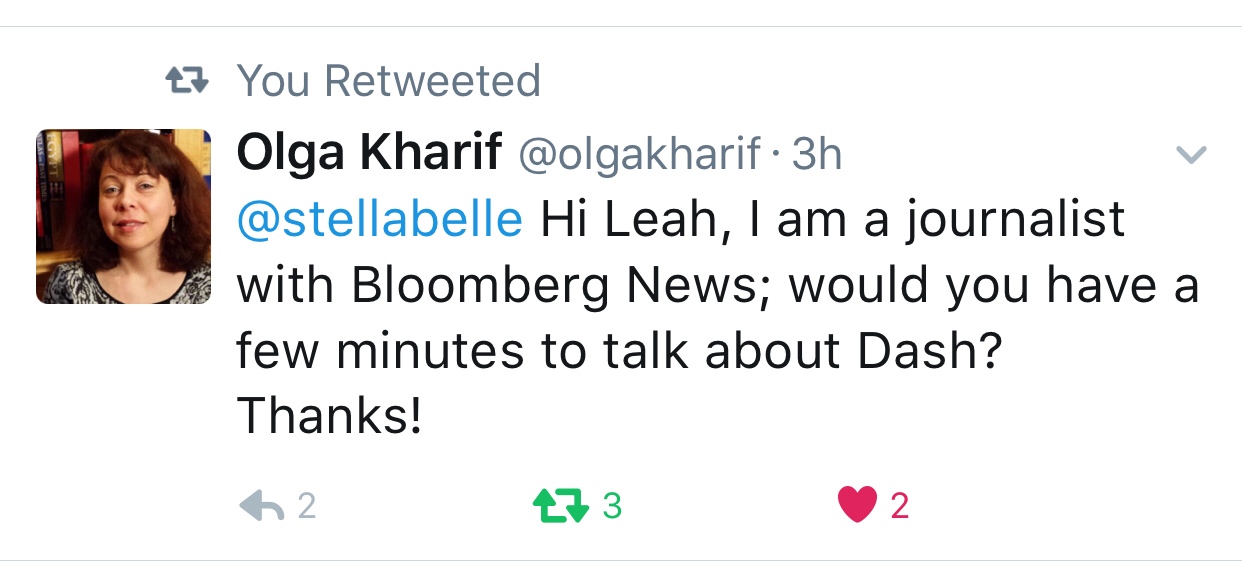 Sometimes when you least expect it a journalist from a big news agency like Bloomberg News finds you on Twitter and wants to interview you for a story. You can see the entire exchange here: https://twitter.com/stellabelle
THIS JUST HAPPENED TO ME
Today I was busy writing my article about Amanda B. Johnson, so I wasn't very fast in responding to the Bloomberg News journalist. I just found her tweet to me a few minutes ago.
The Bloomberg News journalist, Olga Kharif, just replied to my email minutes ago, and I sent her the link to my Steemit article about Amanda Johnson. So, she might be using my article for information (possibly) and then sourcing information from it as I type this. It's difficult to know for sure, though since the email reply I got from her just now was vague: "Thank you so much, Leah! Will check it out!". I expected her to ask me some questions, but she may have already found someone else to interview since it took me a few hours to respond to her tweet.
Here's Olga's official Bloomberg News articles: https://www.bloomberg.com/authors/APyzq5YvgSE/olga-kharif
She's the real deal.
Anyone who doesn't understand the value of Twitter is basically an idiot. Most journalists and reporters now use Twitter to find people to interview for their stories. They generally do a keyword search on Twitter and contact the people who they either find interesting or who have the latest tweets on the topic. I've been pretty active on Twitter recently due to my full-on research about everything relating to Dash including buying my first Dash coins. Apparently others are doing the same thing.
What put me over the edge initially was not the price hike. It was Amanda's video of her presentation at Anarchapulco:
Sort of on a related note, why didn't Dan present Steemit at the conference? I had seen many videos that said he would be there.
Anyway, Amanda's Dash presentation was killer and after I watched it, I thought very differently about Dash. I think a lot of other people had the same thought because that's around the time the coin started to go up in price. At least that's what I'm thinking, but I have no concrete way of knowing for sure. The more I learn about Dash, the more I can appreciate its organizational structure, especially the treasury. It's a brilliant design that properly incentivizes people from the look of it.
I'll keep you all informed if the Bloomberg News journalist contacts me for further questioning. I'm curious to find out what sort of article she'll write in the near future about Dash.
Update: I just got done being interviewed by the journalist. I told her that I got into cryptocurrency because of Steem. I have no idea exactly what she'll write or even if she'll include me in her article...but she said she might use some of my comments...