State of the Sndbox is a weekly newsletter that provides the latest in Sndbox activities, projects, and provides the best resources in creative empowerment for the Steemit community. To get up-to-date on all of our development throughout the week, be sure to follow us @sndbox.

Image by contest winner @grivina

This Week in the Sndbox
---
Welcome to the 47th State of the Sndbox newsletter!
This past week, we held the Crypto Renaissance Design Competition, gave some Project Spotlights and released a Steem-Powered Digital Guestbook.
For a more thorough breakdown of what our members have been up to, be sure to go through our weekly Sndbox Selections of the Week post that we publish each week.
The Crypto Renaissance is Coming, and it needs you!
---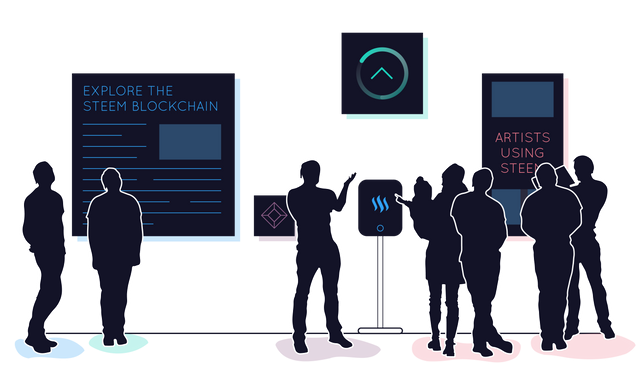 Our first exhibit at the 1st floor Gallery of the 100 Bogart Building Complex in Brooklyn, New York will be wrapped around the power of Steem's decentralized applications and the experiences of our first cohort while touching point on their empowered Sndbox projects. The exhibit will run from July 20 to August 15 and will showcase a Donor wall which has a collage of Steemit personalities that contributed to the exhibit as well as a kiosk for creation of new accounts for visitors.
Here's your chance to flex your creative muscles with another Steem-powered Design Competition for our exhibit poster and collateral. Three winning posters will be chosen to represent and promote the exhibit.
Read the mechanics here to join the competition.
Project Spotlights: Music Made from SBD, Community Park Funding, Collaborative Art
---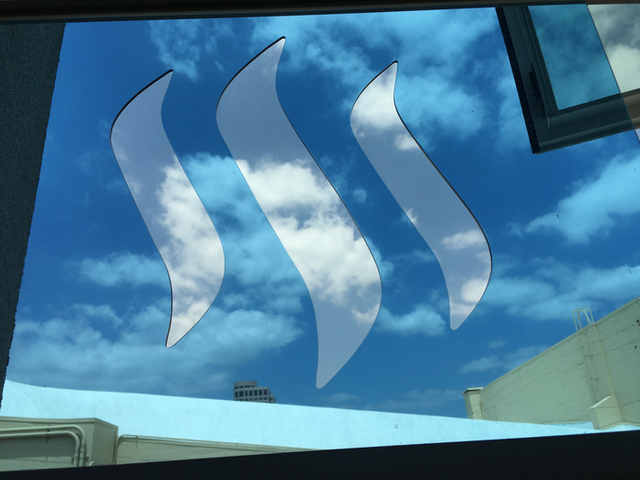 The "Sndbox Project Series" brings you the latest updates on all Steem-powered projects led by current cohort members.
@kr-marketing informs us on the nature and function of nation-based exchanges through the newly released flashcards of their Blockchain Encyclopedia. The latest installation by @pyrowngs to @mrblinddraw's #whisper Gallery where artists interpret work and continue a thread of innovation with their peers. @blockmountain is in the process of developing Steem's first community powered music album, they featured @bengy's experience with recording and stitching through a resteem. @leotrap talks to us about crowdfunding using the Steem Blockchain to fund a collaboration project with @lotusleaf to renovate a Sports Plaza in El Chorro, Uruguay. @playitforward keeps busy with his new musical composition conceptualized around Steem price history. At the same time, he also kick-started his FRAMED photography project where he used acrylic transparencies and colorful highlights to create vibrant portraits.
See the complete details of the projects here.
The Blockchain Hub of NYC
---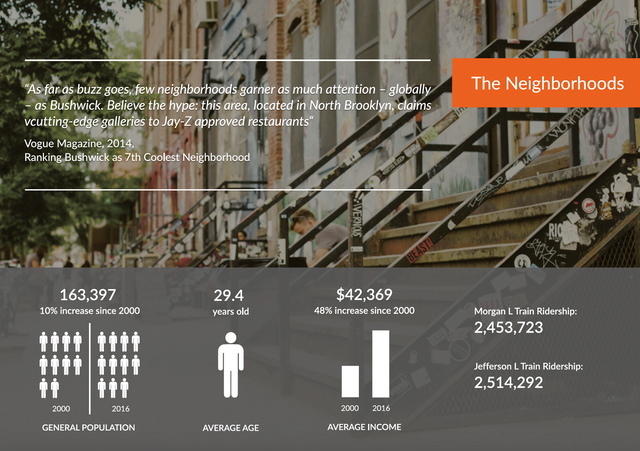 @exhibition is a community account to be used for events, galleries, workshops, marketing, presentations, and meetups.
Our latest posts on @exhibition takes a look at Bushwick, its history and how its location in Brooklyn puts it in the middle of Cryptolandia. 100 Bogart is a building complex in Bushwick where the first Steem-Powered Exhibition in NYC will be held. Also called "The Crypto Renaissance", our first exhibition will run from July 20 - August 15.
For a better picture of what to expect in our upcoming exhibition, read the full post here.
A Steem-Powered Guestbook
---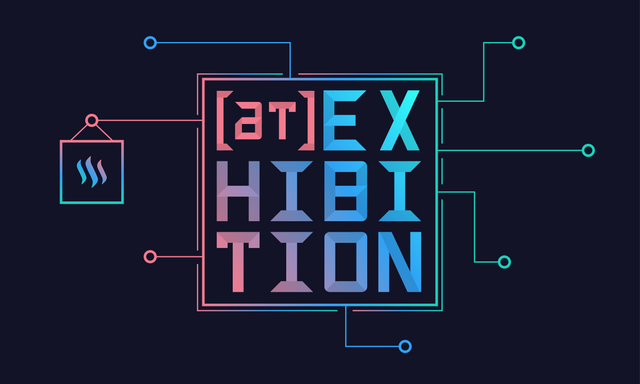 @exhibition will be a main focus of interaction at "The Crypto Renaissance" exhibition as a guestbook for gallery visitors to get themselves engaged in the Steem blockchain. Free Steemit accounts are up for grabs for spectators of The Crypto Renaissance Exhibit starting on July 10 in New York City.
More information about our guestbook here.
Tron Art & Design Challenge Winners
---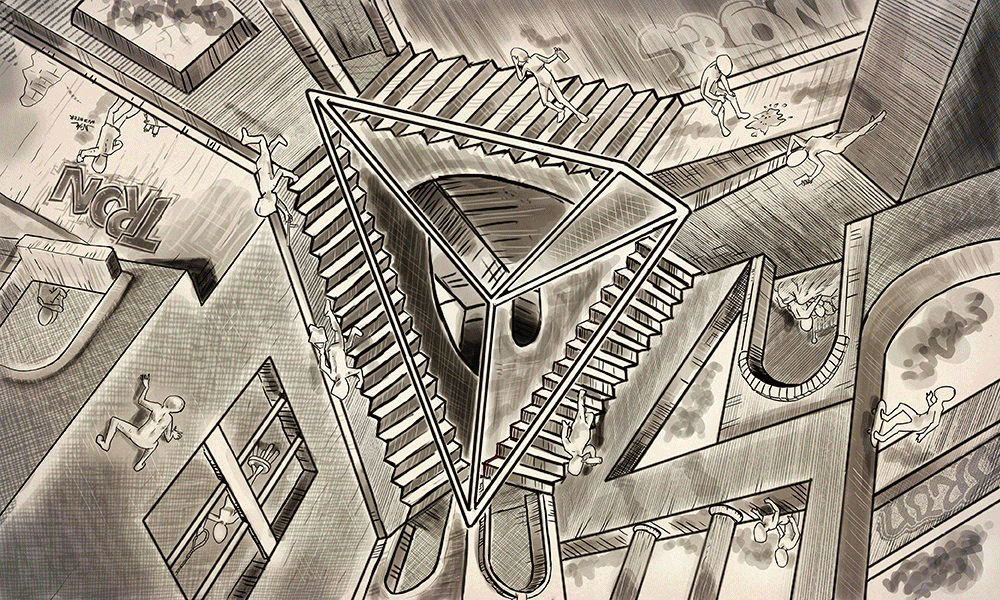 Drawing from Hollywood and Renaissance inspirations, the top 5 ranks in last week's Crypto Art & Design Challenge are @anomt's Escher Maze, @teafp's Golden Dress, @sentanu74's Guernica, @wgustaman's Timeless Gem, and @dzulfikartns17's Risque Flash. Some favorites that made the honorable mentions were @sensen13's Menhir, @permanayogi's This is Not A Crypto, @ceheiberg's DigiDessert, @beladro's Tron Deco-ration, @ninjace's Classic Animation, and @mbell's Wink at Tron.
Click here to see the winners.
An Unlikely Crypto Creative: HODLCRYPTO
---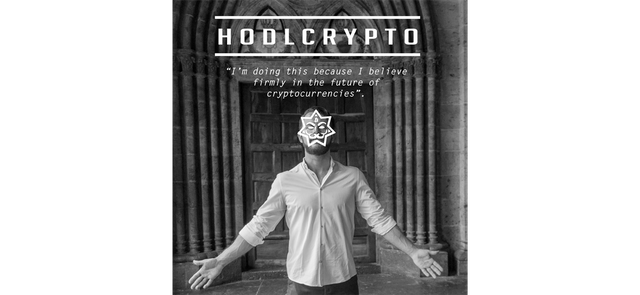 Luis Poletti, the creative mind spearheading crypto-related projects such as HODLCRYPTO, shares his interesting journey into the blockchain space from graduate school and cubicle slavery. He creates graphic art that cultivates the people's curiosity in cryptocurrency, letting them know its importance from a long term perspective and announcing the potential for blockchain technology to open up new avenues that support entrepreneurial artists. Moving forward, he will be collaborating with a couple other artists on concepts of propaganda and art collections.
View the guidelines here.
Blockchain & Bourbon Weekly
---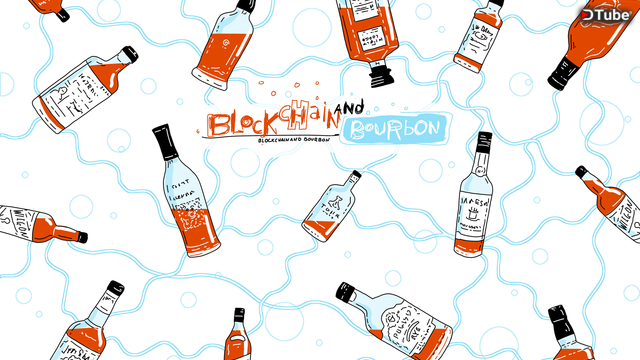 Blockchain and Bourbon is a weekly webisode by the makers of The Creative Crypto Magazine streamed LIVE on multiple social media apps such as Rize and Facebook.
Last Friday on Blockchain and Bourbon, we had an animated discussion about the important role of cryptocurrency exchanges in the aspects of financial, cultural and social integration in our day to day lives.
Watch the edited webisode here on @dlive.
Next week on Blockchain and Bourbon, watch and hear us talk about platform tokens and their contribution to the momentum of blockchain and crypto. We will also touch point on the latest developments of PROPS Kit SDK. Join our conversations, every Friday at 4PM EST.
Sneak Peek of the Creative Crypto Billboard and Best of this Week's Billboard
---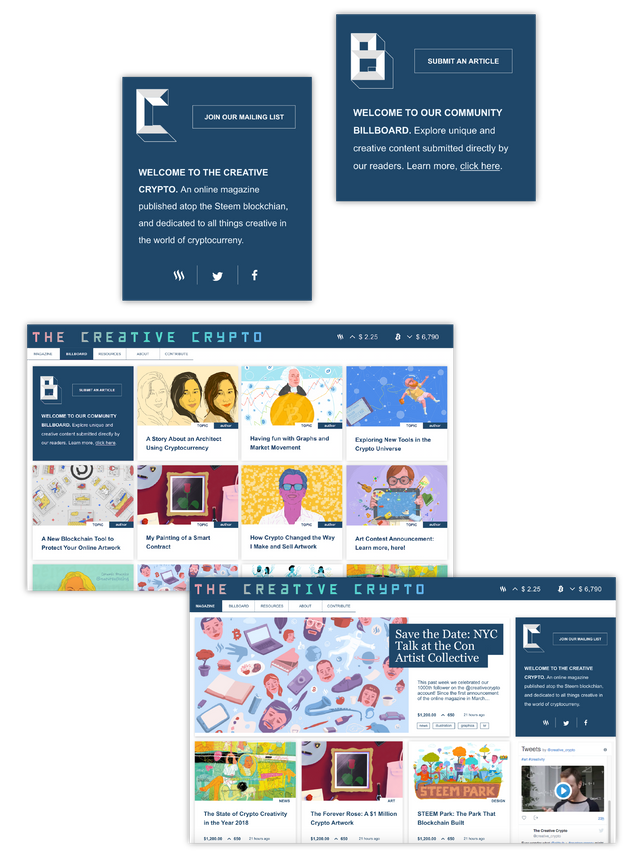 The Creative Crypto Billboard (@cc-billboard) is a new feature on The Creative Crypto magazine site that works on content submissions. It has received close to 100 submissions in the last week since its launch. The Creative Crypto's open source UI is available on Github and is open for everyone to adapt for their own Steem promotional projects as a public facing design that will attract new users and creative professionals into our Steem-powered world.
@cc-billboard is on fire with more than 20 posts, including our summary of the Best of this Week's Billboard!
Keep yourself in the loop about Blockchain related topics on the billboard that include the possibility of Decentralized Nations in our future, Anonymity and Social Growth: Blockchain's New Proposal, and Steemit's Most Creative Upvote Bots.
The billboard inspires creative content through posts like SuperRare: Digital Creations and Creativechain: Safely Certify your Works. Some musically inclined posts include Behind The Scenes of the Hip Hop The Blockchain Music Video Shoot, Revolutionizing Music with the Blockchain through Musicoin, and an invitation to curate music on Steemit.
We also introduce Welcome to The Spotlight with our first feature on Young OG.
These new facets of The Creative Crypto is just the start of our decentralized future, read more about the Creative Crypto and Billboard updates here.
The Creative Crypto Video Competition Winners
---

Last week we sent out an invitation to all Steemians to bring life to our Creative Crypto Logo in an intro / outro video format for our weekly broadcasts. First prize goes to this playful creation by @teneresa! Placing in 2nd to 5th place respectively, are @happyksu, @ninjace, @myaceh and @tkdesign. Big thanks for your submissions and keep watch on the @sndbox page for future Crypto Art and Design challenges!
View the different animations submitted by the winners here.
Blockchain Oracles
---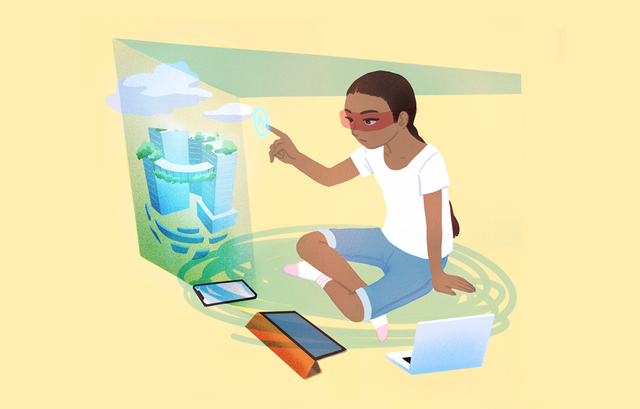 What if you could empower your in-real-life community with a digital upvote?
We cover ground on a major point of interest as we talk about Neighborhood "Oracles" and having physical places replace the role of social media influence as demonstrated in Steem Park which was funded 100% by the Steem blockchain.
Surely an interesting read, check out the full post here.
Designing for Volatility
---
A rapidly transforming industry requires flexibility and understanding of risk factors when it comes to creative projects on the blockchain. This is one obstacle and learning from our Steem Park project. Aside from that, there was the volatility of the support and reactions up until completion of the project.
Read more about these learnings here.
The Creative Crypto - Artists and the Creative Crypto Roadmap
---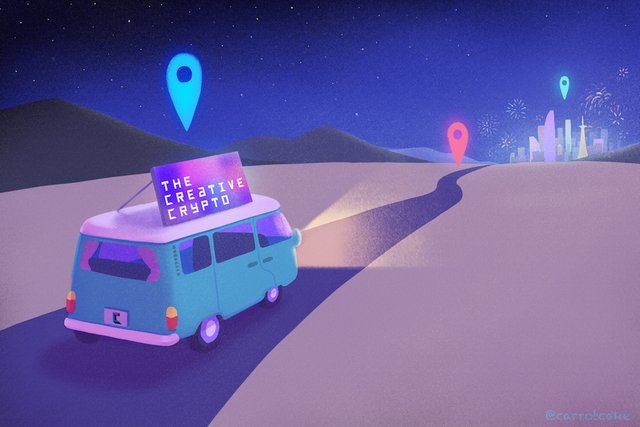 The Creative Crypto Magazine goes behind the scenes as we give a shout out to the amazing Creative Crypto illustrators, @zsolt.vidak, @carrotcake, and @dunsky that make our magazine come to life.
As we move forward after our first milestone of the year, publicly releasing The Creative Crypto's open-source interface, only exciting things lie ahead! We share our planned projects for the upcoming quarters such as our recent announcement of The Creative Crypto Billboard, The First Partnered Content Series, Contribution and Sponsorship Features, Community Activities and Events and lots and lots of Resources!
Want to know more about our anticipated milestones? Read more here.
---
A warm thanks to @sndbox's SoTS guest author; @luvabi. Abi is a member of Sndbox's first Cohort. [Guest Authors receive 20% of the SBD rewards, and an opportunity to showcase projects developing within the incubator / broader Steemit community.]
---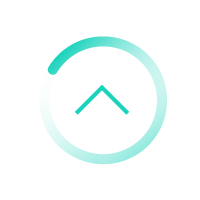 Want to support Steem content and authors like these? Consider joining our curation trail! You can learn more about the @sndbox incubator mission and program here.
---
Help us spread the word. Follow our Twitter, YouTube Channel, and our magazine, The Creative Crypto / @creativecrypto!
---
Thank you for reading this week's State of the Sndbox.
Be sure to follow for all of our daily posts and weekly newsletter.