Former FBI Director James Comey's prepared statement can be found here:
https://www.intelligence.senate.gov/sites/default/files/documents/os-jcomey-060817.pdf
I apologize for the short commentary, I wanted to get this up on Steemit for discussion prior to his appearance before the Senate.
Please feel free to comment and upvote throughout the testimony.
---
Direct quotes:
(Trump) said, "I need loyalty." (Comey) replied, "You will always get honesty from me."
(Trump) said, "I hope you can see your way clear to letting this go, to letting Flynn go. He is a good guy. I hope you can let this go." (Comey) replied only that "he is a good guy." (Comey) did not say I would "let this go."
(Comey) told (Attorney General Jeff Sessions) that what had just happened – (Sessions) being asked to leave while the FBI Director (Comey), who reports to the AG (Sessions), remained behind (to discuss the FBI investigation of General Flynn) – was inappropriate and should never happen. (Sessions) did not reply.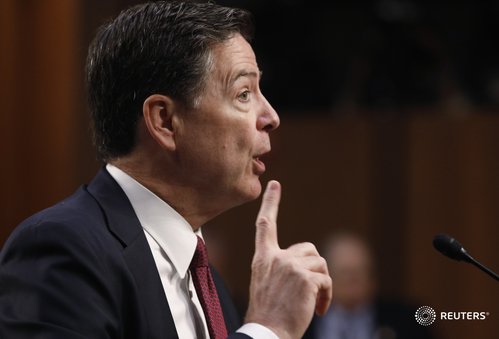 Courtesy of Reuters
Live Reuters Feed: http://live.reuters.com/Event/Live_US_Politics