By Harley Schlanger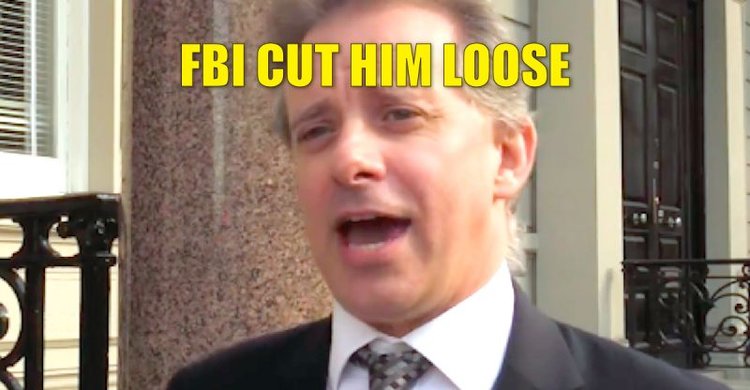 On Tuesday the headline from Zerohedge said, "Steele Goes Dark; Ditches London Court Appearance Following Criminal Referral By US Senate". The 84-year-old Senate Judiciary Committee chairman Sen. Charles Grassley (R-IA)'s released, now mostly unredacted memo demonstrating that the former British spy Christopher Steele not only lied to the FBI about his dossier media contacts on behalf of the Democrats' Fusion GPS hired guns, but also that the Bureau covered for Steele's lies while seeking FISA warrants may have had something to do with the no-show in London libel court. Certainly U.S.-based attorneys for Russian technology executive Aleksei Gubarev want to know why Steele was happy to discuss his dossier (which risked its allegedly super sensitive Kremlin sources) with gossipy reporters, but not under oath to defend the veracity of his sources and work in court.
Scribd file of this week's released Grassley memo: https://www.scribd.com/document/370918981/2018-02-06-CEG-LG-to-DOJ-FBI-Unclassified-Steele-Referral?irgwc=1&content=10079&campaign=Skimbit%2C%20Ltd.&ad_group=725X700959Xde03d0cbaf1caf2e84af3aa0b0ee8bdf&keyword=ft750noi&source=impactradius&medium=affiliate
Despite the cowardly Steele's unwillingness to defend the truthfulness of the dossier, despite numerous allegations the document makes being proven false or hotly disputed in existing and pending libel suits (such as from Trump attorney Michael Cohen, whom the dossier falsely places in Prague meeting with Russian agents, echoing years later 9/11 hijacker Mohammed Atta's infamously made up meeting with Iraqi intelligence agents in the same city reported to drum up support for the American-led invasion of Iraq), there are still deep state spokesmen willing to defend Steele and the dossier's integrity on cable news and social media.
John Sipher, who runs a blog called the Cipher Brief and writes for Just Security and other sites while regularly appearing on CNN and MSNBC, has doubled down on his insistence that Rep. Devin Nunes and Grassley are hurting U.S. intelligence sharing, principally with the British and other 5Eyes (former British empire countries) partners, supposedly by smearing the poor innocent ex-spook Steele. In reality, Sipher, his former boss CIA director John Brennan and ex-James Comey FBI aide Josh Campbell and their recent hires as 'analysts' by MSNBC and CNN respectively, reveal not only deference, but humiliating sycophancy from supposedly loyal American 'ex' security agency executives to their masters in London. It is richly ironic that these same spooks who invoke 'democratic norms' and the Founding Fathers memory to denounce Trump as a Kremlin-blackmailed, Russia-colluding traitor would likely be regarded by the brave Founders who revolted against the Crown as British stooges, modern day Benedict Arnolds. -- JWS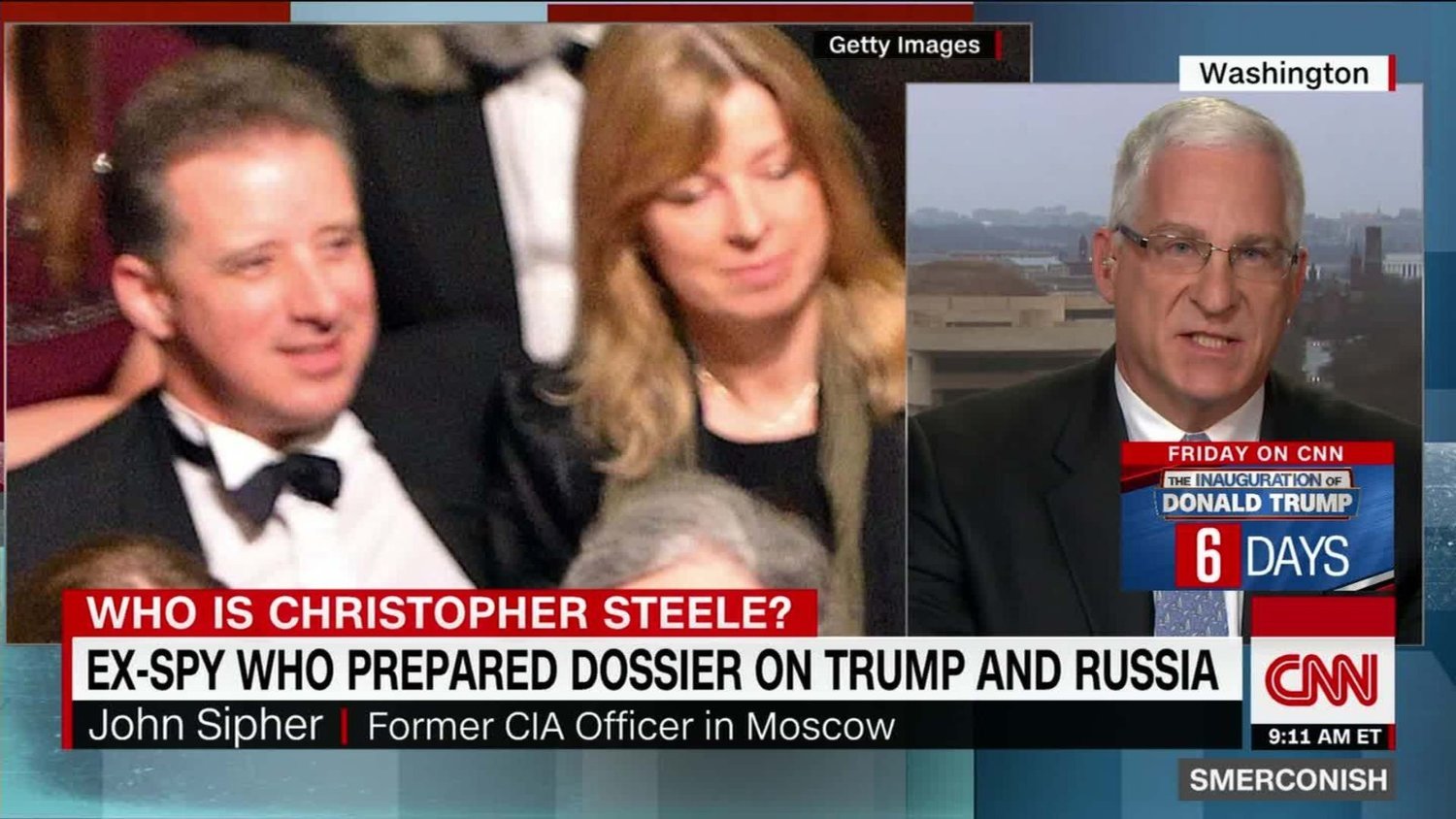 FORMER CIA RUSSIA DESK DEPUTY CHIEF JOHN SIPHER PUSHES THE FRAUDULENT STEELE DOSSIER ON CNN, A NETWORK THAT JUST HIRED A FORMER JAMES COMEY ACOLYTE WHO BOASTED IN A FLYER FOR HIS GOING AWAY PARTY FROM THE FBI THAT HE WOULD 'DEFEND THE BUREAU' ON THE DEMOCRAT DEEP STATE PROPAGANDA CHANNEL. MSNBC AND NBC ALSO RECENTLY HIRED FORMER CIA DIRECTOR AND ARMORER OF JIHADIST TERRORISTS IN SYRIA JOHN BRENNAN.
Robert Mueller's Mudd Threatens President on Air, Again
Feb. 5, 2018 (EIRNS)—In a CNN outburst over the Feb. 3-4 weekend after the Nunes memo had been released, former CIA and FBI officer Phil "Rumpelstiltskin" Mudd spat out angrily that the FBI people
"are ticked.... They'll be saying of Trump, 'You've been around for 13 months. We've been around since 1908. I know how this game is going to be played. We're going to win.' "
Other subtle threats from ex-spooks or spook fanboys against POTUS life here (referencing former Libyan leader Gaddafi and Egyptian president Sadat, both of whom were murdered):
All this, from the man who managed Iraq analysis at the CIA in the lead-up to war (1999 to 2001); was detailed from the CIA to serve as Director for Gulf Affairs on the National Security Council for the Bush-Cheney White House in early 2001; was deployed for "a short assignment as the CIA member of the small diplomatic team that helped piece together a new government for Afghanistan"; and then returned to the CIA's National Counterterrorism Center, where he was deputy director of that center from 2003-05.
In 2005, then FBI Director Robert Mueller brought Mudd in to be Deputy Director of the FBI's new National Security Division, tasked, PBS Frontline wrote, in introducing its October 2006 interview with Mudd, with "transforming the FBI into a domestic intelligence agency, more like Britain's MI5." Barbara Boyd's "Amoral Assassin" Mueller dossier reports that "FBI agents referred to the Mudd-Mueller surveillance and entrapment tools" used against U.S. communities as "battlefield management."
Yesterday morning, yet more damaging revelations came out on the attempted coup against the U.S. Presidency, from the release of an eight-page memorandum, by Senator Chuck Grassley (R-Iowa,) Chairman of the Senate Judiciary Committee, which oversees the FBI. Though highly redacted, this document, covering the 2016 Presidential election period, reports that the Clinton campaign shopped anti-Trump charges from an unknown foreign source, into the Obama State Department, from which the charges were then shopped to "ex"-British spy Christopher Steele, who then got them to the media and the FBI. Steele produced a dossier, dated Oct. 19, 2016 — different from the known "dodgy" dossier—which so far has not been made public.
Grassley's memo was originally written Jan. 4, when he, joined by Sen. Lindsey Graham (R-S.C.), provided it to the relevant Justice Department and FBI authorities, demanding a criminal investigation of Steele. The memo states, "It is troubling enough that the Clinton Campaign funded Mr. Steele's work, but that these Clinton associates were contemporaneously feeding Mr. Steele allegations raises additional concerns about his credibility." Grassley has called for criminal charges to be brought against Steele and all others implicated in this dirty operation.
From LaRouchePAC.com February 6, 2018:
Yesterday's developments open a "Phase Two," coming after the release of the "Nunes" memo on Feb. 2 by Devin Nunes, Chairman of the House Select Committee on Intelligence. The Nunes memo focusses on the wrongful use of the FISA surveillance authorization process by top anti-Trump FBI and Justice Department figures, and Steele. In the new Grassley memo, the State Department is implicated. More "phases" of revelations are coming. This can blow open the lid on those responsible in London and Washington for what happened in Ukraine, to impose a nazi regime-change through the Maidan process in 2013-14. No wonder that Victoria Nuland yesterday tried to distance herself from Christopher Steele, on CBS News. Nuland, a former Obama State Department official, and Steele et al., directly promoted the Maidan coup.
The impetus for the stream of revelations and prospect of jail for the guilty, is the LaRouchePAC Special Investigative Report, "Robert Mueller Is and Amoral Legal Assassin: He Will Do His Job If You Let Him," first issued in September, 2017.
The stakes in all this are not simply truth "in the abstract," but whether there will be war, or a New Paradigm of development—the "New Silk Road." The Old Paradigm of monetarism and geopolitics is dead, but still dangerous. Those backing it are prepared to trigger war. An expression of this is the cover of The Economist of London for Jan. 25, declaring, "The Next War—the Growing Danger of Great Power Conflict."
The only winning anti-war drive is the mobilization for a New Paradigm, especially in the Trans-Atlantic, for the emergency measures laid out in the LaRouche Four Laws, and the link-up to the Belt and Road Initiative.
President Donald Trump again expressed his support of restoring manufacturing and jobs in the United States, in his speech today near Cincinatti, Ohio, at a factory. His banner stated, "USA—Open for Business." It was a profound irony, when announcers broke in breathlessly to interrupt the livestream TV coverage of his speech, to report that the Dow index had just plunged 1600 points!
The world reality is, that the New Paradigm of the New Silk Road is underway. It is the model that works. It is the LaRouches' decades-long agenda in action. For humanity, the future is ours.
Masks Off, an In Your Face British Intelligence Operation to Influence the U.S. Election Because Trump Committed the Crime of Calling for Better Relations with Russia -- Addendum added by James the Russian Analyst -- notice the names listed in this Washington/Langley Bezos Post article, including former MI6 chief Sir Richard Dearlove (KCMG, OBE)...
"A source close to UK intelligence said that the listening post had become aware at the end of 2015 of possible "interactions" and that this information was then sent across the Atlantic.
Separately, Sir Richard Dearlove, the former British spy chief, suggested that Mr Trump may have borrowed money from Russia in the wake of the 2008 financial crisis."
— http://www.telegraph.co.uk/news/2017/04/13/ex-british-spy-chief-sir-richard-dearlove-suggests-donald-trump/
Mr. Dearlove or his staff were likely one of the sources for the Telegraph and Guardian reports that GCHQ had first tipped off the FBI and CIA to Trump's alleged Russian contacts. Dearlove also served on the board of the Henry Jackson Society. A pro-Israel outfit called Just Journalism, and later the NATO military industrial complex funded London-based neoconservative think tank HJS gave future RFE/RL The Interpreter, Daily Beast and CNN 'Russia analyst' (who speaks neither Russian nor has ever lived in the country) Michael D. Weiss a work visa and job in the U.K. straight out of Dartmouth College in 2002. Landing a job in Great Britain right out of college at that time or since being a notoriously difficult feat for newly minted American BAs to achieve without significant (intelligence?) connections. In addition to serving as an unofficial spokesman for the 'moderate' Syrian jihadists cause, Mr. Weiss has been linked in recent months through publically available breadcrumbs on the Internet to the notorious PropOrNot project which attempted to smear broad swathes of the alternative media as Russian dupes or stooges.
-- JWS
"On July 5, 2016, the Rome-based FBI agent met with Steele and Burrows in Orbis's London offices, housed in a five-story Georgian-style building in the Victoria neighborhood.
Later that month, Steele reached out to a State Department contact in Washington, according to [Kiev coup co-organizer Victoria wife to Robert Kagan — JWS] Nuland, who said officials decided his allegations were best left to the FBI.
In late July, Steele told friends he was rattled when WikiLeaks released thousands of internal Democratic National Committee emails on the eve of the Democratic National Convention, material that U.S. law enforcement officials said was hacked by Russia. Then Trump — who had repeatedly praised Putin on the campaign trail — publicly called on Russia to hack and release a cache of missing Clinton emails.
Steele, who had researched Russian attempts to interfere in European elections for another client, began to fear that the Americans were not taking the Kremlin's efforts seriously enough, associates said.
In the early fall, he and Burrows turned to Dearlove, their former MI6 boss, for advice. Sitting in winged chairs at the Garrick Club, one of London's most venerable private establishments, under oil paintings of famed British playwrights, the two men shared their worries about what was happening in the United States. They asked for his guidance about how to handle their obligations to their client and the public, Dearlove recalled.
Dearlove said their situation reminded him of a predicament he had faced years earlier, when he was chief of station for British intelligence in Washington and alerted U.S. authorities to British information that a vice presidential hopeful had once been in communication with the Kremlin. [Is this a reference to Senator Ted Kennedy (D-MA) back in the 1980s, or someone else?) — JWS]
He said he advised Steele and Burrows to work discreetly with a top British government official to pass along information to the FBI.
At the time of the meeting, Dearlove said he did not know whether Steele had approached the FBI."
— https://www.washingtonpost.com/politics/hero-or-hired-gun-how-a-british-former-spy-became-a-flash-point-in-the-russia-investigation/2018/02/06/94ea5158-0795-11e8-8777-2a059f168dd2_story.html?utm_term=.31bc629f0b52