Remington Outdoor Co., a US firearm manufacturing company founded in 1816, has announced it is filing for Chapter 11 bankruptcy protection.
Remington is owned by private equity firm Cerberus Capital, who many blame for mismanagement of the company in recent years. Others blame the company's trouble on falling firearm sales industry-wide under President Trump.
Cerberus Drowns Remington In Debt
When Cerberus first acquired Remington, the private equity firm maxed out the company's credit line first thing, loading it up with $1 billion in debt. Since then, Remington has faced continual financial troubles, brought on partly by expensive legal battles and partly by incompetent management, during an industry-wide revenue slump.
The Chapter 11 bankruptcy plan will restructure the company's debt. Under the reorganization plan, Cerberus will relinquish ownership and leave Remington's bondholders as the new owners of the company. Remington 2020 bond prices have fallen to 15% of face value in a long decline.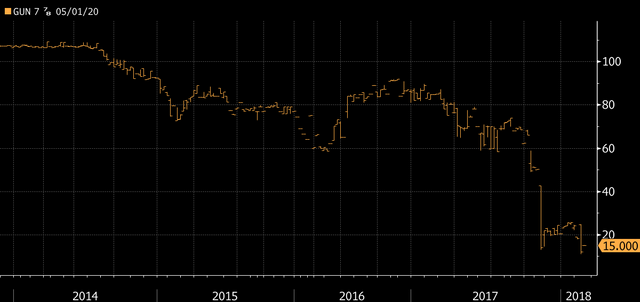 Legal Troubles for Remington Pile Up
Other problems for Remington include a lingering reputation arising from the lawsuit the company faced after the Sandy Hook elementary school shooting, in which a gunman murdered 20 children with a Remington Bushmaster rifle. Cerberus attempted to sell the company days after the shooting, but could not find a willing buyer. Remington was eventually found by the courts not to be legally liable.
Years of poor management and a string of short-tenured top executives multiplied the company's problems. At the same time, Remington faced more legal troubles arising from wrongful death and injury claims over a deadly safety flaw in the Remington 700 rifle, one of its most popular models. The flaw caused the gun to fire without pulling the trigger. Remington eventually issued a voluntary recall of 1.3 million Model 700 rifles.

Remington 700-VTR
Now the company has finally broken under the falling revenue in the gun business in general since Trump took office. Fewer people are buying guns, and those people are buying fewer guns than before. Remington saw third-quarter earnings drop 30%, followed by another drop at the end of the year prompting the bankruptcy.
Public Debt to Private Equity
For firearm investors, this could present a rare opportunity to own some shares in Remington. The company's stock is not publicly traded, but the company's bonds are. As mentioned before, those bonds are plummeting in price as the company's ability to repay is doubtful. But the bankruptcy plan will turn bondholders into shareholders.
If that's your goal, these look like fire sale prices.
---