@nolnocluap's Portfolio Update #5: News, Gold & Silver Hit, Buy More?, EOS! Making My FIRST Purchase Into This Rally, How You Can Easily Do So Too, NFP Print, The Fed & The Importance Of Hardware Wallets!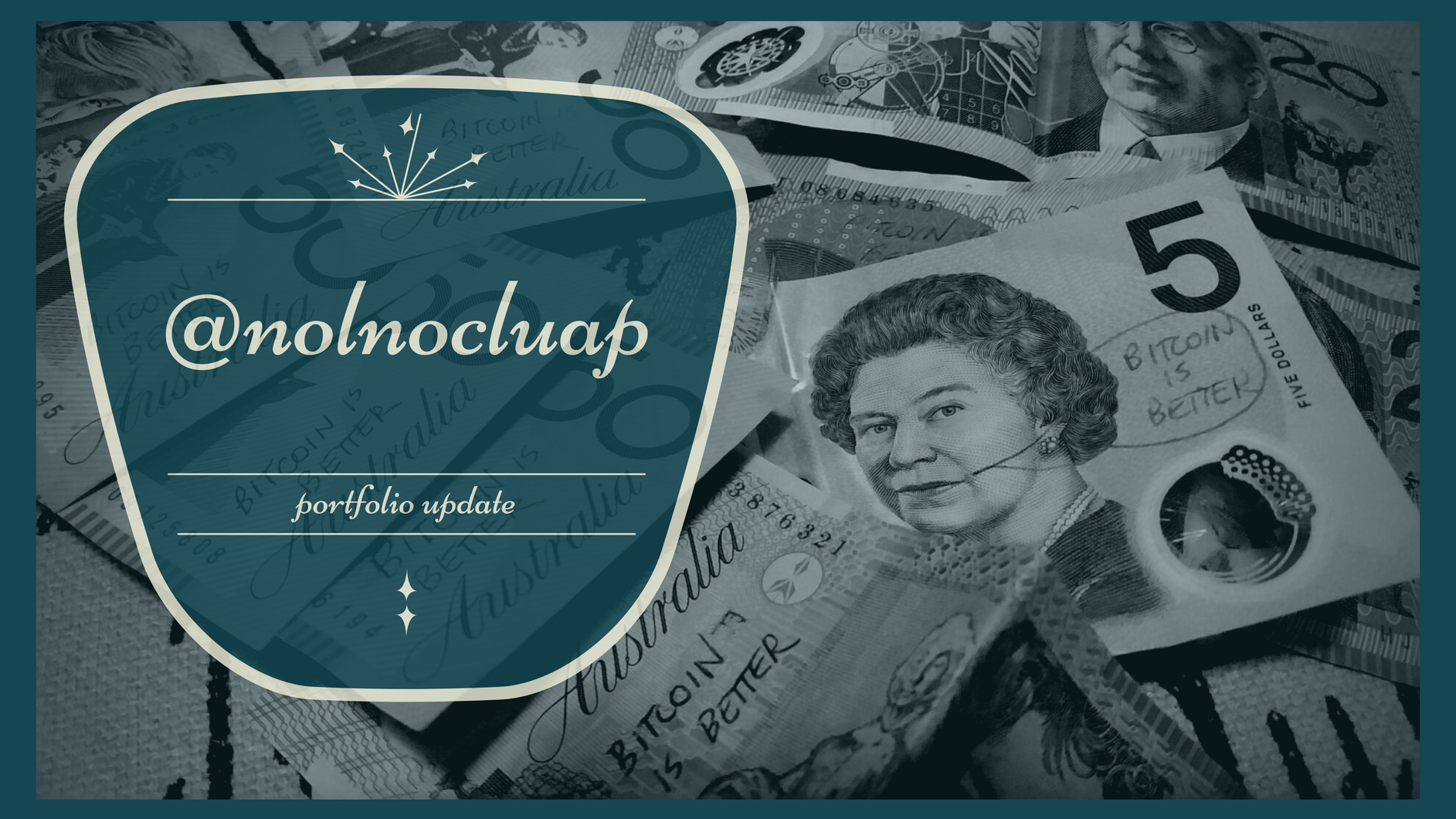 Some big updates in this crazy world of ours as I write to you today. It's 05:19.
Yes, in the morning. Yes, on a weekend.
When I woke up and browsed the news I had to jump out of bed, put on a particularly strong herbal-man-tea and smash out this content as the investment, economic and crypto landscape changes so fluidly it's like sleep is a luxury we can indulge in less and less. Please find my thoughts and offerings for today below. My wish is that this content helps you to come to your own good investment decisions for the day.
RayBrockman's Silver Give Away
The wonderful
@raybrockman
is running a give away where the lucky winner can pick up a Steemit Silver Round. It's in its last day.
---
I'm a humble entrant and should any of my readers think I'm worthy of standing a chance to win, please upvote my comment here.
---
Of course if not, you should browse the current entrants and vote for the individual you feel should get the coin ... or of course suggest someone yourself. Be snappy however as the clock is ticking on this one! For those who have voted for me and for those who yet will. Thank you!
Precious Metals Hit, Time To Buy?
That was a good segue into the metal price action for the night. One of the first things that caught my attention in my feed this morning was analysis from @marketreport where Gregory Mannarino calls out silver price rigging here as displayed below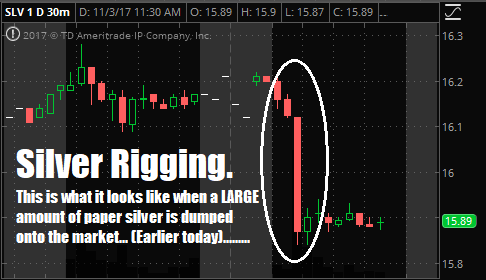 Here's Greg's subsequent rant! Worth a watch.
Heading over to kitco.com to check it out and sure enough, we see that gold and silver have yet again taken a significant hit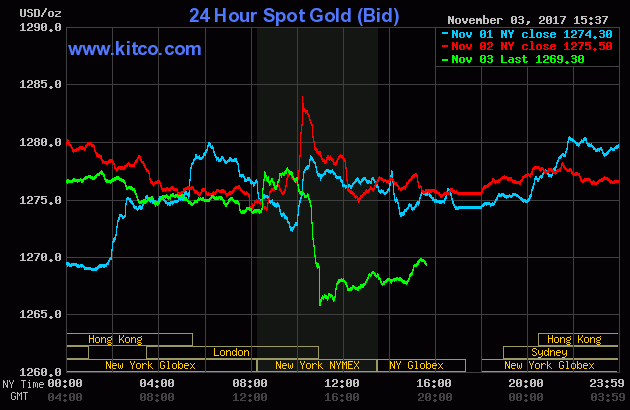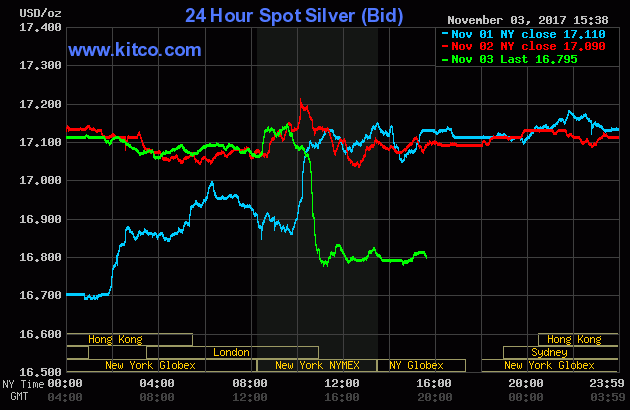 Just yesterday I mentioned
here
that I was contemplating my next silver buy but was waiting for the moment. This could be the chance I'm looking for. Looking at AUD silver pricing thanks to BullionVault, the drop has made things a bit more attractive, but has only taken us back to the price action seen earlier this week.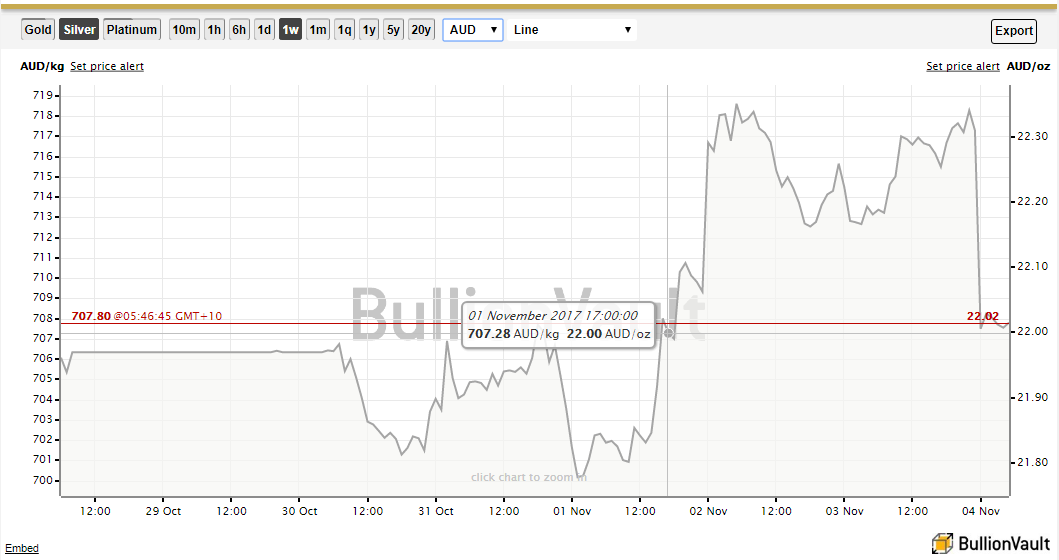 I looked to pick up some more but didn't want to commit to the monster box I discussed yesterday. I looked at the nice 10 oz NTR bar that I wrote about here (pictured below) that I last picked up in the middle of September.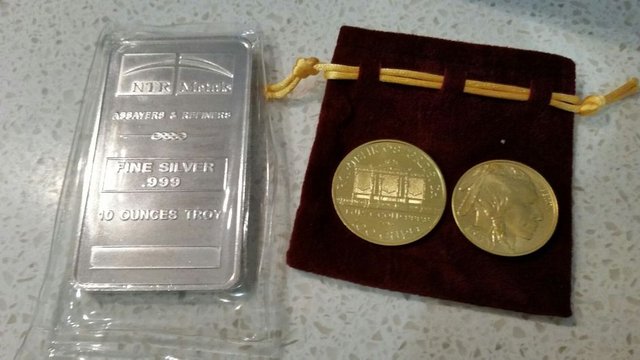 The buy price then was AUD 246.40 and the live price now to buy another is AUD 246.86 so there's not really much to talk about there. I decided to not pick up any new silver yet on this dip given the large purchase I'd already made last month and posted about here
As a related note, I liked this short Kitco video that appeared on my YouTube feed this morning where Kevin O'Leary discusses why he avoids investments in metal miners and goes straight to the commodity itself. Made a lot of sense to me actually so I include it here for those interested.
OK I can't look the other way any more. Last night I downloaded the Exodus wallet for Windows and installed it. There you can find an easy way to purchase EOS. As this is my first time doing this I thought I'd throw in a screen shot in case others are looking to do the same. Don't forget to record your recovery phrase when setting up any new wallet!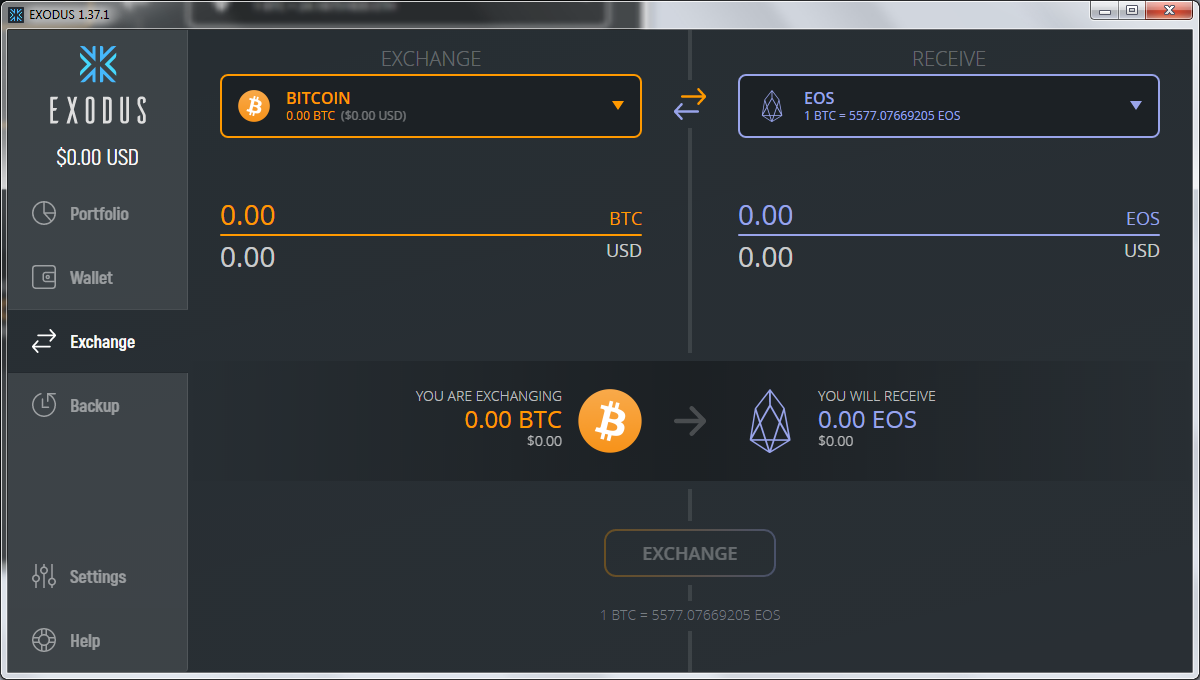 I decided to fuel up my Exodus wallet with some Ethereum for a couple of reasons.
Ethereum isn't doing much for me at the moment, it's in a channel.
Lower transaction fees and faster transfers than Bitcoin. I got stung with my first delay over a day with Bitcoin a week ago and just don't want to suffer that again when I'm buying into a tear.
I set my stopwatch and in 27 seconds, the ETH had arrived in my new wallet. Happy with that! I then went through the exchange process pictured above and it's very intuitive. They've done a great job with this wallet. Animations and sounds keep you engaged and informed as the process runs its course. In under a minute I received my EOS so...
---
I'm now officially an EOS holder!
---
This has been topical recently. I've done a number of posts on my KeeyKey. Just yesterday, @scaredycatguide did a great write up on wallets here and overnight @dollarvigilante produced some more great info. These really aren't as scary as you may believe. Feel free to hit me up on Discord if you'd like any help getting yourself started with one of these.
I've posted on my experiences a few times before:
I did a KeepKey unboxing video here
I wrote up my decision to buy a KeepKey and also ran through a crypto primer with some maths and examples here
... but again, I'm happy to help others if you feel you're not confident in taking the leap.
As I mentioned, this morning there was a video release by Jeff Berwick on exactly this topic. This video is an interview with Joseph Wang of www.cryptohwwallet.com at the Texas Bitcoin conference and I agree that this is something people should be looking at seriously.
Let's finish with some thoughts from Gregory Mannarino which I'll summarise below.
Jobs numbers in the US came out last night here in Australia and they missed Wall St expectations
Unemployment came down a bit
Numbers are pointing towards a Fed rate hike
Although US market is digesting this, he sees markets there continuing to rise
Goldman Sachs has apparently been implicated in money laundering with a foreign bank and so their shares are down (personally, I don't see why, fraud is the preferred business model for investment banks, isn't it?)
Some interesting reveals from Trump on the stock market closing at an all time high and the dovishness of the next Fed Chair appointment in terms of future market performance in the US.
Thanks for reading to the end, oh valued follower. It's time for me to go and participate in the real world and refresh that cup of particularly strong herbal-man-tea. Have a great weekend!
---
Don't forget to flick my comment a vote here if you'd like to see me win a Steem round!
---