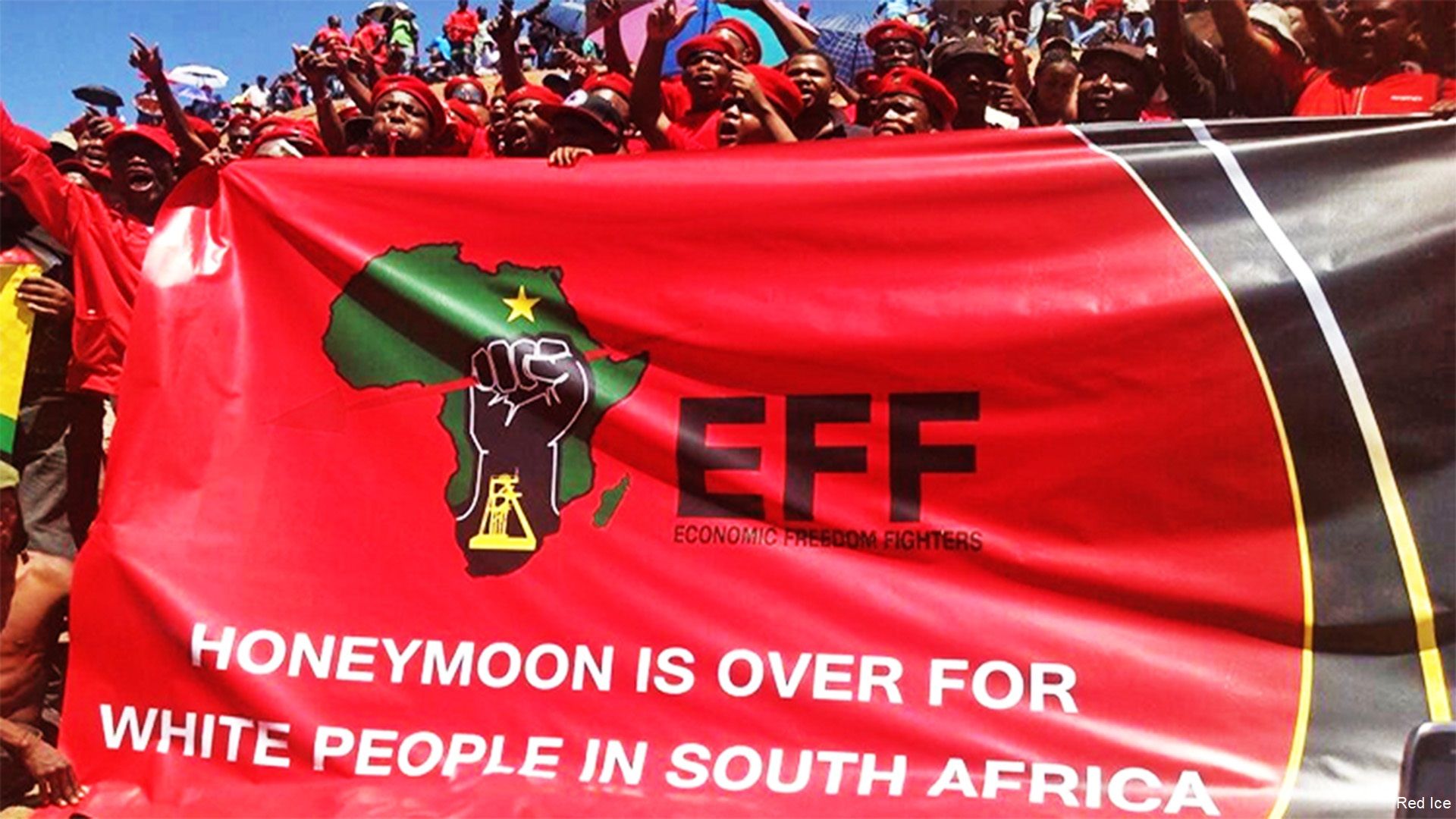 In a social media post, Mampuru Mampuru, a member of the South African Economic Freedom Fighters (EFF) party, allegedly called for White genocide in his country. He said the following:
"We need to Unite as black People, there are less than 5 millions white in South Africa vs 45 million of us. We can kill all this white within two weeks. We have the army and the police. If those who are killing farmers can do it what are you waiting for.
"Shoot the boer, kill the farmer."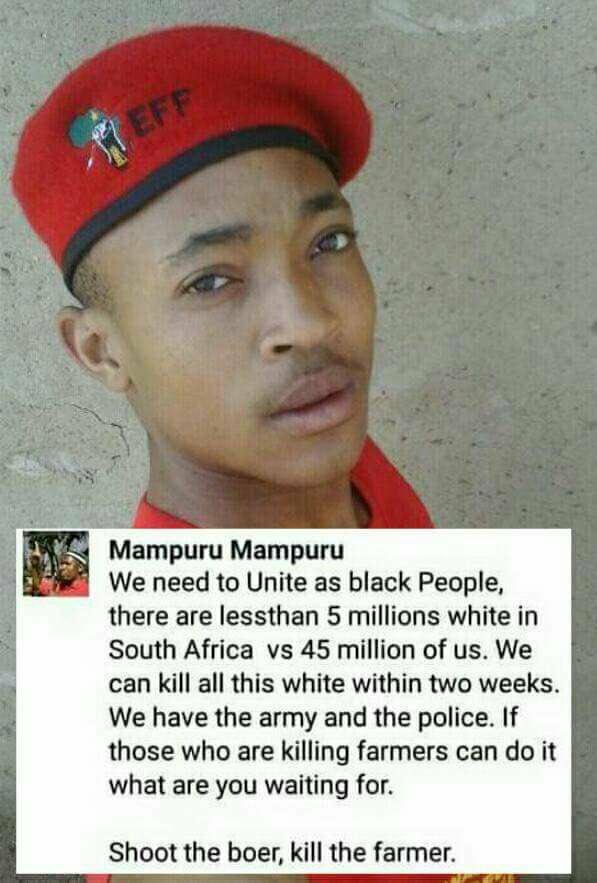 According to Wikipedia (https://en.wikipedia.org/wiki/Economic_Freedom_Fighters):
"The Economic Freedom Fighters (EFF) is a South African radical leftist, populist and racial nationalist political party, that has been described by political analysts as being fascist in nature started by expelled former African National Congress Youth League (ANCYL) President Julius Malema, and his allies, in 2013.
"It is currently the third-largest party in both houses of the South African parliament, receiving 1,169,259 votes and a 6.35% share of the vote in the 2014 general election."
Under the 'Violence and bigotry' section, it states:
"The EFF is widely criticised for inciting and perpetuating racism. South Africa's Independent Electoral Commission disqualified an EFF councillor in the 2016 local elections due to racism.
"Malema stated at a political rally in 2016 that 'We [the EFF] are not calling for the slaughter of white people' at least for now.' When asked for comment by a news agency, the ANC spokesperson, Zizi Kodwa stated that there will be no comment from the ANC, as '[h]e [Malema] was addressing his own party supporters.' While still the ANCYL leader, Malema was taken to the Equality Court by AfriForum for repeatedly singing 'dubul' ibhunu,' which translate as 'shoot the boer [white farmer].'"
In late February of this year, South Africa's parliament voted in favor of a motion "that will begin the process of amending the country's Constitution to allow for the confiscation of white-owned land without compensation," according to a news.com.au article (http://www.news.com.au/finance/economy/world-economy/the-time-for-reconciliation-is-over-south-africa-votes-to-confiscate-whiteowned-without-compensation/news-story/a8a81155995b1adc1c399d3576c4c0bc).
The motion itself was started by EFF leader Julius Malema and passed via an overwhelming 241 votes (yes) to 83 votes (no).
After the amendment was passed, Malema commented, "The time for reconciliation is over. Now is the time for justice. We must ensure that we restore the dignity of our people without compensating the criminals who stole our land."
He later went on to make more controversial statements, as noted above in our quotes from Wikipedia.