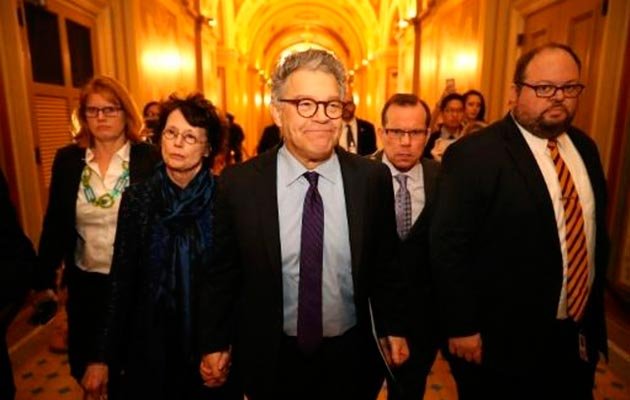 The umpteenth American personality was overwhelmed on Thursday by the effect of the huge public scandal about sexual harassment: Democratic Senator Al Franken. From politics to the media, to the entertainment industry in the United States, no sector of society is saved.
Here are the main figures fallen into disgrace in recent weeks, wallowed by the tide Harvey Weinstein.
- Fun
Harvey Weinstein
The 81-year-old Oscar-winning producer who until a few months ago was the lead singer of Hollywood was accused in October of several women of sexual abuse, accusations that he has denied. Since then, more than a hundred of them, from stars like Angelina Jolie to unknown employees of the industry, have also denounced events that have taken place over several decades, ranging from harassment to rape. The successful businessman had designed a sophisticated system of surveillance, intimidation and abuse of power to keep his actions silent, according to New York Times and New Yorker investigations of Harvey Weinstein, fired from his own production company and now white of several criminal investigations.

Kevin Spacey
The Oscar-winning actor has been accused since late October not only of harassing and abusing two young actors, minors at the time of the events, but also of harassing the set of the series "House of Cards". ", Which was the star before being fired for this case. Scotland Yard opened an investigation into two allegations of sexual abuse and several cases of harassment at the London theater The Old Vic, of which Kevin Spacey was artistic director between 2004 and 2015.

James Levine
The legendary conductor of the Metropolitan Opera in New York was suspended on Sunday after the publication of a strong testimony. James Levine, 74, is accused of sexually abusing, for several years, a musician who was 15 years old when the reported facts began in 1985. Since then, three other musicians revealed that they were attacked under similar conditions.
- Media
Matt Lauer
The super popular journalist who ran the NBC morning show was accused of harassment by half a dozen women, or even of "non-consensual" sexual relations. The performances of Matt Lauer, who would have offered a sex toy to a colleague and had his pants down in front of another in his office, were part of a systematic behavior. He was fired from the channel last week, after which he apologized and said he was "sorry and ashamed".

Charlie Rose
Presenter of the rival morning show on CBS, Charlie Rose, a 75-year-old journalist also extremely famous, is accused by eight women of having made obscene phone calls or of fingering them. Two also said that he showed himself naked in front of them. He was fired in late November from CBS and PBS, for which he also worked.

Bill O'Reilly
The man who for many was the visible face of Fox News, Bill O'Reilly has been the most emblematic case of media harassment. Although the complaints about his behavior were even earlier than the accusations against Weinstein, he returned to the fray in October, when it transpired information about a $ 32 million friendly settlement between him and a Fox worker. He was fired after the revelations of others. Five friendly agreements with colleagues, including some "non-consensual sexual relations".
- Politics
John Conyers
The Democrat John Conyers, the oldest member of the House of Representatives, committed to the struggle for the civil rights of blacks, had to resign on Tuesday under pressure from his party. Although he presented it, with his 88 years, as it was his retirement, denying the facts of which he is accused: five women who had worked for him for several years have denounced in the last two weeks that the legislator had behaved inadequate and sexual advances with them. He came to sign an amicable agreement with one of them.

Roy Moore
Against all odds, but with President Donald Trump's not inconsiderable support, Republican Senate candidate in Alabama Roy Moore remains standing for the December 12 election. His case divides the Republicans from both a political and a moral point of view. Currently 70 years old, he frequented at the time when he was a thirty-year-old lawyer to teenagers, some of whom now accuse him of inappropriate acts or sexual abuse. One of the alleged victims was 14 years old at the time.