Libyan prisoners disappeared 400 prisoners!
At least 440 prisoners from a prison called 'Act Zara' in the southern city of Tripoli, Tripoli, Libya. In this incident, the government of Libya issued a state of emergency.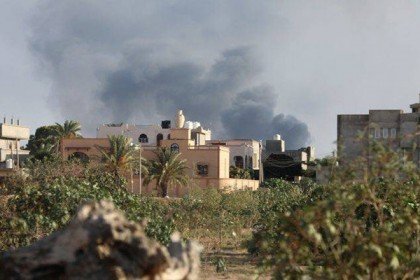 Prison prisoners broke the prison door and went out of the district to offer bloody clashes between several armed groups.
Police said security personnel of the prison did not try to stop the prisoners fleeing the jungle. The United Nations-supported government of Libya has been forced to declare an emergency in the city due to clashes between armed groups.
Most of the detainees detained in law Zara Jail were found to be followers of former Libyan leader Muammar Gaddafi. In 2011, during the anti-Gaddafi mass upsurge, these people have been accused of killing many people while trying to suppress protests.
Violence continues in Libya since the end of 2011, when Gaddafi was ousted and killed. After the fall of the Gaddafi government, many armed groups were born in the country and these groups took control of one area. Most of the Libyan areas are controlled by the armed groups, while currently a United Nations-supported government is in the capital Tripoli. -BBC