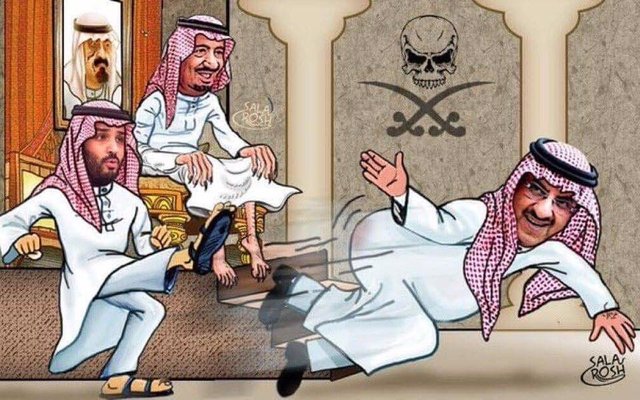 In a shocking development on Wednesday, Saudi Arabia's King Salman appointed his 31-year-old son Mohammed bin Salman (his eldest son from his third wife) as crown prince, placing him as first-in-line to the throne and removing his nephew, 57-year-old Mohammed bin Nayef - the country's counterterrorism czar and a figure well-known to Washington - from the royal line of succession, relieving him of his post as Interior Minister, and stripping him from all his titles.
Bin Salman already controls the Kingdom's defense, oil and economic policies; today's announcement merely consolidates his power. He was also credited with arranging Trump's "successful" trip to Riyadh.
While the backroom negotiations that resulted in today's stunning announcement will likely remain unknown indefinitely, today's dramatic overhaul of the Saudi royal succession was previewed here as recently as December, when we discussed that the present Saudi king, Salman bin Abdul Aziz, is the last of the sons of the first Saudi king, Abdul Aziz al Saud, who will ever sit on the Saudi throne. After Salman dies, Saudi leadership will pass to a new generation of Saudi royals. But not all the descendants of the first Saudi king are happy about how the future succession may turn out.
---
A palace coup. Not entirely unexpected from this erratic and ruthlessly ambitious prince
"Regarded warily by some Saudis and by many foreigners as an unknown quantity in the Middle East's traditional status quo power, Prince Mohammed has over the past year set about building his profile... He is Defence Minister, a role that in Saudi Arabia gives its incumbent command of one of the world's biggest arms budgets and makes him ultimately responsible for Saudi Arabia's unprecedented military adventure in Yemen." http://reut.rs/2rW9uTE
---
Saudi Arabia's New Crown Prince Mohammed Bin Salman Is Good News for Israel and U.S.
Saudi crown prince Bin Salman agrees with U.S. on Russia, Assad, Iran and ISIS and according to some reports, he's also met with top Israeli officials
Mohammed bin Salman has been good news for Israel and the United States, as his firm anti-Iranian positions make him an important partner – and not only in the struggle against Iran. Bin Salman agrees with America on the need to thwart Russian influence in the region; to topple President Bashar Assad's regime in Syria; and to act firmly against ISIS and other radical organizations, from the Muslim Brotherhood to Hezbollah. During the last two years, several Arab websites have reported that bin Salman also met with top Israelis. http://bit.ly/2s0arFF
---
As Yemen War Rages On, Saudi King Elevates the War's Architect—His Own Son—to Be Crown Prince
---
Prince Mohammed bin Salman: Naive, arrogant Saudi prince is playing with fire (January 2016 article)
At the end of last year, the BND, the German intelligence agency, published a remarkable one-and-a-half-page memo saying that Saudi Arabia had adopted "an impulsive policy of intervention". It portrayed Saudi defence minister and Deputy Crown Prince Mohammed bin Salman – the powerful 29-year-old favourite son of the ageing King Salman, who is suffering from dementia – as a political gambler who is destabilising the Arab world through proxy wars in Yemen and Syria. http://ind.pn/2rH8vTo
---
Iranian state media on Wednesday called the appointment of Mohammed Bin Salman to the position of crown prince and successor to Saudi Arabia's King Salman as a "soft coup"
"Soft coup in Saudi Arabia/Son becomes the successor of the father," read the headline on the Iranian state TV website.
The move is likely to rattle Iran's leadership, which has been critical of comments by Prince Mohammed last month that the "battle" should be taken into Iran. http://bit.ly/2sZ7Lxf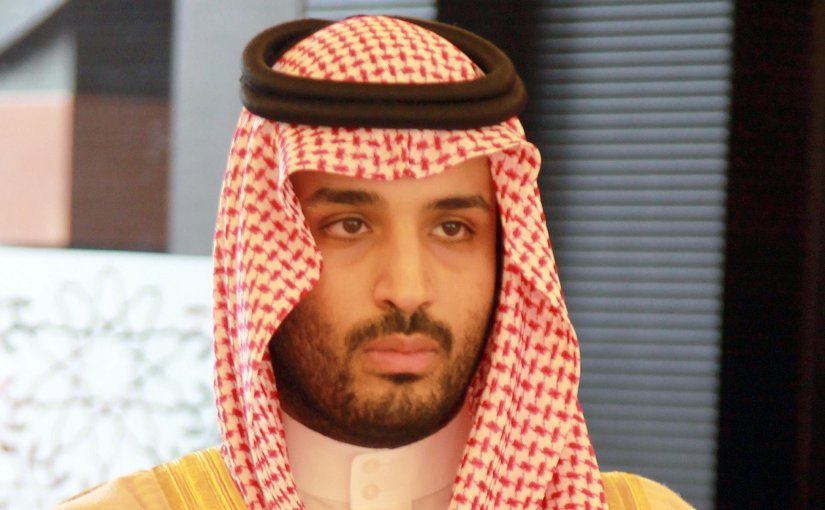 The abrupt shake-up that made Saudi Prince Mohammed bin Salman heir to his father's throne gives the 31-year-old extraordinary powers to push through his vision to wean the economy off oil and exert his influence in regional conflicts
Prince Mohammed replaced his elder cousin as crown prince, removing any doubt of how succession plans will unfold following the reign of King Salman, now 81. Even before the promotion, the new crown prince was dictating defense and oil policy, including overseeing plans to privatize state oil giant Aramco.
The move suggests a harder foreign policy line for the key U.S. ally in a region fraught with instability. Prince Mohammed has led the war effort in Yemen against Iran-backed rebels and was a key figure in the decision to isolate Qatar in the weeks after Donald Trump bolstered ties with the kingdom during a May visit. http://bit.ly/2sZlBzF
---
Widely known as MBS, Mohammed bin Salman could be running the kingdom for decades to come
What's more, his tough approach to the intractable problems of the Middle East would appear to mesh well with U.S. President Donald Trump, who visited Saudi Arabia last month.
Trump called the new crown prince Wednesday to offer congratulations on his elevation, the White House said in a statement. Trump and the prince "committed to close cooperation to advance our shared goals of security, stability, and prosperity across the Middle East and beyond," according to the statement.
Prince Mohammed also has come to know Trump's daughter Ivanka and her husband Jared Kushner, having dined together twice, once in Washington and once in Riyadh. http://bit.ly/2sZ54LS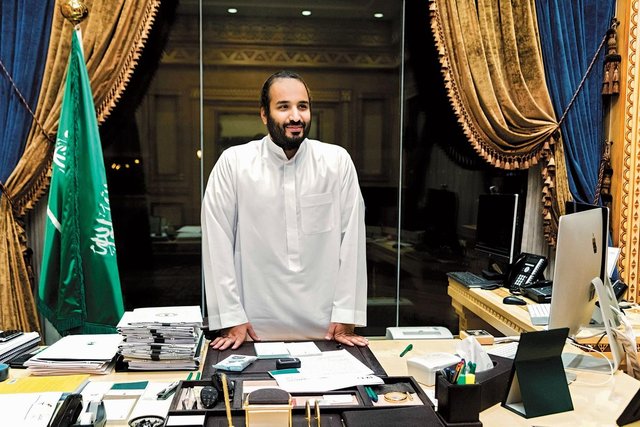 MBS Details
Mohammed bin Salman was born on August 31, 1985. His mother, Princess Fahda bint Falah bin Sultan bin Hathleen, is from the Ajman tribe, whose leader is the princess' father, Rakan bin Hathleen.
In 2008, Mohammed bin Salman married Princess Sarah bint Mashhoor bin Abdulaziz Al Saud, and together they had three children.
He received his primary education in Riyadh, the country's capital, where he was ranked among the kingdom's top 10 students.
He obtained a Law degree from King Saud University, where he graduated second in his class. Throughout his time as a university student, Mohammed bin Salman was enrolled in various training programs. http://bit.ly/2tyMurg
---
After the death of Saudi Arabia's 90-year-old King Abdullah in January 2015, Salman bin Abdulaziz Al Saud rose to become the ruler of the country. He proceeded to make his favorite son, Mohammed bin Salman, Defense Minister. The then 29-years-old MBS became the youngest Defense Minister in the world. On top of that, he was also named as the secretary general of the Royal Court, while retaining his post as the minister of the state.
A young leader for a new era, Mohammed bin Salman proclaimed that he would support more freedom for women, who can't drive or travel without permission from a male relative in the kingdom, and that Saudi Arabia's religious police would be banned from making random arrests.
Despite being a member of the House of Saud, known for polygamy and an extended family, MBS has only one wife and four children, two boys and two girls, ranging in age from 1 to 6. He relies on his wife for the upbringing of his kids.
'Working, sleeping, eating, and drinking don't leave a lot of time to open another household', he says in response to questions about another marriage. "It's tough enough living with one family."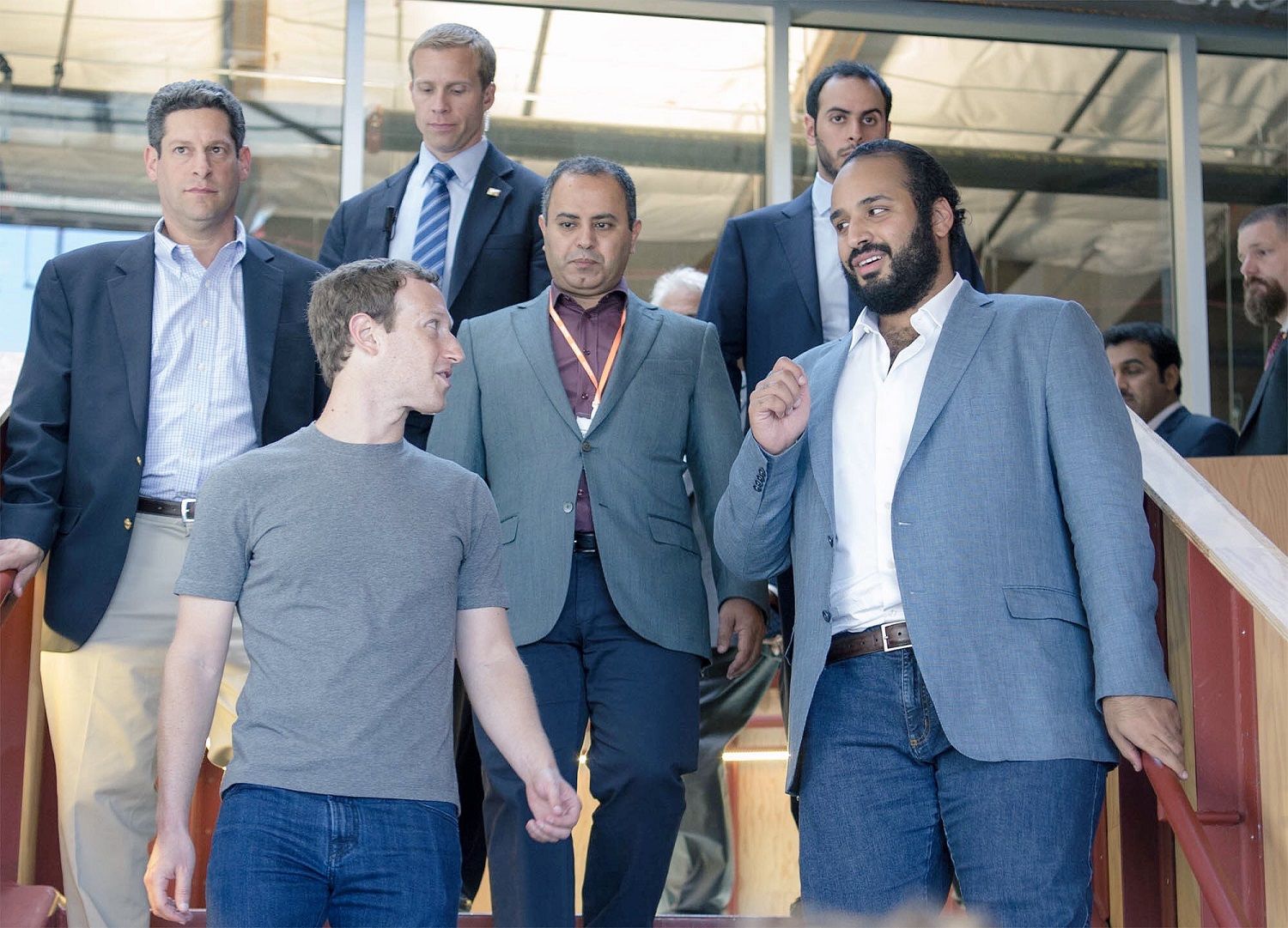 Apart from his political engagements, MBS also made headlines across the world as he met with Facebook founder Mark Zuckerberg in 2016. http://bit.ly/2tyVjkU
---
For a detailed and excellent read about MBS' ascent and the House of Saud, read "Game of Thrones – The Recent Saudi Coup" http://bit.ly/2rHufyj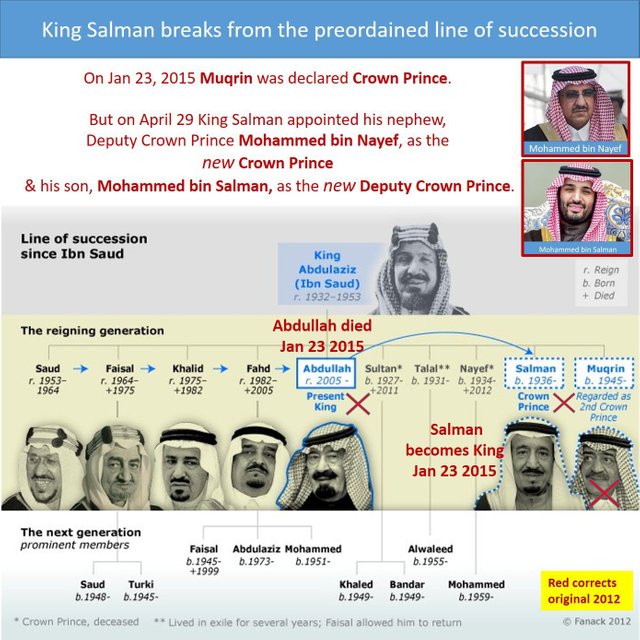 ---
Israel Deployed 18 Fighter Jets To Saudi Arabia To "Prevent A Coup"
While according to the official narrative, the Saudi power transition on Wednesday, when King Salman bin Abdulaziz announced his decision to replace Crown Prince Mohammed bin Nayef bin Abdulaziz with his own son, Mohammed bin Salman, went smooth and by the numbers, what took place behind the scenes is more interesting.
Here, events were decidedly more interesting, because as Fars News reports (so take it with a grain of salt), after the decision was announced, the Israeli air force sent 18 of its fighter jets, including F16-I, F15-CD and F16-CD, along with two Gulfstream aircraft, two tanker airplanes and two C130 planes, special for electronic warfare, to Saudi Arabia at the demand of the new crown prince bin Salman to block his cousin (bin Nayef)'s possible measures.
On the surface, such close ties between the existing Saudi regime and Israel would appear a stretch, although it is far more plausible after this week's WSJ report that when it comes to the Saudi proxy war, Israel and Saudi Arabia had been alligned from the onset of the Syrian conflict, with Israel secretly supplying Syrian rebels near its border with cash as well as food, fuel and medical supplies for years, "a secret engagement in the enemy country's civil war aimed at carving out a buffer zone populated by friendly forces."
If true, the Fars report would be rather striking because, in addition to other geopolitical implications, Israel and Saudi Arabia do not have formal diplomatic relations.
According to the Times of Israel, "a spokesperson for the IDF said the army does not comment on foreign media reports. An Israeli military insider ridiculed the report as absurd."
As a reminder, just days ago, the Saudi king stripped Nayef - who was against Saudi involvement in the Yemen civil war - of his powers overseeing criminal investigations and designated a new public prosecution office to function directly under the king's authority. In a similar move back in 2015, the Saudi king had appointed his nephew, then deputy crown prince Mohammed bin Nayef as the heir to the throne after removing his own half-brother Prince Muqrin bin Abdulaziz Al Saud from the position. His replacement as the new Crown Prince, Mohammed bin Salman, 31, was also named deputy prime minister, and shall maintain his post as defense minister. He has been described as the real power behind his father's throne.
The power struggle inside the House of Saud came to light earlier this year when the Saudi king began to overhaul the government and offered positions of influence to a number of family members. In two royal decrees in April, the Saudi king named two of his other sons, Prince Abdulaziz bin Salman and Prince Khaled bin Salman, as state minister for energy affairs and ambassador to the United States, respectively.
None of this is new, but where Fars provides new details is that in late April, Mohammad bin Salman "literally bribed the new US administration by paying $56m to Donald Trump." There is no official confirmation of this allegation. Fars further adds that "bin Salman was paying off the US to buy its support for finding a grip over the crown."
"Since Uncle Sam's satisfaction is the first step for the Saudi princes to get on the crown, paying off Washington seems to be a taken-for-granted fact," Rami Khalil, a reporter of Naba' news website affiliated to the Saudi dissidents wrote.
He added that since the Justice Against Sponsors of Terrorism Act (JASTA) is like a sword over the head of the al-Saud, they have no way out but to bribe the US, noting that the Yemen quagmire is also another reason for Riyadh to seek Washington's support.
Also, a prominent Yemeni analyst said earlier this month that the US has been paid several trillion dollars by Saudi Arabia to protect its crown, adding that Riyadh has recently bribed Washington's support for the Yemen war with $200bln.
"Washington has asked for more money to defend the Saudi regime and Riyadh has recently paid $200bln to the US for the costs of its support for the war in Yemen," Saleh al-Qarshi told Fars News Agency. "This is apart from the huge amounts of money that Saudi Arabia pays to the US treasury for protecting its crown," he added. According to al-Qarshi, "former Saudi Intelligence Chief Turki al-Feisal revealed last year that his country has bought US treasury bonds to help the US economy."
Meanwhile, as defense minister, Mohammed bin Salman has faced strong international criticism for the bloody military campaign he launched against neighboring Yemen in 2015 amid his rivalry with bin Nayef, the then powerful interior minister. Saudi Arabia has been striking Yemen since March 2015 to restore power to fugitive president Mansour Hadi, a close ally of Riyadh. The Saudi-led war has so far killed at least 14,000 Yemenis, including hundreds of women and children. http://bit.ly/2s2i12K
But the most amusing synopsis of what happened, came from the publication "Moon of Alabama", in a scathing article titled:
U.S. Torture, A Saudi Coup And ISIS Crimes - "By, With And Through Allies"
Yesterday an al-Saud family clown prince replaced another al-Saud family clown prince to replace the old al-Saud family king who will be offed soon. This in a country named after the al-Saud family. It is change you can believe in. The soon to be dictator-king Muhammad bin Salman bin Abdulaziz Al Saud, the guy who has debt-to-GDP, is fawned over in U.S. media. That is no wonder. He has lot of money and no idea of its value. He paid €500 million for a used ship that had cost only €300 million when it was build six years earlier. Some of his money will drop here or there when a journalist writes a pretty piece about him. If the journo is really good at it s/he will get payed off in some CIA endorsed weapon deal with the Gulf sheiks. Bin Salman is not very bright. He visited Israel and is in constant contact with Israeli officials. His development program for Saudi Arabia, based on austerity, was written by McKinsey consultants and is thereby likely to fail. With his extreme anti-Iranian stand he looks like a mere U.S.-Israeli puppet.
The 26 million people he rules over will not like either. Many Arab peninsula citizens will want to see his head on a pike. The House of Saud is now a house of cards destined to fall.
The rise and installation of Muhammad bin Salman as Saudi King is, in part, a project of his mentor, the Emirati clown prince Mohammed bin Zayed. Bin Zayed rules the UAE. "By, with and through" allies comes to mind. http://bit.ly/2rY3cD3