HACKED | Hacking Group Cyber Berkut Reveals Ukraine Used Millions In IMF Loans To Fund Clinton Foundation
New Hacked Emails Show Ukrainian Businessman, And Former Member Of Parliament, Funneled More Than $10,000,000 From The IMF To the Clinton Foundation Through Various European Banks And Investment Firms.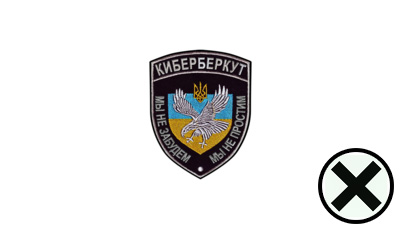 The pro-Russian, anti-corruption hacking group Cyber Berkut have once again been active in trying to rid the world of the ever present globalist network of war mongering, world dominating, degenerate money whores. This time they've hacked the email account of Thomas Weihe, Head of the Board of the Victor Pinchuk Foundation and a serious Clinton Foundation donor.
Supports projects that modernise Ukraine and foster a new generation of leaders.
Mission is to empower future generations to become the 'change makers of tomorrow'.
Victor Pinchuk | Ukrainian businessman and philanthropist worth $1.44 billion.
Member of the Ukrainian parliament from 1998 to 2006.
Founder of Credit Dnepr Bank
Founder of EastOne Group LLC, an international investing, project funding and financial advisory company.
Founder of Interpipe Group, one of Ukraine's leading pipe, wheel and steel producers.
Owner of four TV channels and a popular tabloid, Fakty i Kommentarii.
Married to Olena Pinchuk, the daughter of former Ukrainian President Leonid Kuchma.

Along side well known entities like The Rockefeller Foundation and Stephen L. Bing, and countries like Norway and Saudi Arabia, the Victor Pinchuk Foundation donated between $10,000,000 and $25,000,000 to the Clinton Foundation. Below is an article from 2015, a year after most of the hacked email date from, detailing the DoJ's investigation into the Illegal financial transactions.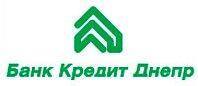 BREAKING: IMF Officials Helped Steal Ukraine Funds - US Investigating | Russian Insider - 09/03/2015
Highly unusual for US Department of Justice to be investigating a pro-western oligarch like Igor Kolomoisky. But apparently his PrivatBank hiding $1.8 billion of IMF funds was too much even for Washington. Now it appears, the bank had help from IMF officials who are running for cover and refusing to answer questions.

Nikolai Gueorguiev, head of the Ukraine team at IMF headquarters in Washington, DC, and Jerome Vacher, the IMF representative in Kiev, refuse to respond to questions on their role in the offshore diversion of IMF loan money through Privatbank and Credit Dnepr Bank, banks owned by Ukrainian oligarchs Igor Kolomoisky and Victor Pinchuk.

The recent hack is connected to the ongoing investigation into commercial banks laundering IMF's money from the National Bank of Ukraine through Austrian bank Meinl AG. On their website the pro-Russian, anti globalist cyber hacking group state 'We, CyberBerkut, decided to contribute to the investigation'. The investigation is looking into the following banks involvement in the illegal transfer of funds:
Tavrika, Pivdenkom Bank
Avtokraz Bank
CityCommerce Bank
Finrost Bank
Terra Bank
Kyivska Rus Bank
Vernum Bank
Credit Dnepr Bank
Delta Bank
CyberBerkut continue to say:
Having examined the materials published on the Internet we focused on two financial organizations named Credit Dnepr Bank and Delta Bank. In comparison with other banks these two financial organizations offshored much more money.

These banks are closely related to Victor Pinchuk – one of the richest Ukrainian bankers. He is also a son-in-law of former Ukraine's President Leonid Kuchma. As it turns out, the offshore organizations that received IMF's money such as:

Melfa Group LTD (Belize)
Tandice Limited (Cyprus)
Tosalan Traiding Limited (Cyprus)
Agalusko Investment Limited (Cyprus)
Winten Trading LTD (Cyprus)
Silisten Trading Limited
Nasterno Commercial Limited

.....are also connected to this gentleman [Victor Pinchuk]. Moreover, most of money went to the account of his main money-laundering machine – the Victor Pinchuk Foundation.
So, we decided to track down the stolen funds.
We've hacked Thomas Weihe's email. This man is the Head of the Board of the Victor Pinchuk Foundation. As you can see from his correspondence the oligarch's foundation is closely cooperating with the Clinton Foundation. And it is worth to mention that Pinchuk and his wife often meet with former American president's family members. Mr. Weihe regularly communicates with the Clinton Foundation representatives and constantly arranges meetings between the Pinchuks and the Clintons. Here are some Mr Weihe's emails.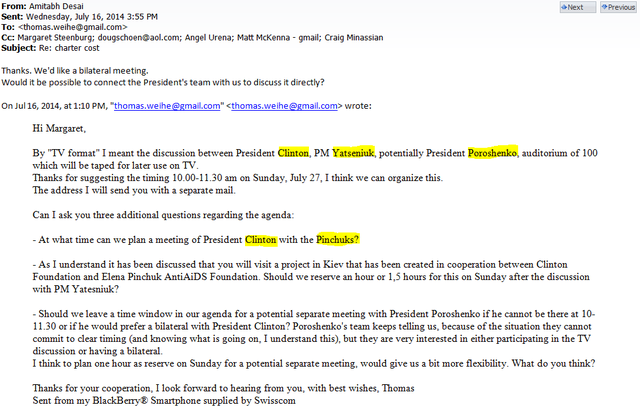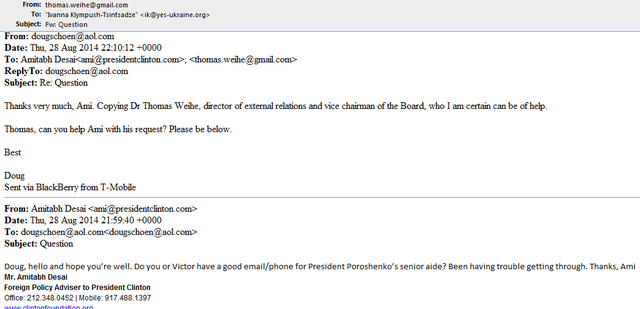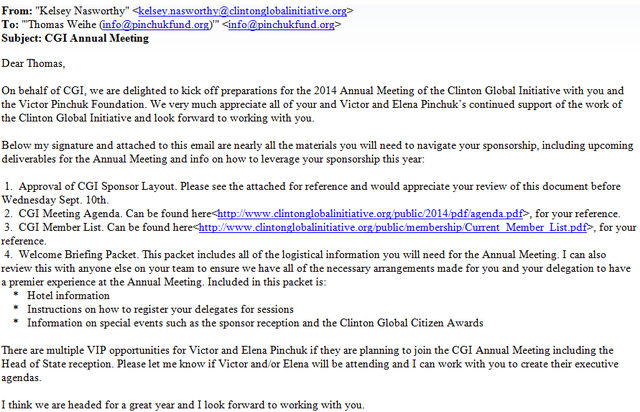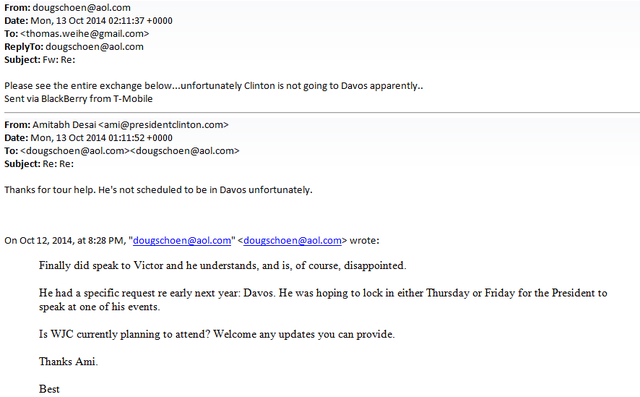 Full emails can be found here - Opsec needed
Victor Pinchuk Foundation transferred a total of between 10 to 25 million dollars to the Clinton Foundation with the largest donations happening between 2015 and 2016. The same year Hillary Clinton ran for president. Below you can see the financing scheme of Clinton's election campaign using IMF's loans intended for Ukraine. Although it's in Russian you can still see the flow of money. I'm currently translating it so I will have a follow up when more developments evolve.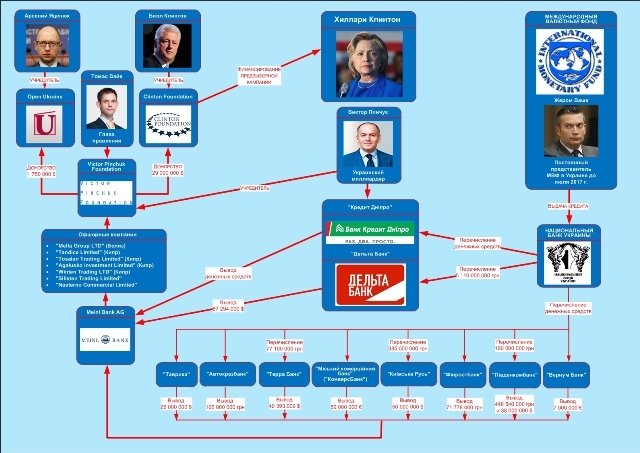 Original
Below are a few names from the chart that have been connected with Credit Dnepr and other Investment Banks involved in the scandal.
Natalie Ann Jaresko | American-born Ukrainian investment banker. Ukraine's Minister of Finance from 2014 until 2016. In 2016 Obama appointed her to be the Executive Director of United States Federal Fiscal Control Board of Puerto Rico
John Helmer: Ukraine Finance Minister Natalie Jaresko Accused in Colorado Court | Naked Capitalism - 12/19/2017
Helmer was first to provide in-depth reporting on the US citizen and State-Department supported Natalie Jaresko, who was mysteriously parachuted into the post of Ukraine Finance Minister a few weeks ago. Jaresko is in the midst of a nasty divorce from her former business partner.
N.Gontareva | Former head of the National Bank of Ukraine
Not to Be Missed: Ukraine National Bank Governor Files Resignation | Sputnik News - 04/10/2017
Ukrainian lawmakers blame Gontareva for the crash of the national currency and the liquidation of a large number of banks. Ukraine's economy has deteriorated since an armed conflict between government forces and independence supporters in Donbass escalated in April 2014.
D.Strauss-Kahn | Former IMF Managing Director. On the supervisory board of Credit Dnepr Bank owned by Pinchuk.
Dominique Strauss-Kahn to stand trial for pimping, French prosecutors say | The Gaurdian - 07/26/2017
Former IMF chief charged with aggravated pimping in connection with alleged prostitution ring at Carlton hotel in Lille. Dominique Strauss-Kahn, the former head of the International Monetary Fund, is to go on trial on charges of pimping in connection with an alleged prostitution ring at a luxury hotel in the northern French city of Lille.
Although Strauss-Kahn no longer works for the IMF CyberBerkut believe he still has influence on the international credit organization. Below we see Credit Dnepr Banks
Russia's Friend Goes to Work for Russian Enemy - Dominique Strauss-Kahn Takes Job with Victor Pinchuk | Russian Insider - 03/05/2015
Strauss-Kahn has now been tied to a shady banking scheme in South Sudan. It seems a tiger just can't change his stripes.
Strauss-Kahn has been losing large amounts of money in the courts of the US, France, and Luxembourg, as well as in his French businesses. He has been recouping by taking retainers as an arranger for the French investment firm Arjil-Atrium Capital; a promoter for the National Credit Bank of South Sudan; and board director for two Russian state-controlled entities, the Rosneft-owned Russian Regional Development Bank and the Russian Direct Investment Fund.

All the people I have investigated in this so far have engaged in some form of criminal activity in one way or another. After reading the hacked emails it seems clear that the only reason the Department of Jusice wanted to investigate this was to quickly control what evidence was, and wasn't found. If these emails were known about at the time they would have quickly proven this to be the case. I shall leave you with a related article from a few weeks ago that gives up more of a background into Cyber Berkut.
---

FORTIFIED
Steemit | Gab
THANK YOU FOR READING
- If You Would Like To Help Me Make More Great Original Content Please Consider Upvoting and Re-Steeming -