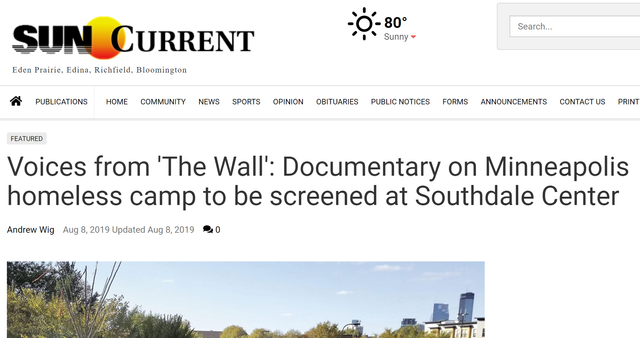 Today the Edina Sun Current newspaper published a story about my and Native advocate James Allen Cross's thoughts looking back at The Wall homeless camp and looking ahead to solutions.
It's a thorough and thought-provoking read, and it previews nicely our event next Saturday night in Edina. At the venue HEREandTHERE.live, we'll be showing my documentary film about The Wall homeless camp followed by an interview and Q&A between host David Plutado Fugate, James, and myself.
Tickets are pay-what-you-want with all proceeds going to help homelessness efforts. Reserve yours or just read more about the event here: https://hereandthere.live/event/08-17-2019
And read today's article here: https://www.hometownsource.com/sun_current/community/voices-from-the-wall-documentary-on-minneapolis-homeless-camp-to/article_8d692538-ba15-11e9-9878-373f3c36643b.html
Helping the homeless by telling their stories--and hosting these events...