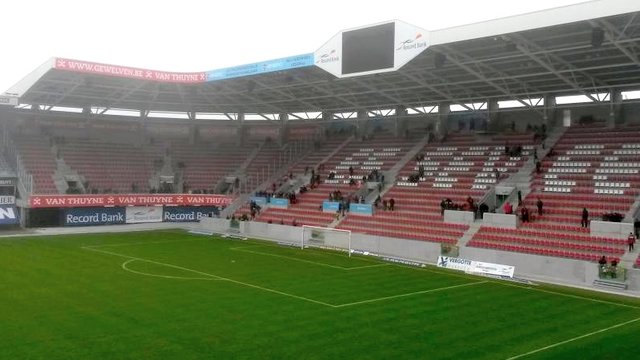 These are previews from the Belgian Jupiler League with all the latest on team news, player form, injuries along with my personal betting angles, ...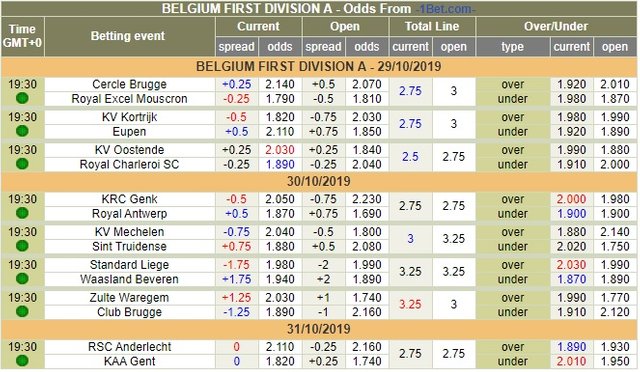 ---
Tuesday was one of those roller coaster betting days starting out really bad with a first-minute goal in Cercle Brugge. I did keep all live bets fairly low stakes but every bet I took seemed to go in the wrong direction until the point it started to turn around. I closed the evening with a minor loss which feels like a win currently. I will continue with caution this week and keep the stakes low.
---
Racing Genk vs Antwerp

Genk has been playing better at times without being able to keep it up all match. They have 13+ matches on their schedule next month and coach mazzu rotated last weekend and will do this again. The expectation is that he will play with both Samatta and Onuachu in the offense. Antwerp had something of an off-day in their last away match against Kv Mechelen but played great at home against Kortrijk. Overall there should be little quality difference between these teams and I took a small-mid-sized pre-game gamble on Antwerp +0.5 @ 1.917. There is a clear over trend on the Antwerp team as they play more forward and rarely keep a clean sheet these days. Genk on the other hand has more goals in away matches. If it shows to be an open match I will look to take the over or 1st half over.
---
Mechelen vs Sint-Truiden

Kv Mechelen seems to be in a good streak again taking 4 wins in their last 5 matches. I stick to my view that they do lack the player quality to keep this up. Stvv kept the 0-0 at home against AA Gent but haven't exactly impressed in that match. I'm not willing to oppose Kv Mechelen right now as they are in a hot streak and put up a great performance in their last home match against Antwerp. Stvv I don't trust so much right now. The most remarkable statistic is the 1st half over for both teams as they both average 2 goals in their first halves (home/away) this season. I do expect an early push from the home side and will keep my eye out for a potential live over bet. No Pre-Game Bets
---
Standard vs Waasland

Waasland played their last away match against AA Gent and I made notes that they simply are not good enough away vs top teams. Last week they lost at home against Mechelen who punished them on the counter. Standard played defensively against Club Brugge and was lucky to score the opening goal very early on. My reference handicap for matches exactly like this one which is acceptable to take is set at -1.5 @ 1.85, the line and odds on the market are -1.5 @ 1.826 so it's very close. I'll wait it out live and see if Standard has a good day or not before taking any bets. No Pre-Game Bets
---
Zulte-Waregem vs Club Brugge

Club Brugge has been one of the best away teams against the Asian handicap going 4W-1L vs the opening line. Money pretty much systematically comes in on them making it hard to bet them late. Against opening lines the did +27.27% this season which is reduced to +6.09% when taking their closing lines. It's safe to say that they aren't really underrated on the closing lines now. Zulte-Waregem mix up good performances with bad ones but have a solid home record going 5W-1L against the asian line. Important creative offensive player Berahino is injured and was missed in their last match. This is one of those matches where I need to see Club Brugge having a good day dominating Zulte-Waregem having a bad day before getting involved. Last 8 matches between these 2 all went over 2.5 goals. No Pre-Game Bets
---
Late info might change my view on what is written in these previews. I will cover these matches live in our SBC Discord Channel. The Bookmakers that I am personally using and currently am willing to recommend are Sportmarket Pro, Nitrogensports, Sportsbet.io. Bigger bets will te shared and tracked on Twitter and can also be followed directly on copytip. Using my links when signing up helps to continue making these previews, Thanks!
---
October BTC Bets
| Date | Bet | mBTC | Odds | Result | Betslip |
| --- | --- | --- | --- | --- | --- |
| 25/10/2019 | Anderlecht 1H -0.25 | 10 | 2.020 | -5 | Sporstbet |
| 20/10/2019 | Antwerp -0.25 | 10 | 1.860 | -10 | Sporstbet |
| 19/10/2019 | Waasland +2.25 | 10 | 1.840 | +4.2 | Sporstbet |
| 19/10/2019 | Oost vs Eup 1H U 1.25 | 10 | 1.780 | -10 | Sporstbet |
---
Results History
---
IMPORTANT !
Past results don't guarantee Future Results. There are very few people that are equipped financially and psychologically to handle the ups and downs of gambling on a daily basis. If you're not a professional, every instinct you have will attempt and probably will sabotage your success. Human nature runs completely contrary to being successful at gambling. These bets are posted as a way to help myself in order to stay disciplined, always hold yourself accountable if you end up following. Proper Bankroll Management can highly decrease the risk of heavy losses!
---