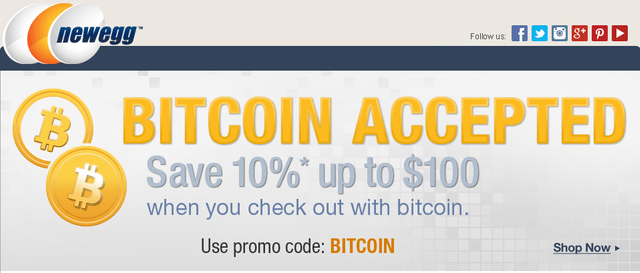 Online electronics retailer Newegg announced in a press release  its now going to allow residents from Canada the ability to pay for  goods using cryptocurrencies. Through its partnership with the payment  processing firm BitPay, the company feels its the right time to offer  Canadian customers the ability to pay for items with digital currencies  BCH and BTC. 
Newegg has  accepted BTC in the U.S. since 2014 and was one of the earliest  electronics merchants to take cryptocurrency for payments. According to  the firm's recent announcement since then digital currency transactions  have represented a "growing stream of purchase transactions." Following  this trend, Newegg states that is now offering Canadian customers the  ability to pay with BCH and BTC. The firm details that cryptocurrencies  have grown more popular over the last year with "increasing mainstream  awareness." Danny Lee, Newegg's CEO explains during the announcement: 
 "In 2014 Newegg was among the first major companies to offer customers a  bitcoin payment option — Since that time the value of bitcoin has  skyrocketed and customers holding bitcoin have considerably more  purchasing power — We believe the time is right to broaden our  acceptance of bitcoin to our customers in Canada." 
In late 2017, as Bitcoin's volatile value and ballooning transaction  fees drove a number of other retailers, including online gaming  platform Steam, away, Newegg held its ground. 
 "Since that time the value of bitcoin has skyrocketed and customers  holding bitcoin have considerably more purchasing power. We believe the  time is right to broaden our acceptance of bitcoin to our customers in  Canada," Newegg's CEO Danny Lee added. 
Newegg reportedly enjoyed $2.65 billion in revenue in 2016. The company  serves some 36 million customers and is one of the largest online  electronics merchants in North America according to Finance Magnates. 
Newegg will continue to rely on payment service provider BitPay to handle online Bitcoin payments.
BitPay CEO Stephen Pair praised Newegg's welcoming approach to digital currency payments: 
 "Newegg was an early e-commerce adopter of bitcoin, and that leap of  faith the company took in 2014 put Newegg on the map as a  bitcoin-friendly place for tech enthusiasts to shop. We're seeing a lot  of traction in Canada, and we're happy to see Newegg extend its bitcoin  payment option north of the border." 
When purchasing an item from the online store users are directed to an  invoice that allows them to choose between paying in either BTC and BCH  or fiat cash/credit.
Bitcoin is currently trading at [FIAT: $7,352.13] while BCH is trading at [FIAT: $690.20] according to Coin Market Cap at the time of this report. 
Want an edge in the crypto markets? Subscribe to our free newsletter. Follow Coinivore on Facebook, at Twitter and Steemit.