US-backed ISIS Terrorists Kill and Injure Syrian Law Enforcement Personnel
Four Syrian army and law enforcement personnel were the casualties of escalated terrorism in the Syrian southern province of Daraa, a Syrian - Russian joint military police patrol was also attacked in the province over the past three days.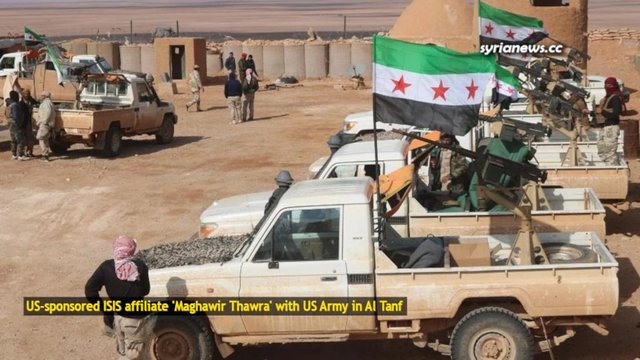 The attack against the Syrian - Russian military police joint patrol inflicted material damage to one of the armored vehicles, no casualties were reported; the attack in the eastern countryside of Daraa province was carried out by a roadside bomb.
A Syrian army staff officer was assassinated by a terrorist group in the town of Al Hirak in the same eastern countryside.
Terrorists assassinated a Syrian army corporal in the northern Daraa countryside, the soldier was serving his compulsory military service.
Another Syrian army corporal was killed in the western countryside of Daraa by a group of terrorists.
One law enforcement officer survived an assassination attempt and is being treated for the wounds he sustained in the attack in the northern Daraa countryside, his condition is stable.
All these terrorist attacks were carried out by remnants of the ISIS terrorist organization who fled Daraa province when the Syrian army liberated the province 1.5 years ago and are hiding under the protection of the US army around the illegal US military base in the Syrian Al Tanf area, sources within the Syrian law enforcement agencies confirm.
Those who still believe the US Army combats ISIS in Syria or combats terrorism anywhere else, need to define when a terrorist is a terrorist and when the terrorist is a freedom fighter, maybe a look at the FBI code defining terrorism would help, a code the US foreign policy completely ignores in its endless wars around the world. Maybe also considering what a US dutifully taxpaying citizen would feel if another country created, funded, armed, trained, and protected freedom fighters and moderate rebels blowing up buildings, maiming children and stealing farms and factories in the USA itself.
More in this report: Terrorist Attacks by ISIS in Daraa Kill and Injure Four SAA Soldiers.
----
Your objective comments are always welcome.
---
Follow @ArabiSouri:
Twitter: Arabi Souri
Syria News: www.syrianews.cc
---
Donations are highly appreciated, just click on the Donate button via PayPal or Credit Card: Donate.
You can also donate with Steem/ Tron or SBD or even delegate some much-needed SP.