Russia Loses a Helicopter in Northeast Syria
A Russian Mi-35 helicopter crash-landed in Hasakah province, northeast of Syria earlier today, the crew are safe and were taken to the nearby airport.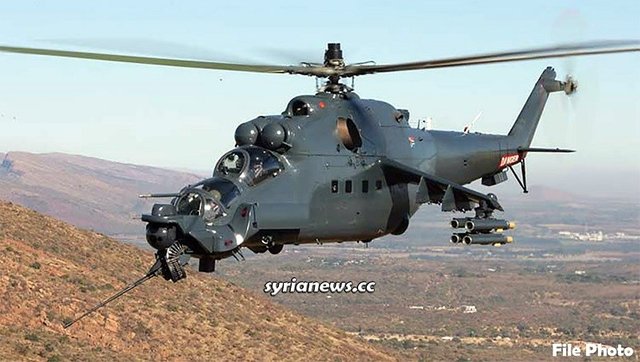 There were no signs the helicopter was under attack, the crew confirmed the incident was caused by a technical issue.
Russian military and Russian military police are active in the northern regions of Syria after agreeing with NATO on a truce that none of NATO's countries or organizations respected, those include Turkey with its madman Erdogan, the USA still busy looting Syria's oil, wheat, and barley, Al Qaeda and its assorted derivatives, and the separatist Kurds.
Recent Russian checkpoints in northern Syria came under fire recently by NATO's different proxies and the Russians had to reduce their military presence in those areas.
More in this report: Russian Helicopter Crash Lands in Hasakah Province, Northeast Syria.
---
Your objective comments are always welcome.
---
Affiliate: Sign up for a free account and a credit card with Payoneer and earn $25.
---
You might find this site useful to buy and sell Bitcoins using your PayPal account, I get a tiny commission and so can you when you introduce others: Paxful Exchange
---
Follow @ArabiSouri:
Twitter: Arabi Souri
Syria News: www.syrianews.cc
---
Donations are highly appreciated, just click on the Donate button via PayPal or Credit Card: Donate
You can also donate with Steem/ Tron or SBD or even delegate some much-needed SP.
#Nusra #ISIS #Terrorism #USA #EU #Wahhabism #Zionism #alQaeda #FSA #Saudi #Qatar #Israel #Net #Neutrality #Mainstream #MSM #Control #WarOfTerror #kurdistan #sdf #kurds #RegimeChange #Syria #Iran #Russia #InformationWar