Landmine Explosion Kills Two More Civilians in Central Syria
A landmine explosion killed two more civilians and injured another north of Tadmor (Palmyra) in Central Syria, the injured remains in serious condition and was moved to the National Hospital in Homs after being stabilized in the Tadmor Hospital.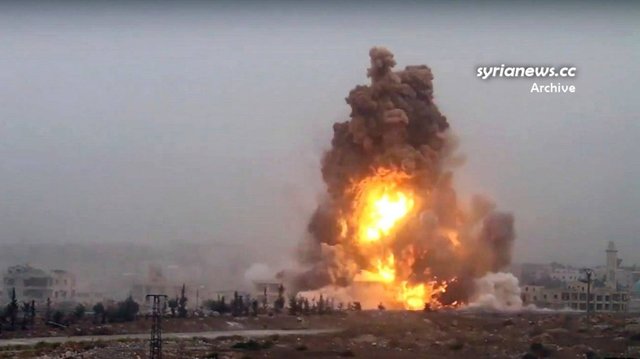 Landmines remain a serious challenge for the Syrian authorities since the western countries were very generous in funding all the terrorist groups operating in Syria which in turn planted the country with tens of thousands of explosives wherever they infested to make sure they continue to kill and maim people long after they're defeated, that's the democracy the USA and its European cronies and regional stooges of Saudi Arabia, Qatar, and Turkey were trying to force-export to Syria.
The memorandum of understanding between the Syrian government and the United Nations Mine Action Service (UNMAS) remains a memorandum as the international organization is unable to fulfill its role due to the continuous blocking of its efforts by the USA and co.
It'll be very helpful as a start if the terrorist-sponsoring countries would provide the Syrian authorities with maps for the landmines and other explosives their proxy terrorists planted in Syria, at least to warn the people not to approach until those areas are demined.
More in this report: Two Dead, One Injured in Landmine Explosion Near Tadmor; UNMAS Continues to Fail Syria.
----
Your objective comments are always welcome.
---
Affiliate: Sign up for a free account and a credit card with Payoneer and earn $25.
---
You might find this site useful to buy and sell Bitcoins using your PayPal account, I get a tiny commission and so can you when you introduce others: Paxful Exchange
---
Follow @ArabiSouri:
Twitter: Arabi Souri
Syria News: www.syrianews.cc
---
Donations are highly appreciated, just click on the Donate button via PayPal or Credit Card: Donate
You can also donate with Steem/ Tron or SBD or even delegate some much-needed SP.
#Nusra #ISIS #Terrorism #USA #EU #Wahhabism #Zionism #alQaeda #FSA #Saudi #Qatar #Israel #Net #Neutrality #Mainstream #MSM #Control #WarOfTerror #kurdistan #sdf #kurds #RegimeChange #Syria #Iran #Russia #InformationWar