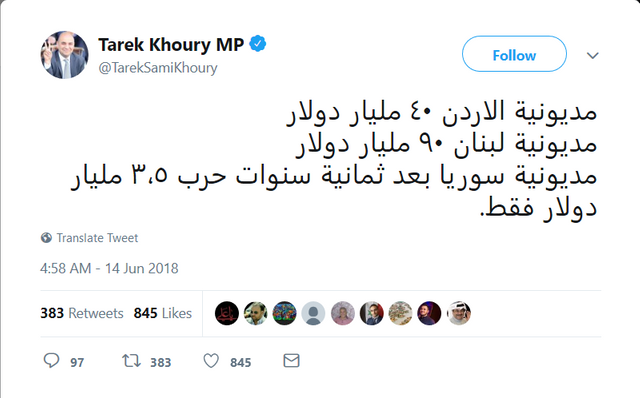 Jordan's debt: 40 Billion US Dollars.
Lebanon's debt: 90 Billion US Dollars.
Syria's debt after 8 years war: 3.5 Billion US Dollars.
Jordanian Member of Parliament Tarek Khoury: https://twitter.com/TarekSamiKhoury/status/1007064692433543168
Syria had ZERO foreign debt before the 'War of Terror' waged against it by over 80 countries led by the most evil powers in the world the US, UK and France, with their regional stooges NATO member state Turkey ruled by the radical Muslim Brotherhood fanatic Erdogan, the world's wealthiest two countries per capita and at the same time the most retard political regimes; Saudi Arabia and Qatar along with others like Germany, the whole EU, Egypt, Libya, half of Lebanon, the rest of the Gulfies, Japan, Israel and many more.
During the past 7.5 years of the 'War of Terror' waged against Syria, all public employees received their salaries from the central government in Damascus, on time even those in areas under the control of the terrorists, each time the anti-Islamic Wahhabi suicide terrorists blew up an electric power generating station or substation, the government was fixing it in record time, no garbage was found on the streets while in the neighboring country Lebanon there was a river of garbage flowing in their capital due to their corruption. The government continued to subsidize bread, fuel, and basically all essentials, increased the salaries many times to cope up with the attacks against the Syrian Lira -currency- and even was exporting electricity to Lebanon...!
Above that the government was handling over 6 million internally displaced refugees who fled their towns and villages when the 'freedom fighters' came there, and kept providing free education from 0 to phd to scholarships abroad, complete health care for all citizens and residents in the country including vaccination campaigns...
For more: https://www.syrianews.cc
---
Don't forget to Upvote this post to help me contribute more here and on the different channels I'm running.
---
Follow @ArabiSouri
on Twitter: Arabi Souri
SyriaNews: www.syrianews.cc
Donations are highly appreciated, just click on the Donate button via PayPal or Credit Card: Donate
#Syria #Wahhabism #Zionism #alQaeda #FSA #Nusra #ISIS #Terrorism #Saudi #Qatar #Israel #Net #Neutrality #Mainstream #MSM #Control #News