111 NATO-sponsored Al Qaeda Terrorists Killed by the Syrian and Russian Armies in Syria
At least 111 confirmed killed NATO-sponsored al Qaeda and ISIS terrorists, add three times that as injured, also at least, in northern Syria within one week only, The irony is, the terrorists are the ones who decided to escalate for reasons to do with their sponsors in Washinton, London, Ankara, and Tel Aviv.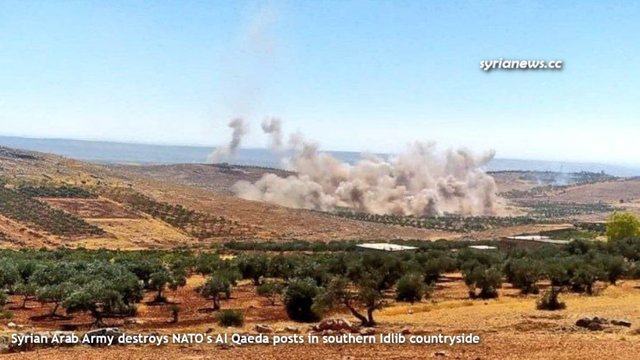 Watch on
Rumble,
Syria News,
or
BitChute
in case
YouTube
deletes the video.
The battlefront across the northern Syrian provinces of Aleppo, Idlib, Latakia, Hama, Raqqa, and Hasakah, with the intensive shelling and aerial bombing by the hour on the Idlib southern countryside front where an ISIS-affiliated group is the biggest loser.
Such scores among the terrorists do not come without cost on the Syrian part, the Syrian Arab Army (SAA) lost around 30 soldiers within the past 2 weeks; the 111 terrorists killed were only in the past week.
Ansar Tawhid, formerly known as Jund Al Aqsa, an affiliate of ISIS (ISIL - Daesh) attacked a post of the Syrian Arab Army within a region designated as part of the de-escalation zone agreed upon by their Turkish sponsors, the second-largest force in NATO, the 'defensive' alliance.
In their surprise attack, while their Turkish sponsors were turning a blind eye, the terrorists killed 16 Syrian soldiers, this led to retaliation by the Syrian Army, especially the artillery, grad missiles, and storming troops units, the Russian fighter jets are assisting in bombing areas protected by the Turkish Army.
The Syrian Ministry of Defense issued a couple of statements within the past week about the latest clashes, In its statement, the Syrian MoD reported the kill score among the terrorists naming many of them and most of those happen to be Chinese Uighur and from Central Asian countries fighting in Syria as members of the Syrian opposition!
I've collected the hourly confrontations including the ones in Hasakah in far eastern Syria, and near Manbij in the northeastern Aleppo countryside, Both attacks were carried out by the Turkey-sponsored al Qaeda terrorists to help ease the pressure over their colleagues in southern Idlib.
The video combination includes a graphic segment showing the bodies of the hordes of Al Qaeda terrorists scattered over a large area, not a pleasant thing to watch: Syrian & Russian Armies Eliminate 111 NATO Terrorists in a Week.
----
Your objective comments are always welcome.
---
Follow @ArabiSouri:
Twitter: Arabi Souri
Syria News: www.syrianews.cc
---
Donations are highly appreciated, just click on the Donate button via PayPal or Credit Card: Donate.
You can also donate with Steem/ Tron or SBD or even delegate some much-needed SP.