National Museum of Damascus reopened for first time in 7 years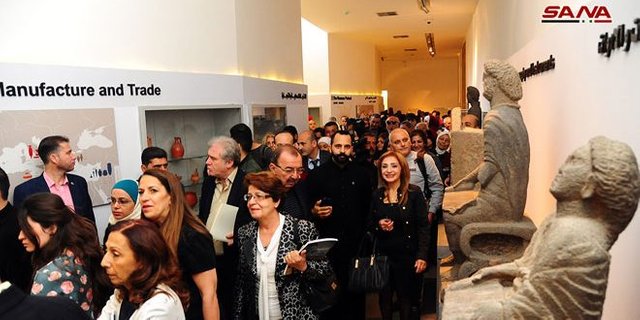 BEIRUT, LEBANON (6:30 A.M.) - The National Museum of Damascus has reopened its doors to the public after closing more than seven-years ago, the Syrian Arab News Agency (SANA) reported on Sunday.
According to the SANA report, the National Museum was opened in front of a large crowd of domestic and foreign archaeologists, who were eager to enter its doors after a long absence due to the ongoing conflict.
The SANA report said that the Syrian government had worked to hide many of the museum's contents over the last five years in order to protect them from theft.
Speaking to China's Xinhua Net on Sunday, Maamoun Abdul-Karim, an antiquities expert and former antiquities chief in Damascus, told the publication on Sunday that the Syrian government had salvaged more than 300,000 archaeological pieces from museums across the country.
"The opening of the museum by the general directorate of the antiquities and museums is a beginning of hope but we are in need for a lot of efforts and capabilities, time and ever-lasting peace in all Syrian provinces so that all of the Syrian museums could be re-opened in all Syrian areas," he added.
---
If you can't view videos or other embedded visuals, click the link below!
Posted from AMN with SteemPress : https://www.almasdarnews.com/article/national-museum-of-damascus-reopened-for-first-time-in-7-years/
---

Follow AMN on Steem to get updates, We follow back :-)