GRAPHIC Content: Aleppo 2012 - A Commander of 'Peaceful Protesters' Group!
I will not be sorry to share this picture which some might see as gruesome, these apes were terrorizing us on a daily basis while most of the western world officials and their media mouthpieces were still claiming, some until now, that 'peaceful protesters' were oppressed, here's an example from 2012.
This guy was called Ahmad Iskef, the head of Al Qaeda Bayanon Martyrs Brigade from the town of Bayanon in the northwestern Aleppo countryside not far from the borders with Turkey. In the top screenshot from his video shared in Arabic that time and was meant to spread fear among the Syrian people especially the people of Aleppo and to justify shelling their buildings with mortars he is threatening to kill the head of the Syrian Airforce Intelligence branch in Aleppo who was in charge of the security of Syria's airports and airbases in the north.
In the lower picture on the 2nd day of his threats he received a direct hit along with his group when they were attacking a Syrian Army checkpoint: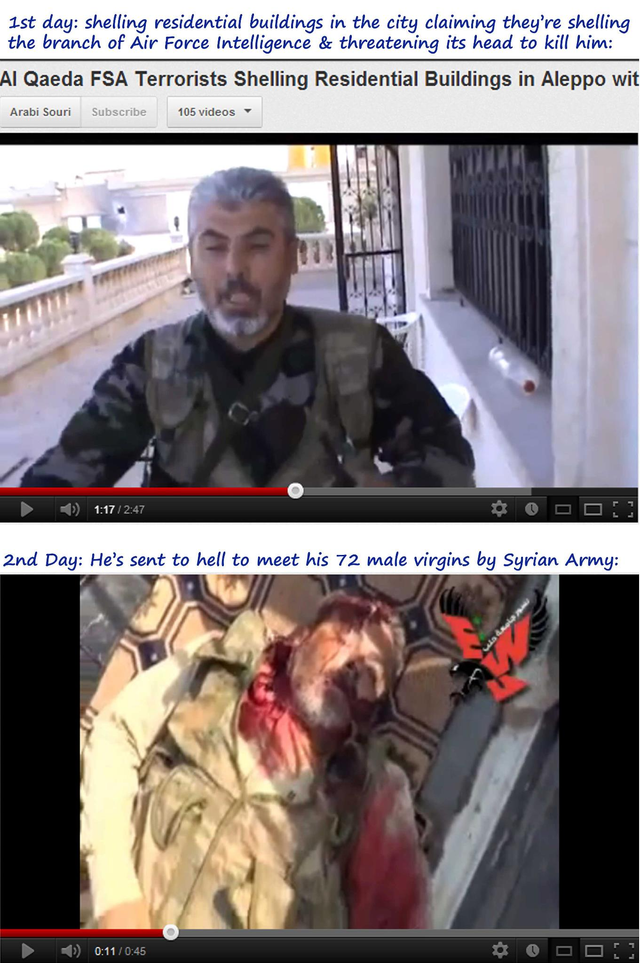 And as you all know our misery didn't stop at the time of eliminating this terrorist commander and his group, the Turkish regime was sending from his country's very long borders with us not less than 7000 terrorists every single week over the past 10 years, imagine their total numbers and keep in mind these have the most advanced weapons and are suicide terrorists compared with one single terrorist with just a gun on him and was already wounded how the city of Boston was on lockdown for 24 hours and all the police force, the FBI, the NSA, and all the agencies in the USA were on the hunt for him for a full day, just one single college student with a gun who participated in blowing up a cooking pot, not artillery, not machine guns, not missiles, just a gun on him.
See since when and for how long your media and your officials in the west have played you?
Image source: New Syria FB page
---