Friday March 2, 2018 Oracle Card Reading- Sacred Geometry ACTIVATIONS
---
Welcome Steemians!
As I mentioned last Friday, I want to do a reading every Friday, from an Oracle deck in a sort-of rotation.
Last week it was from the Waterhouse Oracle, and this week's deck selection is:
Sacred Geometry ACTIVATIONS Oracle- by LON.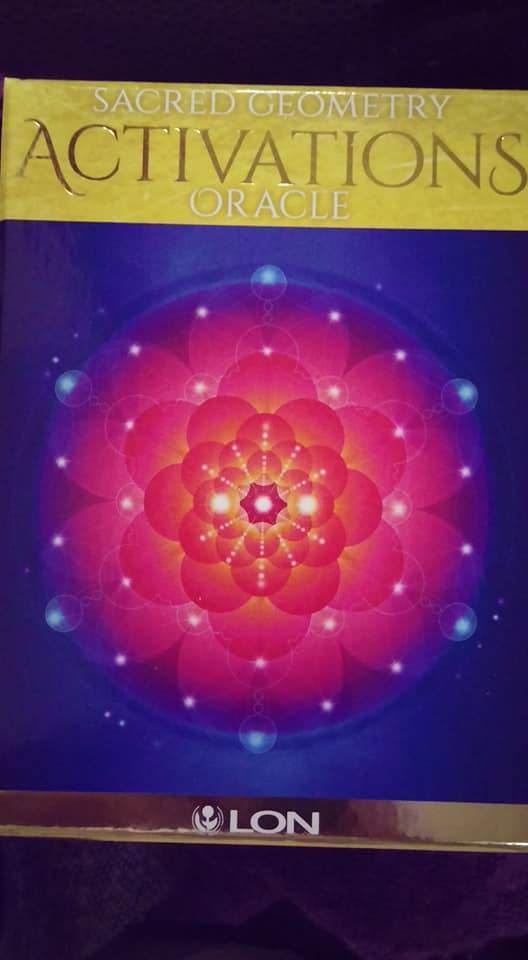 (front of box)
This deck comes in a beautiful box, it includes 44 cards, plus a full 160-page guidebook.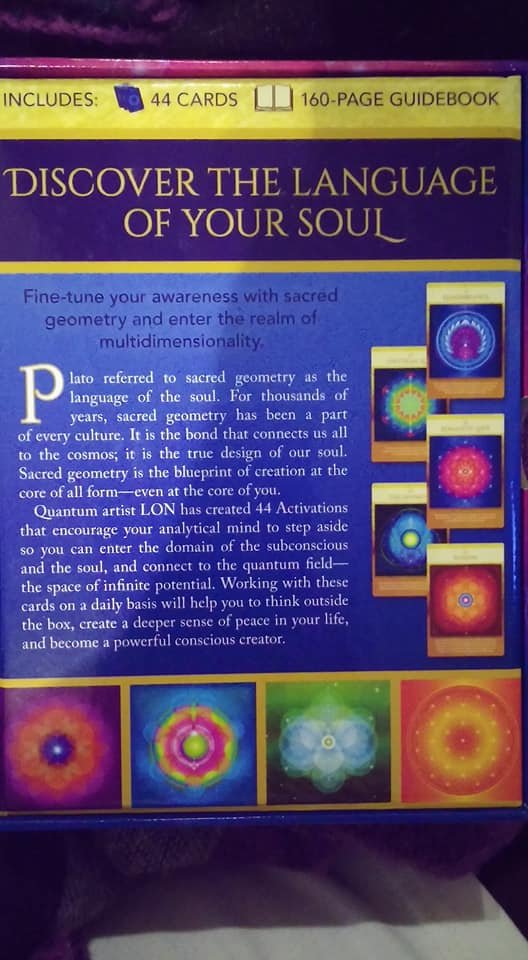 (back of box)
According to the description about the artist and creator, LON, she was born and raised in Holland, attended art school, and ended up working in the graphic arts industry.
She had become interested in crop circles back in the early 90's for their unique designs, and later began to build her interests to include what the description states as "to shift the collective consciousness" among other things. (I won't quote the entire article).
She creates various sacred geometry design images, and built this Oracle deck as a "visual meditation tool," or as the description also refers to as "ACTIVATIONS," to help inspire people to make real changes in their lives.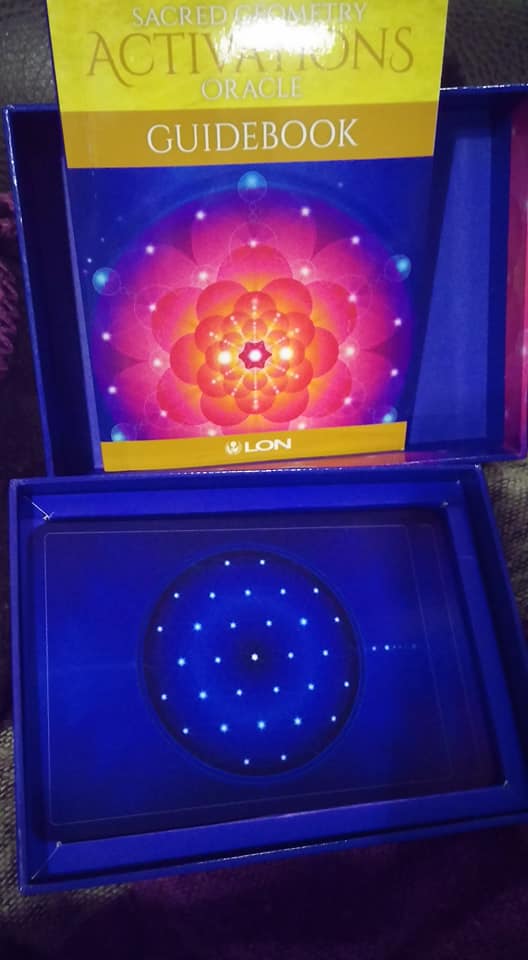 (inside the box looking at the guidebook and back of cards)
I am a true believer myself, in the active energies that exist around us. They are the building blocks of our entire universe, our entire existence, so, the inspiration behind the making of this deck is directly in line with my eclectic views and beliefs.
The images are gorgeous, with distinctive symmetry and vibrant colors; I really love this deck, so let's thank LON for giving us a unique method for looking inside ourselves, in an effort to be better human beings; To become more aligned with each other and the universe!
---
Now, today, from this deck, the random card that was drawn, is:
GAIA.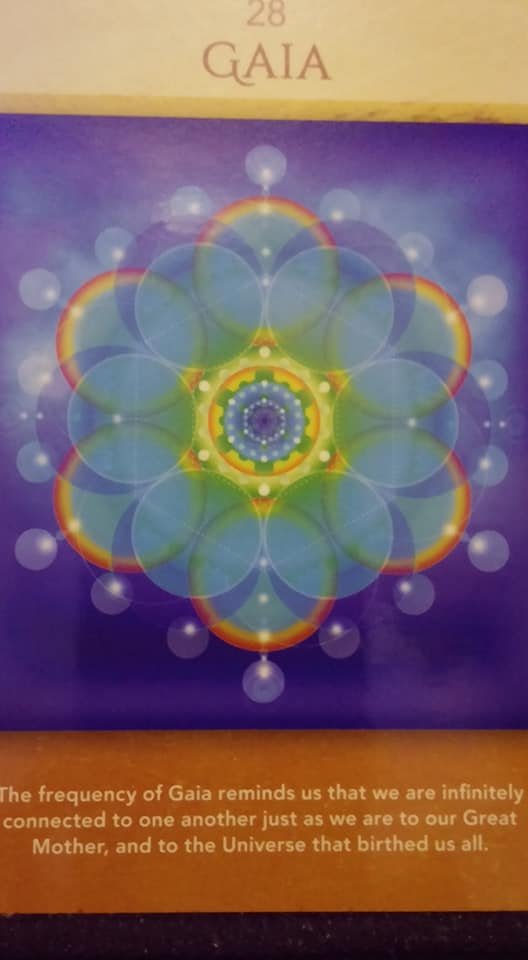 Now, as you can see the bottom of the card gives us a short description:
"The frequency of Gaia reminds us that we are infinitely connected to one another just as we are to our Great Mother, and to the Universe that birthed us all."
Wow! That is beautiful, and almost what I mentioned above, about our connection to the universe!
Now, let me open up the guidebook, and I will 'paraphrase' from the book some additional interpretations and meanings that are given, so that we may learn the ACTIVATION from this beautiful and energetic frequency of Gaia:
"Gaia is the word use to refer to the Earth as a living organism."
"She radiates a deep sense of nurturing, care, compassion, and wisdom."
"Gaia is represented in both her water and her solid bodies by the blues and greens."
"As above, so below, applies to the external world, (the sky, the water, and the earth), as well as the internal world of spirit and body,"
"We are invited to be conscious of how we walk this Earth."
"We are also invited to find compassion for all beings that are with us on this walk and beyond."
The book then goes into a section labeled: "TRY THIS"
"Close your eyes for a moment and contemplate how we all are connected to each other… to the Earth… to the cosmos…"
---
My Thoughts:
Perhaps this can begin as a deep meditation session in order to delve deeper into your participation, your support, and your contributions to your surroundings. How do you as an individual connect with your inner and outer world? How do you interact with fellow beings? How can you improve your personal interactions with others in your community, as well as the Earth, Water, and Sky?
---
In Closing:
I hope this was an enlightening experience for you, it certainly was for me!
I truly enjoyed learning about this deck, as I was learning along with the rest of you! I hadn't ever used this deck before, so I'm really glad I chose it today. It gives me something to contemplate as I enter into the weekend.
Thanks for joining me everyone! Have a great weekend!
PEACE!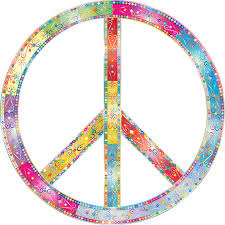 (courtesy Pixabay)