NEOXIAN SILVER (NEOXAG) POWER CONTEST FOR COMMUNITIES WEEK : #3 || 20K NEOXAG POWER ||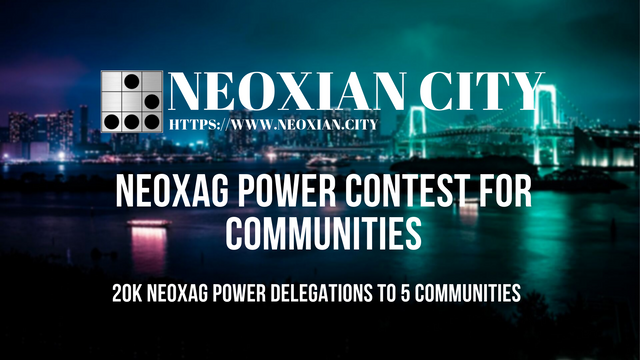 Hello city lovers , here i am come up with NEOXAG POWER DELEGATIONS FOR COMMUNITIES contest again. I am really happy with our last week NEOXIAN SILVER (NEOXAG) POWER CONTEST FOR COMMUNITIES WEEK : #2 || 20K NEOXAG POWER || contest . On our past week contest 18 Users participated and 34 individual Communities nominated. In total 71 community nominations has been accepted and from those nominations 5 Top nominated Community has been selected as winner of the contest . As reward 5 communities will get 4000 NEOXAG POWER DELEGATION each for a month . So , Let's see which communities win the contest .

Winners Of Contest Week : #2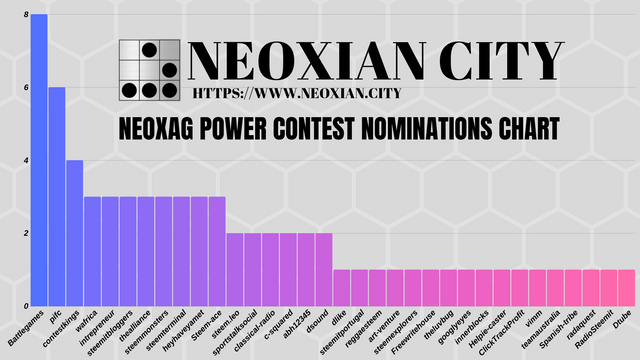 This is the previous week contest nominations chart. The top nominated community is @battlegames , they got total 8 nominations . @pifc (Pay It Forward Contests) got 6 nominations and become 2nd top . One of my favorite community @contestkings got 4 nominations and become 3rd on the winner list . Now come to 4th and 5th position , there total 8 communities got 3 nominations each , @wafrica , @intrepreneur , @steemitbloggers , @thealliance , @steemterminal , @steemmonsters , @heyhaveyamet & @steem-ace . So , i am giving @wafrica & @intrepreneur 4th and 5th positions . And giving +1 nomination to other 6 communities for this week nomination window .So finally the communities that getting 4000 NEOXAG Power delegations is :
@steemitbloggers , @thealliance , @steemterminal , @steemmonsters , @heyhaveyamet & @steem-ace each community will get +1 nomination for this week contest.
All nominations Posts :
These 18 authors got 100 NEOXAG stake each , which is total 1800 NEOXAG And also got upvote from @neoxiancityvb on their participation post .

How to join and Contest Rules
I know rules are boring but I am trying to keep simple....
All you have to do choose up to 5 communities and write a post that why you think these communities need the delegation and how this delegation will help them.
Those communities have active delegation they are not accepted as nomination . ( List given below )
Submit your post under the tag #neoxianpowercontest
You can write about any community on your post but it has to be precise.
This contest is open to all Steemians and only one entry per steemit account is allowed.
Comment your post link on this post and also put some short description about your nominated community.
Resteem will help to spread the contest in other users.
List of those communities who are not eligible for this week contest :
creativecoin
actifit
steemhunt
steemjet
ocd
battlegames
pifc
contestkings
wafrica
intrepreneur

⏰ DEADLINE ⏰

You should submit your entries before this post payout come , That's mean 7 day's . Winners name will be announced on the next day.
---
REWARDS:

4000 NEOXAG POWER Delegation for a month to each 5 communities.
Every entry post author will get 100 NEOXAG POWER As Stake and also upvote on entry post from neoxian city bidbot @neoxiancityvb .

SOME POSTS THAT MIGHT HELP YOU TO KNOW MORE ABOUT NEOXIAN.CITY TRIBE

That's all for today , I am inviting you to visit our city : Click on this icon to enter 👉 Though some used to call it Discord channel , but we(citizens) call it our city .