Needlework Monday: Reuseable Sanitary Napkins How-To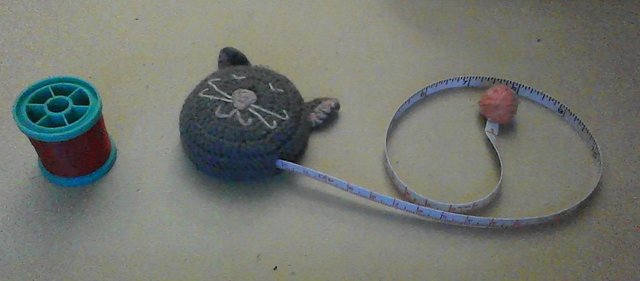 cover photo provided for you gentlemen who CAN'T HANDLE THE TRUTH (said in Jack Nicholson voice). Scroll on, those who are not squicked out by this topic. ;)
Clarification:
For those who are confused because you see people correctly use male pronouns with me, I'm a trans man. But I haven't had surgery, so all the plumbing still works, and I still have need of these. And I'm not a trans person who won't talk about being trans or my messy, messy vestigal organs ;), though I understand those who do, it's really only an option if you pass, which I don't, because no surgery. So, now you know, if you were wondering why a dude would post about making these.
Now that I've scared off half the audience either because they think "ew, gross, menstruation" or "ew, gross, transgender," welcome to the rest of you! I've been using reuseable pads for years now, and have tried many patterns and winging it and materials in making them, so I thought I would share what came to be my favorite. It's also an upcycle project, because every part of this besides the thread is reused scrap material from old things.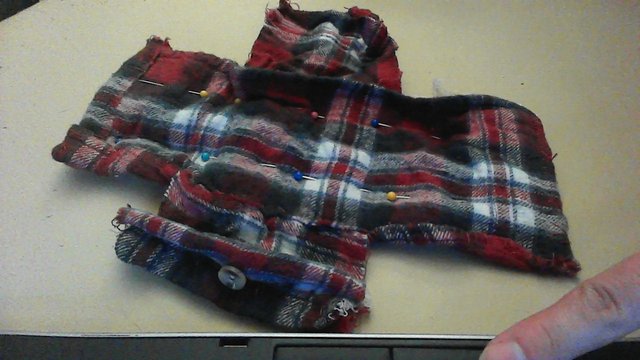 here is a current WIP that is almost finished
My advice as far as pattern sizing goes is: take out one of your favorite disposable pads. Cut the pieces to match. Make the wings the same size as the pad itself, not the wings on your disposable pad, so all the pieces are the same size. If you make the wings too short, it will bunch up in the middle because obviously it needs to wrap around and button, not stick halfway across. You might end up shortening it a bit if you end up with a sagging button, but better to be too long than too short. I promise, because if it's too short, the pad sits under you convex - sloping downward. That's not really what you want in liquid capture. ;)
What You'll Need: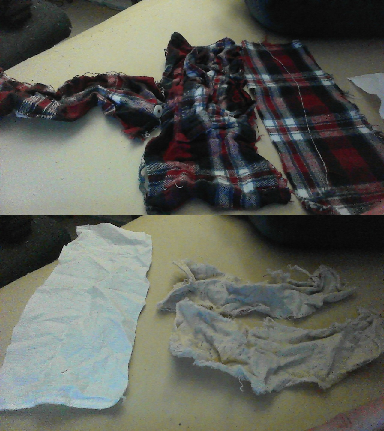 Three pieces of soft, absorbent material that will be what touches your skin. This right here is flannel from an old shirt. This, or old linens is my favorite thing to use. One will be the top piece, one the bottom, and one the crosswise-wing-piece.
Two layers of old towel or washcloth. Mine are all crumply because they got balled up in the net bag when I washed them after cutting, but I promise they're big enough.
One piece of water resistant material - I cut up an old allergy pillow case, the kind you zipper underneath your linen pillowcase to act as a barrier for dust mites. Those are waterproof, which I discovered when washing them and it became a bag of water in the washing machine. In the case of the pillow case, there's a batting kind of layer to it and a presumably plastic layer to it, so I put the batting layer up to be an extra absorbent area, and the plastic side on the bottom.
A button.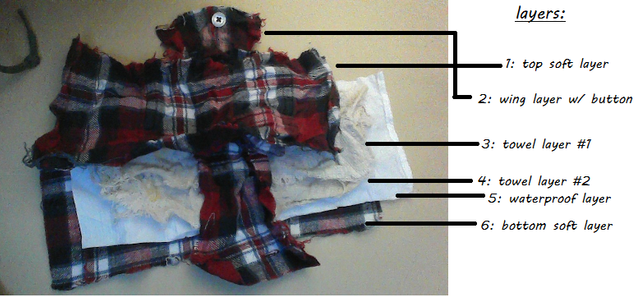 This is the basic construction of it. I layer it up, making sure if I did the button and buttonhole first, that the button is facing the right way to easily button around underpants, and then pin together. Then I stitch around the edges first, basically closing it all up.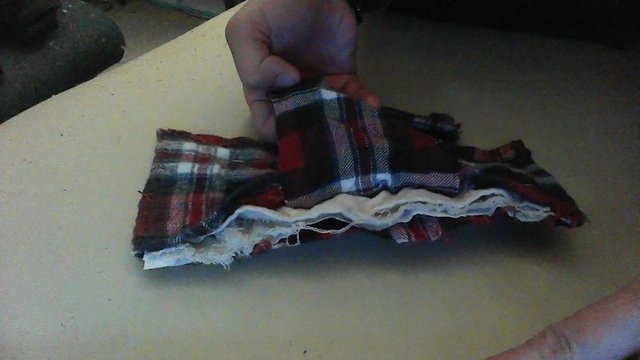 one side open
Then I stitch around the middle area basically where the pins are sitting in the first photo, which I'll show here again, in an interior box, to help hold the layers together properly and to kind of channel flow. I think of it like "quilting" on disposable ones.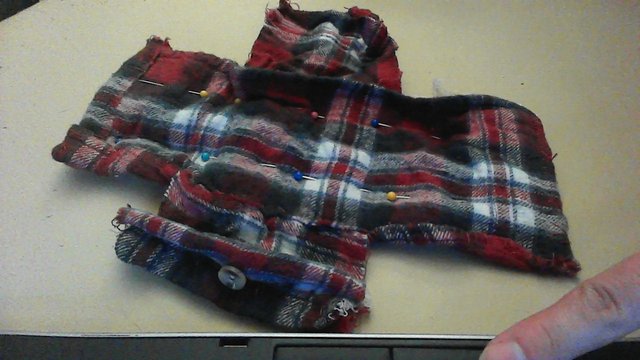 Here's what it looks like with the wings folded around and buttoned from the bottom. That's what holds it to your underwear: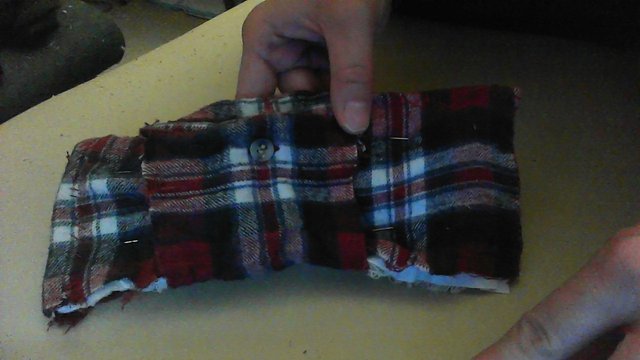 And that's it! Simple, eh? You can add more layers of towel for a heavier flow, or use thicker towel or washcloth. Using two layers of thin kitchen towel like in my photos here (plus the flannel top), this is more of a middle-light flow napkin. Your flow actually lightens when you use cloth! All the bloggers I read tutuorials from said so, and it turned out to be true for me, too. Which is glorious, because I have endometriosis and "heavy flow" was an understatement before cloth pads. I recommend plastic buttons over snaps because after soaking in the wash bucket for days, I have found that my snaps got a little rusted! And yes - I do all the stitching by hand on these. It's an easy lap project.
So, how to clean? I've tried a lot of things there, too, and my method is: I keep a bucket (with a lid) next to the toilet. As I take off the used pads, I put them in the bucket with plain water to soak. CHANGE THAT WATER EVERY DAY or it gets smelly. Personally I feed my plants with it. I'm not on pharmaceuticals, and it's full of nutrients that plants like. Blood meal is a common fertilizer, after all. ;) Then once shark week is over, for the final soak I add a generous dose of hydrogen peroxide and a wee splash of liquid laundry detergent and swish it around so it gets sudsy. The hydrogen peroxide will bubble when in contact with blood. Once I soaked them in straight hydrogen peroxide to try and get rid of all smells, and it bubbled up so much it was like a baking soda and vinegar volcano! But if there's water in there, that shouldn't happen. After a day of soaking in that (and that gets flushed away, not given to plants), I wash them in the machine twice, just to be anal about it, on hot, the first time with detergent, and the second time with baking soda in the detergent drawer and vinegar in the fabric softener drawer. Then I hang them up to dry in a window, because sunlight also helps to kill smells.
And there you have it! Reuseable cloth pads. I really like using them. Admittedly I don't always like washing them, but ya know, such is life. ;)
Happy monthly decompile time! ^.^

Earn rebates from your everyday shopping with ibotta. Join with my referral code: ptonkkp. You'll get a $10 welcome bonus and I'll get $5. https://ibotta.com/rebates