Amigurumi #38: Mariposas silvestres/ Wild butterflies
¡Bichos!
Hola, en la anterior publicación les mostré un adelanto del trabajo que realicé. Ahora les mostraré parte del procedimiento de estas mariposas.
Hello, in the previous publication I showed you a preview of the work I did. Now I will show you part of the procedure of these butterflies.
Como sabrán las mariposas son insectos que pasan una metamorfosis es decir cambian de aspecto completamente en cada fase. Por eso una larva es distinta a una mariposa (adulto). Generalmente las mariposas se encuentran en los campos ya sea como polinizadores (naturales) o como plagas (alimentándose de las hojas y/o frutos).
As you know butterflies are insects that undergo a metamorphosis i.e. they change their appearance completely in each phase. This is why a larva is different from a butterfly (adult). Generally butterflies are found in fields either as pollinators (natural) or as pests (feeding on leaves and/or fruits).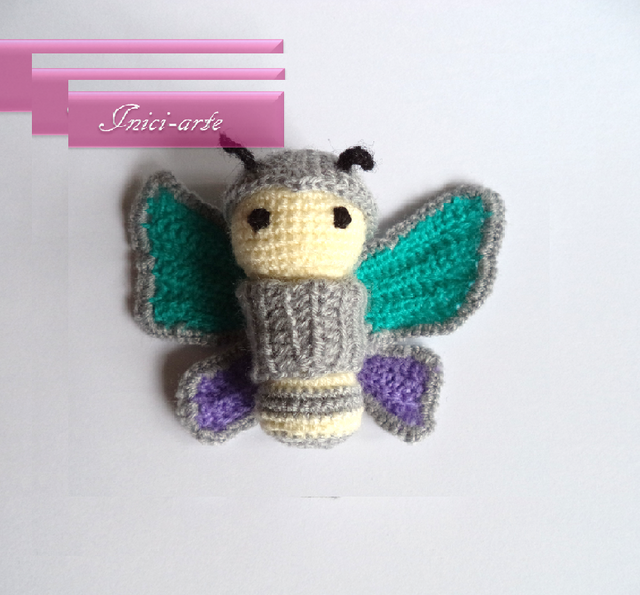 El patrón está en idioma inglés y es del libro
Beetles, bugs and butterflies
de Lalylala, en sí este libro es muy conocido y es de pago. Fue tejido con lana acrílica y mide 12cm. Para tejer esta amigurumi en particular, se debe tener bastante paciencia, por lo que estaría en categoría medio.
The pattern is in English language and is from the book "Beetles, Bugs And Butterflies" of Lalylala, in itself this book is very well known and is paid. It was woven with acrylic wool and measures 12cm. To weave this particular amigurumi, you must have enough patience, so it would be in medium category.
Materiales:
Lana acrílica/acrylic wool
crochet Nº2
aguja punta roma / blunt point needle
napa siliconada / siliconated nappa
tijera / scissors
alfileres / pins
internet
dispositivo móvil, pc o laptop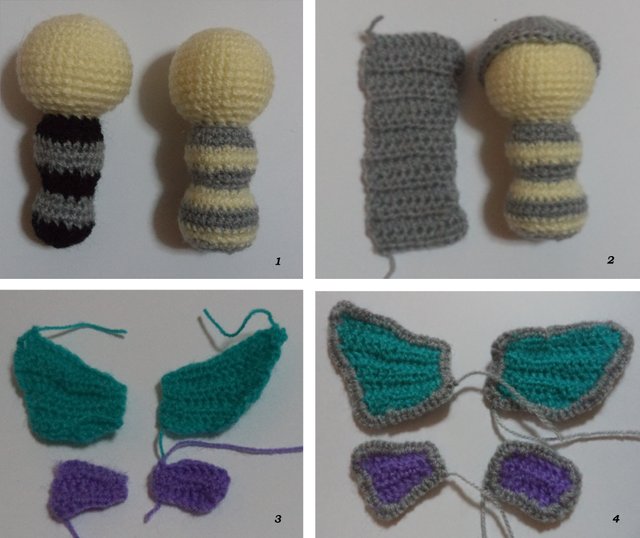 Se empezó a tejer la cabeza, seguido del cuerpo. Para esto se empleó el cambio de color entre crema y gris cada 3 filas. Seguido de alas primarias y las secundarias, luego se le dio un borde gris a cada ala.
The head began to be woven, followed by the body. For this we used the change of color between cream and gray every 3 rows. Followed by primary and secondary wings, then a grey border was given to each wing.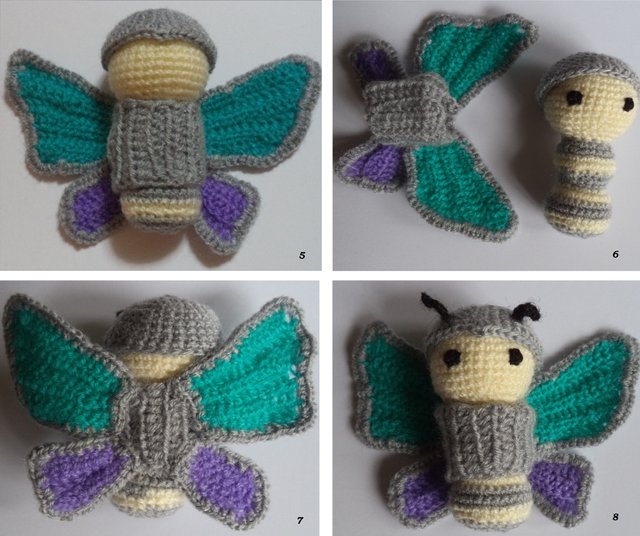 Fue tejida una especie de gorro gris para la cabeza a las que se agregó un par de antenas. Para la diagramación (armado), se comenzó por la unión de las alas a un porta alas. El bordado de los ojos fue con hilo de algodón.
A kind of grey head cap was woven to which a pair of antennas was added. For the diagramming (armed), it was begun by the union of the wings to a wing carrier. The eyes were embroidered with cotton thread.
Y listo, tenemos a las mariposas silvestres.
¡…Hasta la próxima!
See you next time!
    Dato curioso: Son mariposas silvestres por la diversidad de colores.


►Encuéntranos en: