Miami Heat put on an amazing show and pull out a win
Will it be their one and only win? It is extremely difficult for anyone to predict what the actual hell is going on with this team and this Final and as I mentioned in a previous post the stats for the season aren't panning out to mean a damn thing as far as the Miami Heat are concerned.
They went into game two at one point being +400 underdogs and it seems kind of customary at this point to count the Heat out before they even hit the hardwood. While it was topsy turvey at times, the Heat did what they have been doing this entire Playoffs though and pulled a win out of their hat in front of an absolutely devastated home Denver crowd.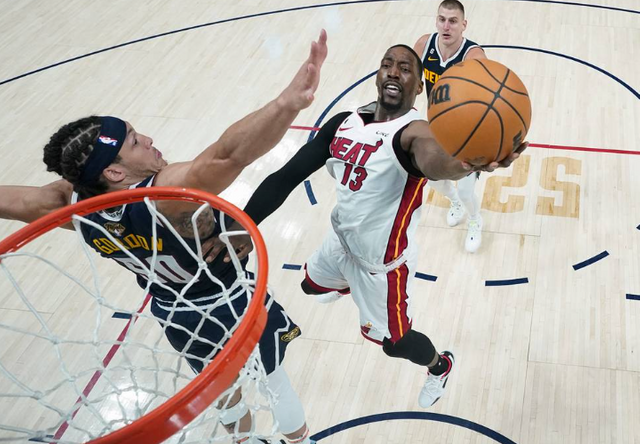 src
This isn't to say that it was all sunshine and rainbows for the crowd though, because things were extremely tense and close the entire game. In fact, entering the 4th quarter it looked almost insured that the Nuggets were going to easily win this game after outscoring the Heat in the 3rd and basically dominating in the 2nd as well. I've been quite outspoken about how I feel as though most NBA games are decided in the final 3 minutes of the game and that's exactly what the Heat pulled off the other night.
Outscoring a fantastic opponent like the Denver Nuggets by 11 points in the 4th when they are doing all that they can to win is almost unheard of, but then again, the Heat are impossible to predict in this post-season and this is evidenced by Vegas having absolutely no clue how to do their spreads on the team. In nearly every single post-season game the Heat have been underdogs in the bookies' eyes and it must be driving them absolutely crazy.

src
This graph represents the statistical probability that one side or the other is going to win the game. Miami is represented at the top and you can see that nobody in the betting world thought they were going to win at all until the final quarter. Even then, for much of it, the faith wasn't really there.
One thing going forward that might be a bit of a bane for Denver is that it has been discovered that although he very well be the best player in the world right now, Denver may be over-relying on Nikola Jokic.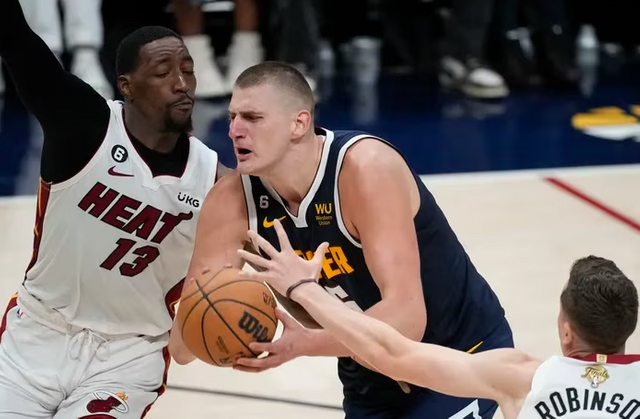 src
As a center and as you would expect, most of his shots were made in the paint but he also took several shots from the top of the key and even made 2 3-pointers. There are not many centers with this level of versatility. Despite this excellence an interesting statistic has recently emerged that I found on some random Reddit thread where people with far more time for collecting data than I have discovered: Every time that Jokic has scored 40 points or more in a Playoff game the Denver Nuggets end up losing that game. 40 points is nothing to scoff at but this is a team sport and constantly giving the rock to your star player might actually be proving to be counter-productive. This is something that Denver is going to have to think long and hard about because obviously you want to give the ball to the guy that is most likely to make said shots, but at the same time this invites additional defense on said player.
Jokic took nearly twice as many shots as any other player on Denver's entire roster. He also played 42 minutes in the game. The most time of any player on either team. Are they overusing their star player? That very well could be the case even though his percentages are exceptional by any standards.
This final is panning out to be a lot more exciting than game one indicated it might be and as we head into game 3 back in South Beach. Will home court advantage mean anything at all? If the last series with the Celtics, or basically the fact that all bets are off as far as trying to predict what the Heat are ever going to do means anything at all, you can bet that nobody really knows what to expect. At the moment the bookies in Vegas are starting to give Miami a bit more credibility though, because instead of +400 they are now sitting at a mere +135.