2018 ALL-STAR SATURDAY WEEKEND (returned to Los Angeles after seven years)
 NBA All-Star Weekend returned to Los Angeles after seven years. 
SKILLS CHALLENGE
First main event of the night was skills challenge. This years format was just like the last 2 years. Players were divided into guards and frontcourt players and challenge went playoff bracket elimination style. Final matchup includes on frontcourt player and one guard.  Players dribbled around obstacles, had to pass the ball into a net, dribbled to the other end of the floor for a layup (or dunk) and then dribbled back to the other end to take a pull-up 3-pointer. 
Eight players started this competition, and the finalists were Brooklyn Nets guard Spencer Dinwiddie and  Lauri Markkanen from Bulls. Markkanen showed great shooting through out this challenge, but it was Dinwiddie who snatched this trophy away. 
WINNER: Spencer Dinwiddie (Brooklyn Nets/guard)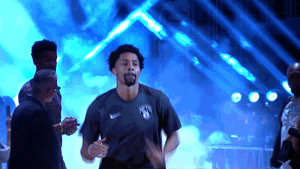 3 POINT CONTEST
 Each player had to shoot five five-ball racks with a one-minute time limit. The final ball of each rack was "money ball" which is worth 2 points instead of one. Also players had chance to choose location of one rack which is all money balls.  Tobias Harris from Los Angeles Clippers,  Devin Booker from Phoenix Suns and Klay Thompson from Golden State Warriors advanced from the eight-man field to the finals. 
Harris scored 17 points in the final round as he went first. He started of very good, but fell of in the end. Devin Booker went second as he scored 28  points and only missed 5 of his 25 shots. He made all regular rack money balls and missed 4 regular balls and one money balls from the money ball rack. 28 points is the NEW RECORD of this event. Previous one belonged to the Stephen Curry who scored 27 points in the year 2015.  Thompson followed and scored 25 points which is not bad at all and can win this event easily in other years. 
WINNER: Devin Booker (Phoenix Suns/ guard)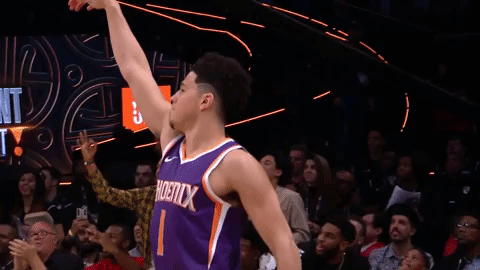 DUNK CONTEST
 To start this off, It was an average dunk contest with a few decent dunks to watch. This years participants were: Victor Oladipo from Pacers, Larry nance jr. from Cavaliers, Donovan Mitchell from Jazz and Dennis Smith jr. from Mavericks. 
All four competitors gott two dunks in the first round.  Two players who got the highest combined score for the dunks advance to the finals. 
FIRST DUNK:
Donovan Mitchell brought out second rim and throw a alley oop to himself from it. It is something new and were very interesting to watch, but in my opinion maybe it was too much of an job to just bring second rim just to throw alley oop to himself.
Victor Oladipo missed all his chances this round and i can´t say nothing much here. Dennis Smith jr. dunk was good but changed after he missed his first attempt. Maybe he should´ve stick with it. 
Larry Nance jr. I watched this contest with high hopes,because of his dad. And i am not disappointed at all. He got show element (fast changed his clothes with the help of a magicians to his dads) and throw a nice sideways one handed windmill like his dad did back in the day. 
SECOND DUNK:
Victor oladipo brought out Black Panthers mask and showed it´s stars to the arena. Nice show element, but dunk was average and he missed first attempt as well. 
Dennis Smith jr. went full in at his last round as he made 360 between the legs with a hand change. Impressive and he got nice points for this dunk as well... to be fair perfect score 50.
Larry nance jr. second dunk was nice, nothing too special. Came from the backside of the rim and threw down 180 right handed tomahawk. 
Donovan Mitchell second dunk got him 50 points. For that one i don´t agree, it is someways nice slam, but far off perfect score. He jumped over Kevin hart and a kid, who ducked down.... Kevin hart is like definition of short and he crouched. Nothing impressive i say.
FINAL ROUND (Finalists Larry Nance jr. and Donovan Mitchell)
Larry nance jr. most impressive dunk were the one he alley ooped himself from the backboard and alley ooped second time as well. Twice of an alley oop... nice one. Very impressive dunk and something new we haven´t seen.  He got 50.
Donovan Mitchell won this competition as he put on a Vince carter jersey and threw down one of his winning dunks back in the day, 360 dunk.
WINNER: Donovan Mitchell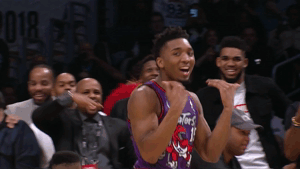 To conclude, i say that it was nice all star saturday night. We saw rookies do their thing. To pick up most impressive aspect of it, i say it was a tie between Bookers record and a Larry Nance double alley oop dunk. Letś see what this night get us next year.