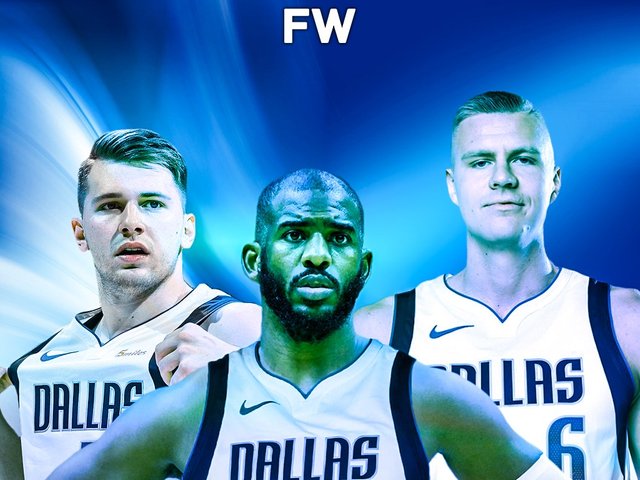 What is going here sportstalkers lets do another basketball talk here on NBA EXPRESS look we've talked about Chris Paul going to the Dallas Mavericks but something has surfaced once again and this is coming from Bleacher Report bleacher report wrote an article breaking down the top trade target for every single team or at least who the top trade target should be.


This was just an opinion piece and their opinion was that the Dallas Mavericks need to go after Oklahoma City Thunder point guard Chris Paul now look cp3 is the third highest paid player in the NBA this year he's gonna be making nearly 39 million dollars this is for a guy who's played 52 games the past two years because he can't stay healthy.


He's under contract through 2021 2022 the Thunder only took him on because they knew they had to get rid of Westbrook they knew they had to bring on some more draft picks that's what bringing on Chris Paul did look the Mavs aren't gonna be looking to trade for him there is no reason they should be but let's get into his stat line real quick for this year with the Oklahoma City Thunder.


CP3 has been averaging 13.3 points per game three point three assists and four boards so not really that bad of numbers the assist numbers aren't that high I think the Thunder trying to run their offense a little bit more through Shai Gilgeous-Alexander as they should be but the number that is impressive still for CP3 is the 50% from three.
Now it's only through four games but he's still shooting like five times per game and making nearly half of them every single time every single night so he's having a good shooting year so far but we are so early into the season that I don't even know if we can trust this 3-point percentage that we've seen from Chris Paul so far now I came up with a little bit of a trade that made the money work but I don't think either teams say yes.


In this scenario Dallas they take on Chris Paul the Thunder get Courtney Lee Tim Hardaway jr. and then I threw in a Isiah Roby who was the Dallas Mavericks second-round pick he's a young piece but in all reality I don't think that moves the needle for the Thunder because look they still take on Courtney Lee's contract which is he only have to pay him through this year he's a free agent Tim Hardaway jr. has a player option for next year so he's probably on your books for two more seasons.


Is Isiah Roby really enough to go trade Chris Paul and then you don't get any draft picks back if you're the Thunder and then on the Mavs side you're getting in a point guard who is a ball dominant guy he's older he's owed a lot of money and really I don't see the fit form on this team the Mavs have guys like Jalen Brunson Delon Wright who have been playing incredible do they really want to sacrifice that for Chris
Paul.