Impressionen aus Lienz (Österreich) // Impressions from Lienz (Austria)
Frühlingserwachen.Letzte Woche war ich für ein paar Tage in meiner Heimatstadt in den Lienzer Dolomiten. Neben Besuchen bei lieben Verwandten reichte die knapp bemessene Zeit nur für kurze Spaziergänge zwischendurch. Ein paar Eindrücke davon zeige ich euch heute.
Spring awakeningLast week I was for a few days in my hometown in the Lienzer Dolomites. Besides visiting my dear family, the limited time was only enough for short walks in between. I'll show you some impressions today.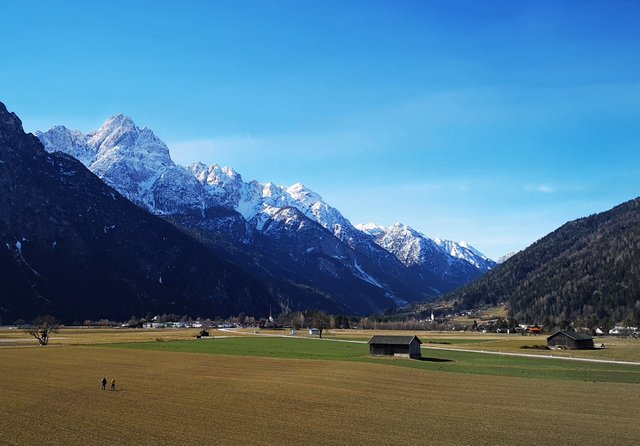 Lienz ist mit rund 12.000 Einwohnern das wirtschaftliche, politische und soziale Zentrum Osttirols. Die Bezirksstadt liegt nahe an der Grenze zu Italien.
Lienz, with its 12,000 inhabitants, is the economic, political and social centre of East Tyrol. The district town is located near the border to Italy.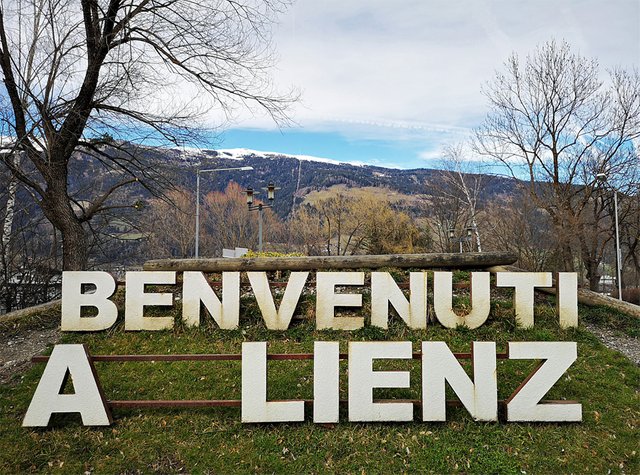 Dieser Willkommensgruß gilt unter anderen den zahlreichen italienischen Radfahrern, die auf dem 44 km langen Radweg an den Ufern der Drau von Innichen (Südtirol/Italien) nach Lienz unterwegs sind. Da Innichen 500 m höher liegt als Lienz, führt der gut ausgebaute Radweg meist bergab. Diese Strecke ist daher auch bei Familien sehr beliebt. Zurück geht es bequem mit der Bahn, die eigene Waggons für die Räder mitführt.
This welcome is addressed among others to the numerous Italian cyclists who come on the cycle path from Innichen (South Tyrol/Italy) to Lienz. The route is 44 km long and leads along the banks of the Drau (Drava) river. As Innichen is 500 m higher than Lienz, it mostly goes downhill. Therefore the cycle path is also very popular with families. The way back is comfortable by train, which offers own wagons for the bikes.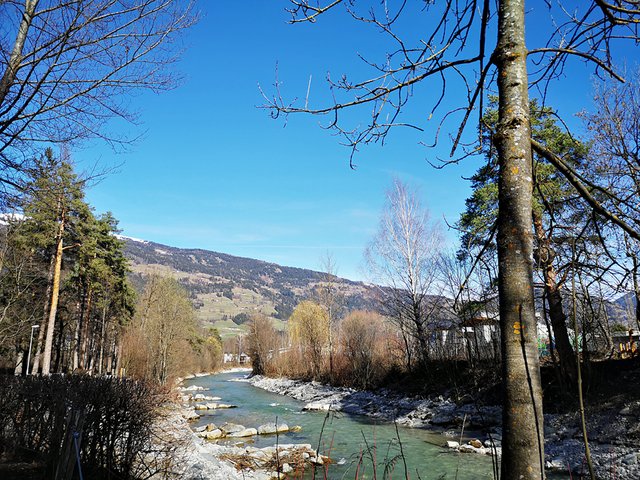 Der Fernradwanderweg entlang der Drau verbindet auf einer Strecke von 750 km die Länder Italien (Südtirol), Österreich (Osttirol und Kärnten), Slowenien, Kroatien und Ungarn.
The long-distance cycle path along the Drava River connects Italy (South Tyrol), Austria (East Tyrol and Carinthia), Slovenia, Croatia and Hungary over a distance of 750 km.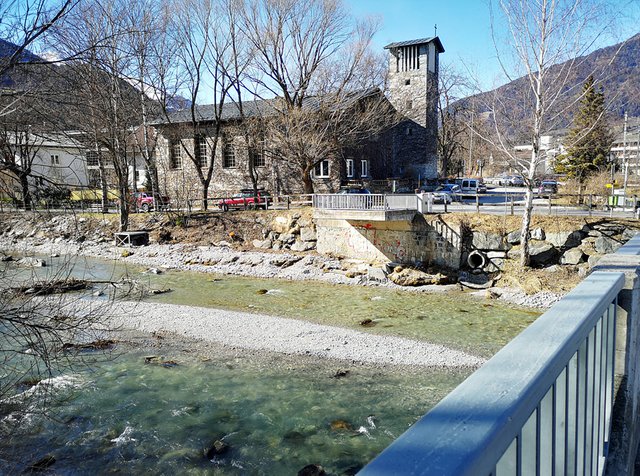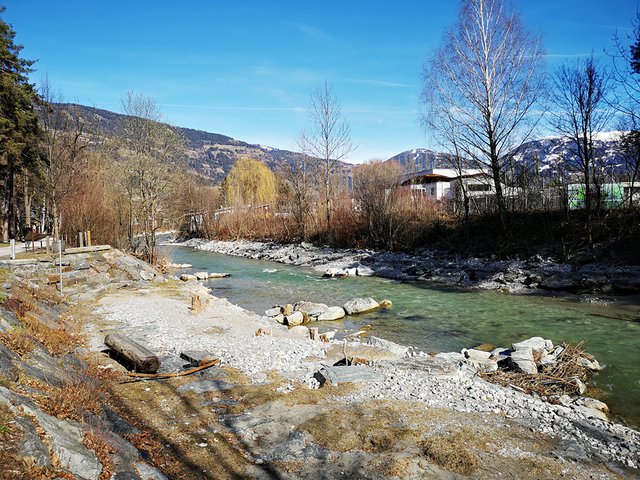 Es ist schwer vorstellbar, dass sich dieses stille Wasser vor fünf Monaten, im Oktober 2018, nach tagelangen heftigen Unwettern in einen reißenden Bach verwandelte. Das folgende Video gibt einen Eindruck davon.
It is hard to imagine that five months ago, in October 2018, this quiet little water turned into a torrential stream after heavy storms. The following video gives an impression of that.
---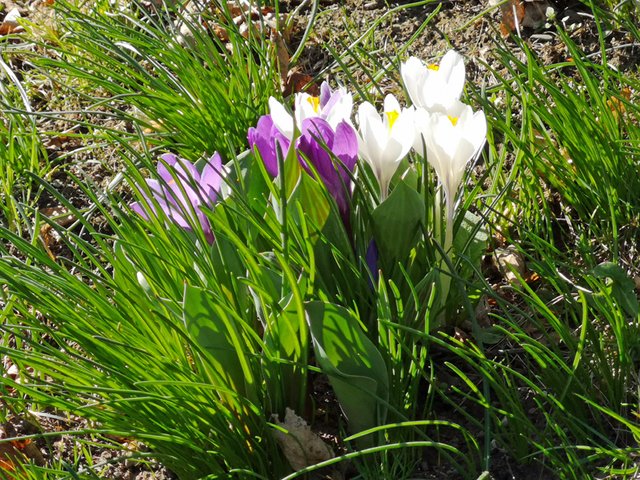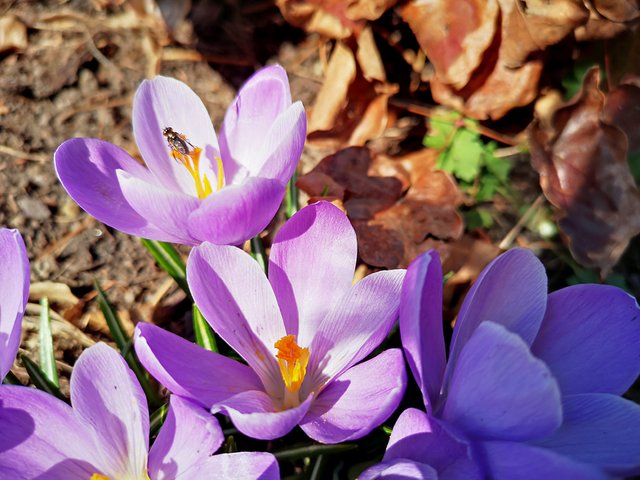 Während in Wien aufgrund der außergewöhnlich warmen Temperaturen im Februar und Anfang März bereits viele Bäume in voller Blüte stehen, zeigen sich in der Dolomitenstadt jetzt die ersten Frühlingsboten.
While in Vienna many trees are already in full bloom due to the unusually warm temperatures in February and early March, the first heralds of spring are now seen in the Dolomite town.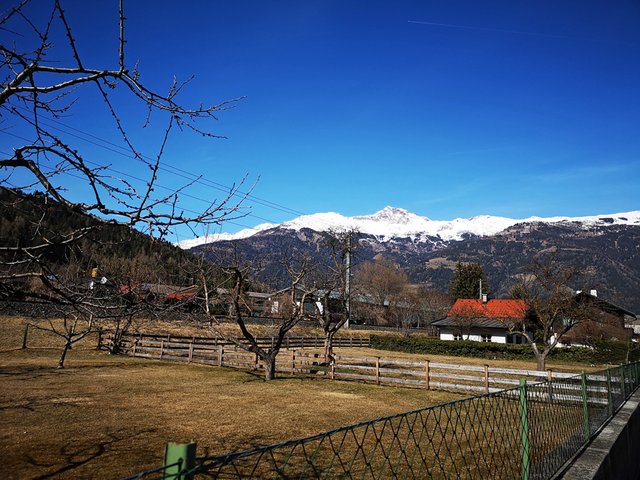 Auf den Bergen liegt noch Schnee, aber die wärmenden Sonnenstrahlen kündigen den nahenden Frühling an.
There is still snow on the mountains, but the warming rays of sunshine herald the coming of spring.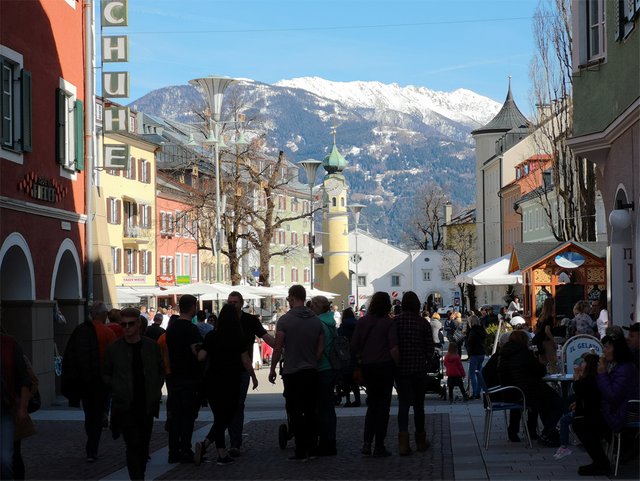 Auf einen Bummel durch das malerische Stadtzentrum verzichte ich dieses Mal. Stattdessen mache ich einen Spaziergang entlang des Iselkais.
This time I abstain from a stroll through the picturesque city centre. Instead I take a walk along the Iselkai.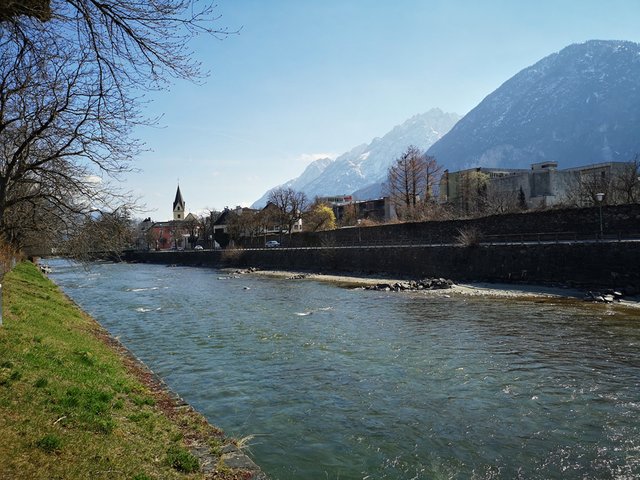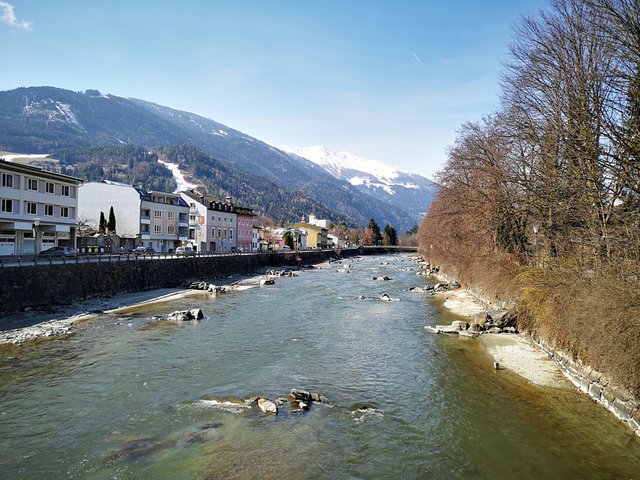 Die Isel ist ein Gletscherfluss, der in den bis zu 3700 m hohen Bergen der Venediger Gruppe entspringt und in Lienz in die Drau mündet.
The Isel is a glacier river that comes from the up to 3700 m high mountains of the Venediger Gruppe and flows in Lienz in the Drau river.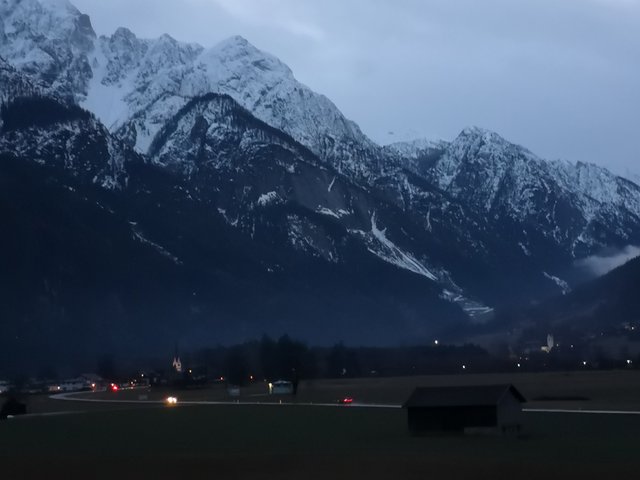 Meine Heimatstadt empfing mich mit Regen, Nebel und sturmartigen Böen.
My hometown welcomed me with rain, fog and stormy gusts.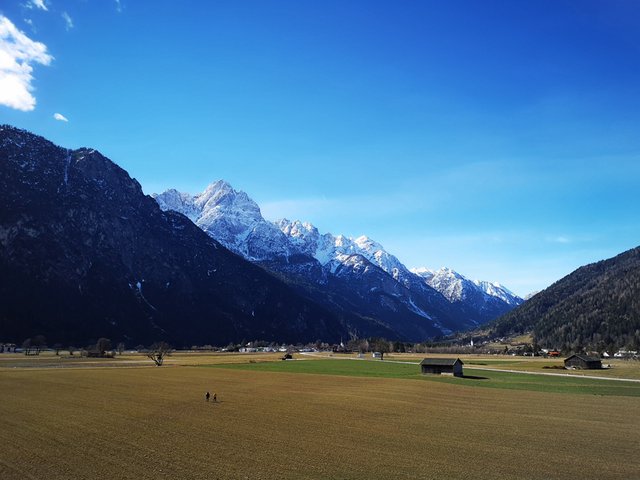 Am nächsten Tag herrschte Kaiserwetter und ich konnte die Aussicht auf meine geliebten Berge in vollen Zügen genießen. Ich bin gespannt, wie lange es dauert, bis die weiten Felder, die im Vordergrund zu sehen sind, verbaut werden.
The next day there was really great weather and I could fully enjoy the view of my beloved mountains. I am curious to see how long it will take for the wide fields in the foreground to be displaced by houses.
Jedenfalls werde ich bei meinem nächsten Besuch die Wanderschuhe einpacken. Es muss ja nicht gleich eine Tour auf den 2.700 m hohen Spitzkofel sein. ;-)
Anyway, next time I visit, I'll bring my hiking boots. It doesn't necessarily have to be a tour to the 2.700 m high Spitzkofel. ;-)