It's not all that common to actually randomly stumble across an endangered species of animal, especially here in Norway where we have a rather low biodiversity compared to warmer regions closer to the equator. Still, it does happen from time to time, and two days ago I actually found a population of freshwater pearl mussels (Margaritifera margaritifera) when I was going for a swim.
It's certainly not the best photograph ever taken of this species, but I did the best I could. The water was not all that clear, and I have neither equipment nor experience when it comes to underwater photography, so I just did my best to shoot it from above the water.
This invertebrate is actually pretty rare these days, but they are still found in several rivers in most of Europe and in parts of North America. Like you would guess from its name, it can create a pearl, so the species faced a huge hunting pressure during the 19th and 20th century where poor people could be lucky and find a pearl, which was very valuable at the time.
These days the mussel is protected in all European countries, but it's still facing a population decline in almost all rivers, due to its sensitivity to pollutants such as heavy metals that we humans tend to throw away into nature. The species can actually be used as an indicator species, and its presence will tell us that the river is rather healthy. This is a very nice and easy way to get a good indication of the health of the river without having to run chemical tests. Just keep in mind that it does not work the other way around; the absence of this species does not necessarily indicate an unhealthy river.
While searching the small area close to where me and my family were swimming, I found around 10 individuals, but I would assume that there are many more that were hidden from my view (which was rather limited).
A small funfact about these is that they used to be called Elveperlemusling in Norwegian, which directly translated to "River pearl mussel". This gave away the "secret" that they could contain a pearl, so the official name was changed to Elvemusling, meaning "River mussel". So these days you will have to do some research to learn that these do indeed contain pearls.
The chance of it containing a pearl is extremely low though! A typical saying is that one in a thousand has a pearl, and only one in thousand pearls are actually worth anything. On average you would then have to kill and open 1,000,000 (one million) mussels to get a pearl that was actually worth something.
Anyway, I do realize that it's really difficult to tell exactly what it is you're looking at from my photo, so here's another photo taken by a much more skilled photographer: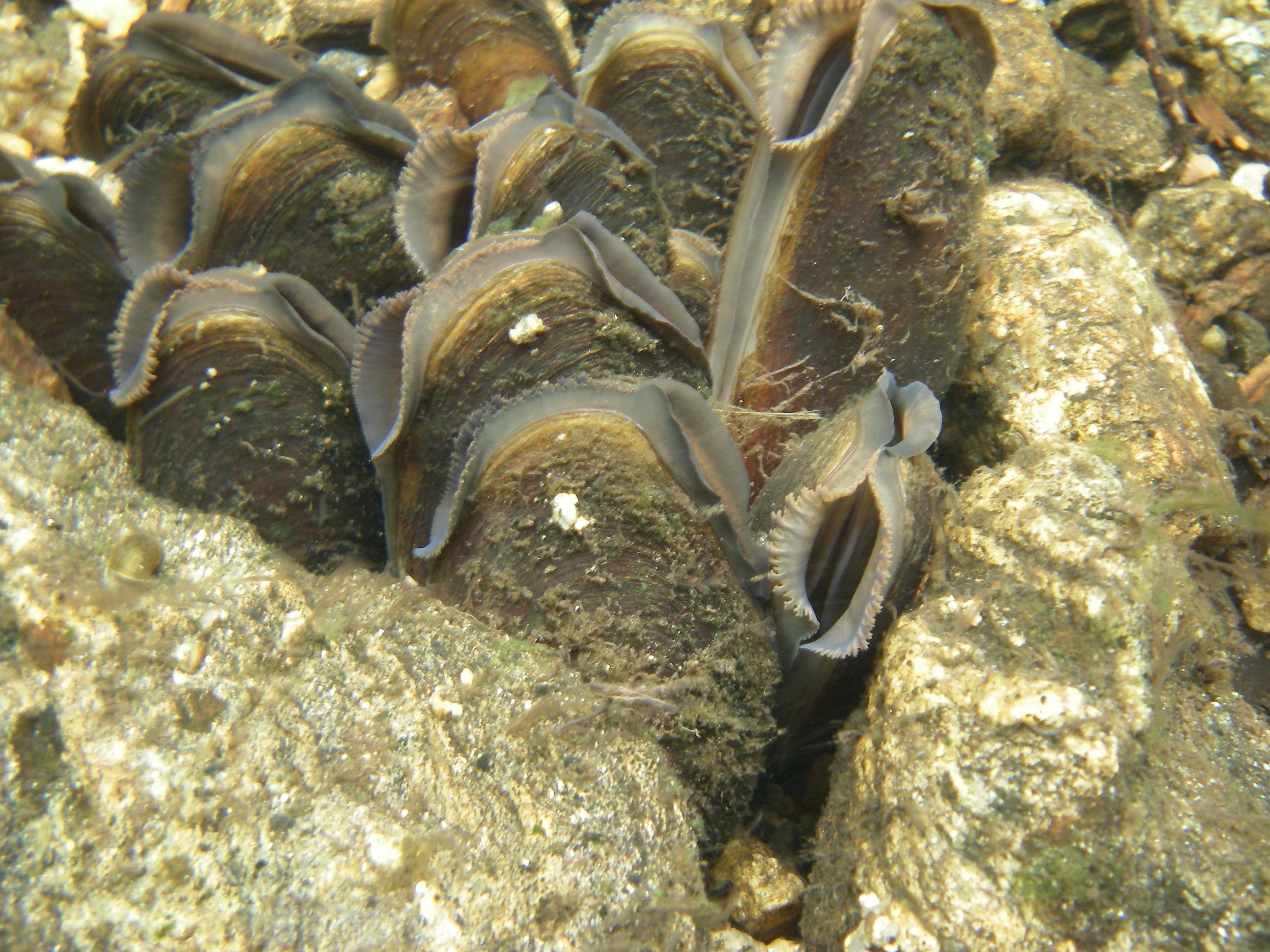 This photo is taken by Joel Berglund, and is posted under the Creative Commons Attribution-Share Alike 3.0 Unported license. It shows a group of the freshwater pearl mussels in Sweden, and you can clearly see them filtering water to search for small particles of nutrients.
Thanks for stopping by and checking out my post and photo of the freshwater pearl mussel. I hope you enjoyed it, and maybe even learned something about this invertebrate.