Working out of Victoria, BC in the whale watching industry can be amazing and also very tiring. This is due to sometimes you need to drive a vessel over an hour from the inner harbour to find and interact with wild marine mammals, such as, orca and humpbacks. Furthermore, it can be even more tiring when you have windy and rough ocean conditions that simply become incredible exhausting after spending over 8 hours a day navigating those bumpy waves.
BUT sometimes you get the opportunity to find and interact with these wild apex predators so close to Victoria, BC you can see the city clearly in the background whilst you observe these spectacular animals being wild animals. This family of Bigg's orca were hunting, as they cruised past the waterfront from hunting ground to hunting ground snacking on tasty harbour seals along the way.
That afternoon, which was only a few hours after this photo was taken, they ended up being over 30nm away from Victoria, BC! They can move and move quickly over long distances, which is by far one of the trickiest things when it comes to locating these animals on a daily basis.
---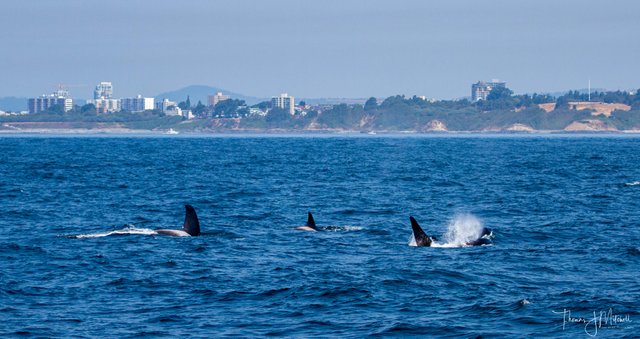 Click image to view full size
---
Thanks for reading and all the support, Steemit!!

Dont forget to Upvote & Resteem!!!

All stories & photographs are of my own work unless noted under the picture in question.

For more stories and photos check out my Instagram feed

Check out my website - Just BCOZ Photography