WONDERS ON THE WINGS OF BUTTERFLY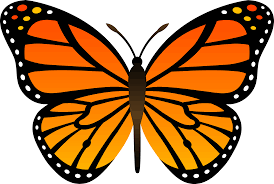 Hello world, I know you love butterfly. Maybe you are amazed at how beautifully designed they are. But please, the next time you see a butterfly, I want you to pause for a while and think.
As you may have observed, the wings of a butterfly are so fragile that drops of moisture could make flying difficult. But did you notice that the wings are always clean and dry? So what's the secret?
A careful research of the Giant Blue Morpho butterfly (Morpho Didius) proves that although the wings look smooth to the naked eyes, they really are not. The surfaces are covered with Minute overlapping scales resembling tiles on a roof. Even tinier parallel groves on the surface of these scales cause drops of water and dirts to roll off with much ease. Engineers are looking for ways to make high tech coatings for industry and medical equipments that are restraints to dirts and water.
To keep warm during cold weather, butterflies spread their wings in the sun. Some species' wings are designed to trap and absorb sunlight. The secret lies not just in the dark pigment but also in the structure of the microscopic, overlapping scales coating the wings. The scales contain holes like that of a honeycomb seperated by inverse V-shaped ridges that funnel light into the holes. This traps incoming sunlight, making the wings black and warming the butterfly with amazing efficiency.
Butterfly wings may rank among the most delicate structures in nature, but they have given researchers powerful inspiration for new technology that doubles the production of hydrogen gas - a green fuel of the future- from water and sunlight. Other promising applications include optical instruments and solar cells.
Truly, " there are wonders on the butterfly's wings"?
Thank you for reading. Love y'all.