Peatland wildfires of 2017 appear to be Greenland's biggest fire on record
Since the beginnig of August west of Greenland, an island with 80% of the surface occupied by ice shield,  is covered by gray smoke from peatland fires.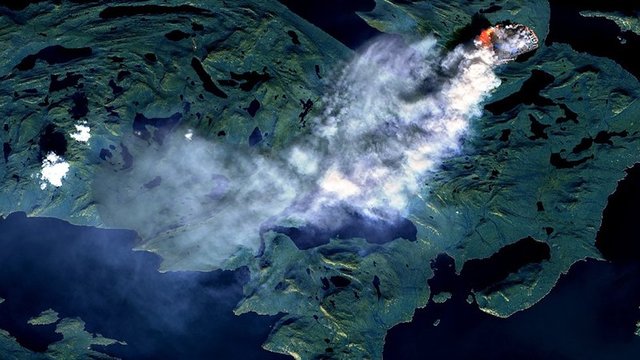 Image: ESA
Peat fires are difficult to stop, often burning until all the organic matter has turned to ash. A serie of satellite images shows development of one such bog-fire during the period since July 29 to August 8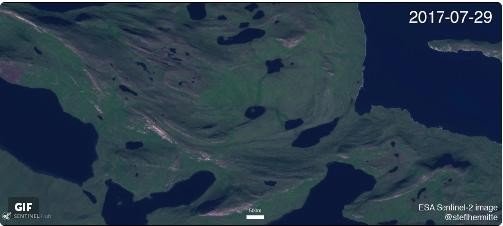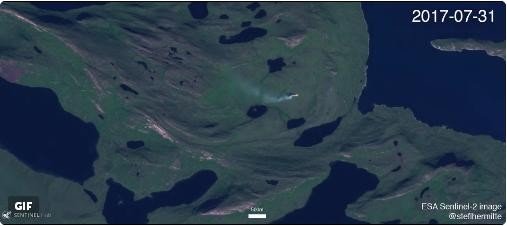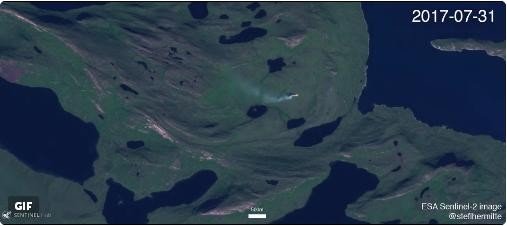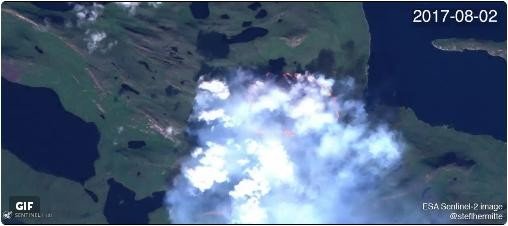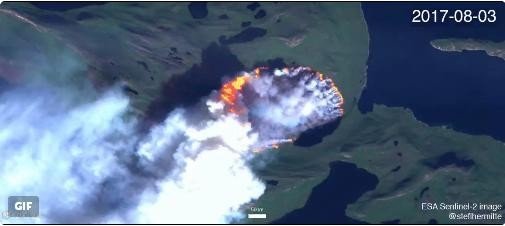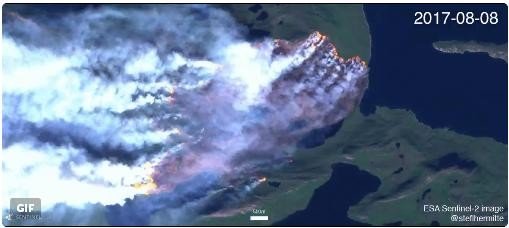 Images: ESA - from Sentinel satellite
Each of the fires is rather small - the biggest is only 5 square kilometers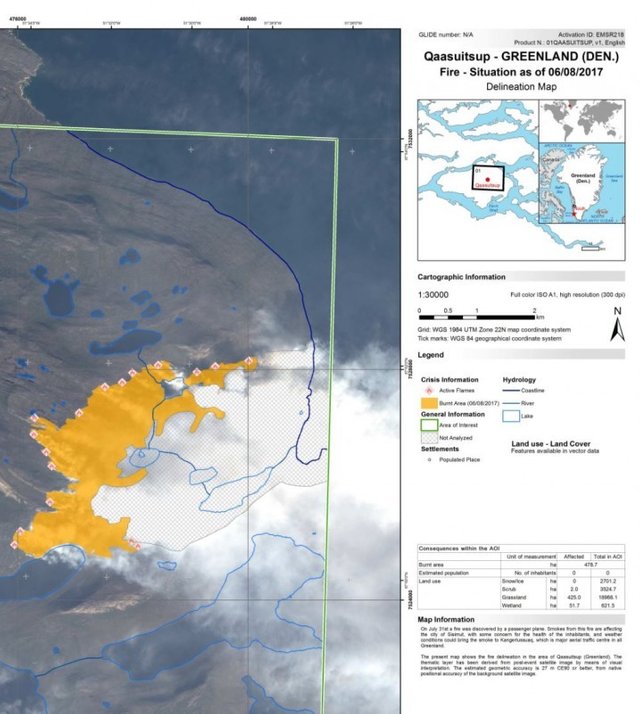 Image: ESA
A 2015 study noted: 
 Globally, the amount of carbon stored in peats exceeds that stored in vegetation and is similar in size to the current atmospheric carbon pool 
Additional danger is that the fires are at most part located a5 no more than 50 km from edge of ice shelf.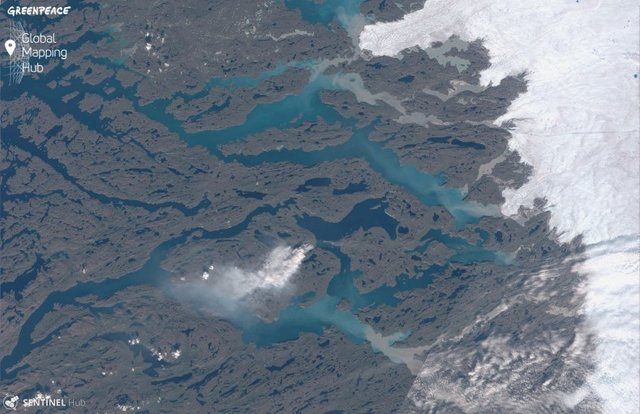 Image: ESA - Sentinel
Fires in the High Northern Latitudes release significant CO2, CH4, N20, and black carbon. A fire this close to the Greenland Ice Shelf is likely to deposit additional black carbon on the ice, further speeding up the melt.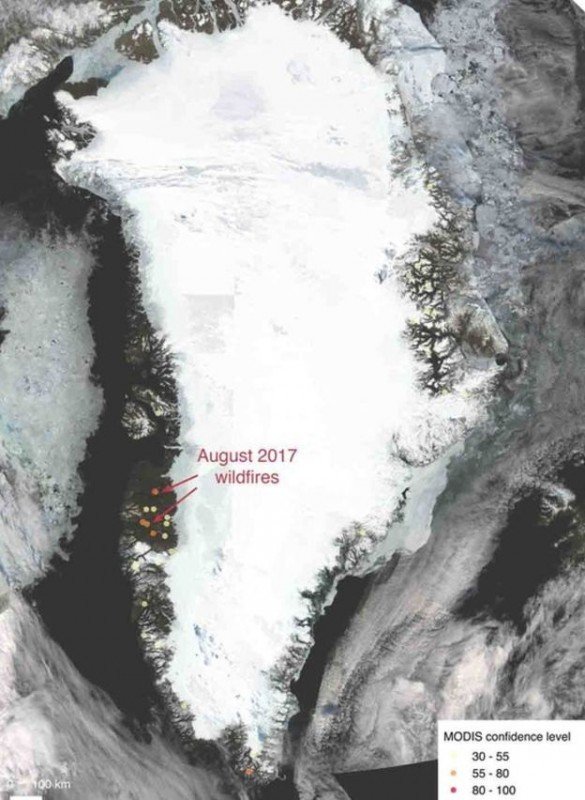 Satellite data expert Prof. Stef Lhermitte in the interview Independent said that massive Greenland wildfire of this summer is
..not a typical wildfire.  This one is the biggest one in the satellite record that we know of 
Estimates show that Greenland peatfires of this summer injected in the atmosphere 400 000 tons of CO2 and CO.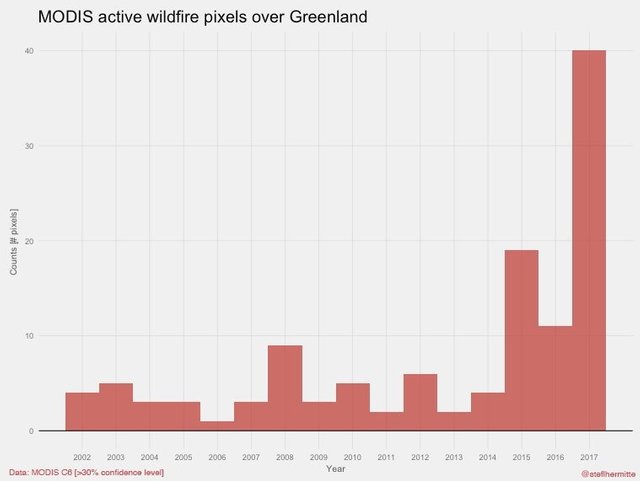 Image: MODIS
Yet scientists have long predicted that global warming would lead to more increasing loss of permafrost in the Arctic. 
Last observations also show that Northern fires adds considerable part to global warming. The record-smashing ice-melt in July 2012, when 97 percent of Greenland's surface was melting, was not just driven by rising temperatures. It was also exacerbated by black carbon (soot) from massive Siberian wildfires that darkened the great ice sheet, reducing its reflectivity and causing it to absorb more heat from the sun.
In Earth's scale peatland fires in Greenland are dwarfed in comparison to current fires in Siberia and Canada. Yeserday's arctic mosaic (Terra satellite, resolution 1 km/pixel) shows thousand km long smoke plumes in East Siberia and West Canada (red ellipses)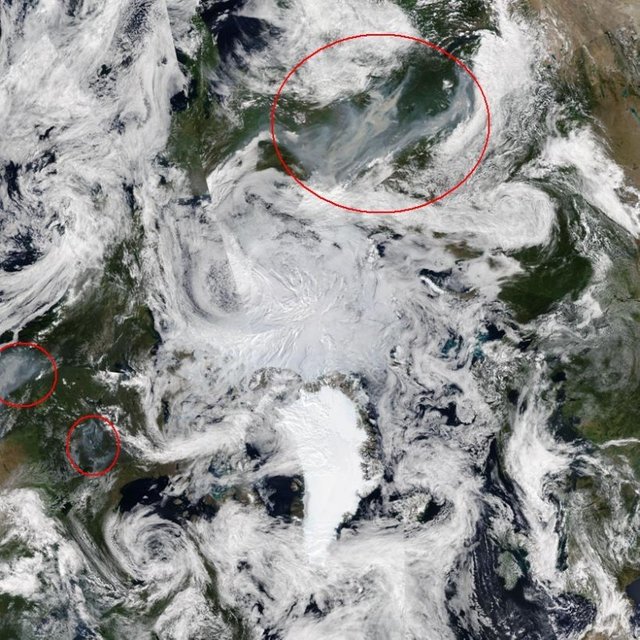 Image: NASA - image in full resolution here
Source:
[1] https://thinkprogress.org/a-rare-and-unusual-wildfire-has-hit-greenland-heres-why-thats-terrifying-2de794570798/
[2] http://forum.woodenboat.com/showthread.php?227034-Greenland-Peat-Fires