Fabulous news for @naturalmedicine - our delegations have gone up considerably in the last week, thanks to the generosity of @tribesteemup who raised their delegation amount considerably, as well as some really lovely new delegators who we are thrilled to have on board! That means our upvotes are able to support you even more. Whilst we might be rewarding in lots of ways with a token, STEEM upvotes are still very much our game too, and the more steem power we have, the more we can continue to support you.
The best news this week is that if you're a delegator who posts #naturalmedicine content of any kind, from #homeeducation to #permaculture, #yoga, #taichi, #foraging, #herbs or any other kind of 'natural health' content (#vegan, #keto, #wimhof, all kinds of things!) you can now earn LOTUS just by doing so. Whether you delegate 50 SP or 5000 SP, you all get a bonus if you post on www.naturalmedicine.io.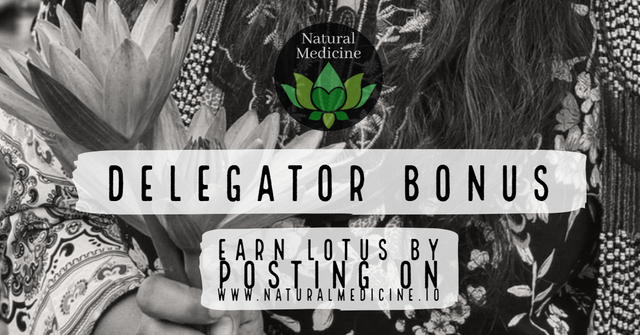 The voting account is @uplotus2. We decided to keep this reward system only for delegators to prevent people posting on www.naturalmedicine.io just for the reward, rather than posting good content that is worthy of being part of the Lotus ecosystem, which is true of all our trusted delegators, we trust! You will notice the vote come in at the 5 minute mark or shortly thereafter.
Please let us know if you are somehow missed. We are only blissfully human.
Thankyou to all our supporters!

A Big Thank you to Our Delegators for Your Ongoing Support
1000+ SP: Fungi Delegators
@immarojas @realself @riverflows @tribesteemup @walkerland @pennsif
500 - 699 SP: Lavender Delegators
@bewithbreath @missdeli @porters @vincentnijman @yangyanje
300 - 499 SP: Clover Delegators
@alchemage @artemislives @enjoyinglife @hopehuggs @metametheus @nainaztengra @nateonsteemit @phillyc @richardcrill
200 - 299 SP: Yarrow Delegators
@amico @anttn @bearone @cmplxty @digitaldan @holisticmom @mountainjewel @solominer @trucklife-family @zen-art @quochuy @wildhomesteading @goldenoakfarm
100 - 199 SP: Dandelion Delegators
@anggreklestari @barge @dazedconfused11 @eftnow @madushanka @minismallholding @sagescrub @senorcoconut @thelaundrylady @tibfox @viking-ventures @yangyanje @crescendoofpeace @mrnightmare89 @consciousangel7 @sallybeth23
0 - 99 SP: Mint Delegators
@allyinspirit @amymya @bala41288 @belleamie @bengiles @bifilarcoil @binkyprod @brutledge @cambridgeport90 @canna-curate @careassaktart @claudiaz @crosheille @desertrat @frejafri @hafizullah @inuke @julianhorack @kimmysomelove42 @ligayagardener @lizelle @mayb
@ofsedgeandsalt @organicgardener @owasco @plantstoplanks @raj808 @rebeccabe @rem-steem @samstonehill @senattor @simplymike @skramatters @sn0n @squishysquid @thereikiforest @thetreeoflife @thistle-rock @torico @tryskele @vibesforlife @wildlocusthoney @xwalkran @yestermorrow @your-poet @tixinhacapitinha @a1-shroom-spores @justinparke @mrnightmare89 @troyvandeventer @fennglen @evernoticethat
Oh, and if you're wondering what tags to curate? Our curators look at most of these tags and much more! Check out www.naturalmedicine.io for a full list of supported tags.
| naturalmedicine | health | healing | yoga |
| --- | --- | --- | --- |
| spirituality | herbalism | homesteading | innerblocks |
| vegan | meditation | wellness | cbd |
| qi gong | keto | tai chi | herbs |
Thinking about writing a #naturalmedicine post this week? We have upvotes to burn and will resteem the best of you to nearly 1,000 followers! Go you! We're also resteeming on our @uplotus account, so go give that a follow too! That's the one where you'll see the LOTUS rewards.
All the curation and author rewards in LOTUS for this post will be burnt to help the ecosystem.

We need YOU! Please consider delegating to help keep this collective going. The minimum entry for membership is 20SP (free for members under 150SP), and helps give YOU upvotes, contests, meditation sessions, an awesome discord support group, and so much more!
50SPII100SPII200II300SPII500SPII1000SP