Turkeytail mushrooms were unknown to me the first time I saw them on a stump at a local park. I took a picture because I thought they looked cool, then I learned how cool they actually are.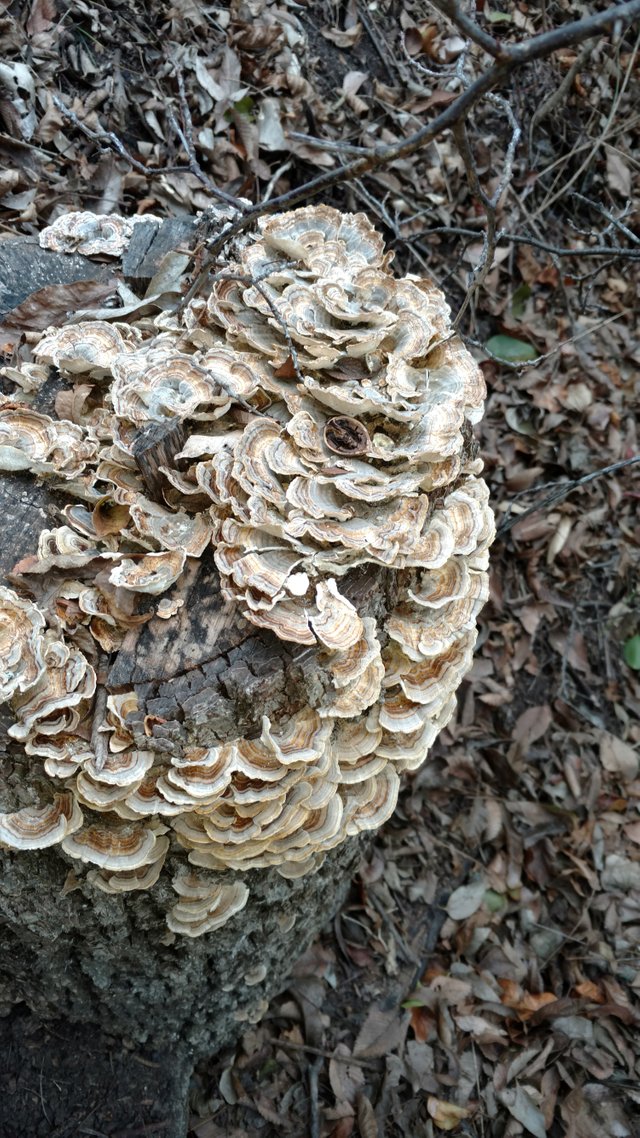 In true fungal fashion, they myceliated my every thought.
Turkeytails are a decomposer fungus. They take dead trees in nature and break them down into bioavailable resources for the ecosystem. The world wouldn't work without decomposer fungi.
When turkeytail reached my mind, it also decomposed a piece of me: my mycophobia.
Mycophobia is the fear of mushrooms. (Source)
When I started learning about turkeytail, I was floored and astounded at the things I learned, not just about Trametes versicolor, but the whole fungal world. The healing and growth that's possible when we "pair with mushrooms" is simply awe-inspiring. It was impossible for me not to embrace this new ally as a long and serially lost friend.

April 10 marks six weeks from February 27. That's six weeks since I started my turkeytail to tincture on it's first decoction in alcohol. Today's the day to do the water decoction and complete the process!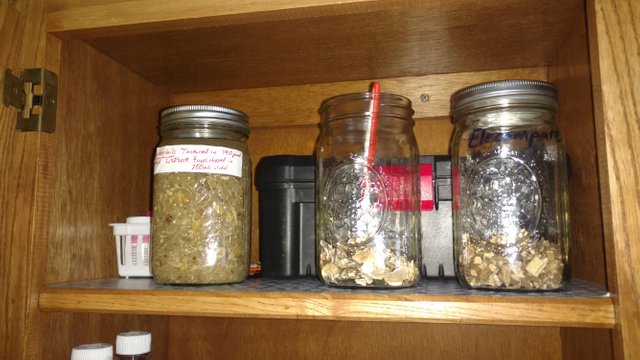 Up on their shelf, where they've been for a month and a half except for a daily shake
I kept some dry mushrooms as well to increase the potency of the merc. The merc is what your herbs are are called when they're being tinctured. There's some discrepancy between scientists as to whether the alcohol extraction destorys the precious medicinal polysaccharides in fungi before they can be extracted in water, so I kept some separate to decrease that risk. (Source) That source also contains the guide that I followed in this process.
Since the steps I followed here are in that link, I'm not going to go into the directions. I'm going to speak on the physical uses of turkeytail mushrooms, which are actually called conchs.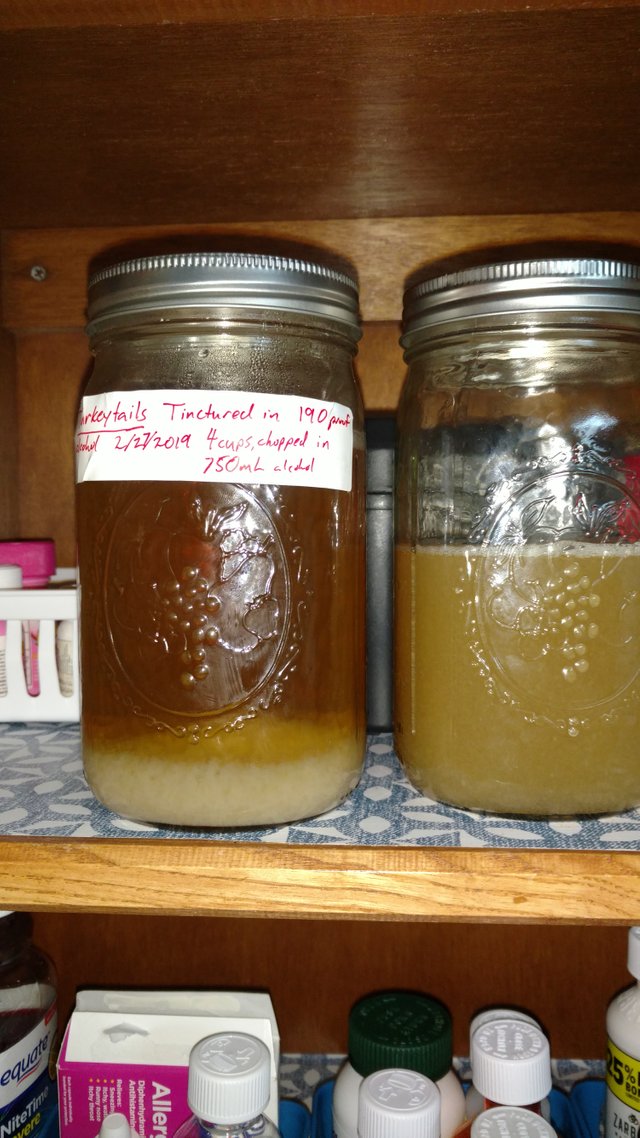 Finished dual extraction tincture. Commercial products go for $15-25 an ounce, so these 42 ounces represent a significant retail value; though it is invaluable to me as they're locally sourced by me on my natural medicine journey.

Not many people have as good a connection with the fungisphere as Paul Stamets. That's where my learning started when @rawutah posted one day about mycorrhizal fungi and their strong connections with trees in a healthy ecosystem. When I tell you that that's a deep rabbit hole, I mean I've watched weeks of videos and listened to weeks of podcasts on the subject. I started with this video, which is barely a flirt in what has become a deep learning relationship:
The illnesses listed here are expansive. From the flu and herpes viruses to bubonic plague and malaria, to stage four metastatic cancer. Of course, that planted a spore (the fungal version of a seed) which has grown into a huge adventure for me. Turkeytails are one of Paul's top four mushrooms, so it's very hard to ignore their importance. In another interview, he speaks more about his mother's condition and treatment. If memory serves, she was the only person out of twenty in a trial that survived her cancer battle and treatment, and the only one that embraced the adaptogenic strength of turkeytails.
From Google:
Adaptogen: noun (in herbal medicine) a natural substance considered to help the body adapt to stress and to exert a normalizing effect upon bodily processes.
I've heard adaptogens described as "they'll do what you need." Meaning that if your immune system needs a boost, they'll boost it. If it needs to calm down, as is the case with autoimmune responses, it will help in that way. The idea of an adaptogen is a powerful one.
Paul's interview on the Joe Rogan Experience is even more in depth, speaking about human development alongside fungi for millennia. Dedicate some time to it, it's two and a half hours long. He speaks to the rapid growth and development of the brain of early humans, and his theories on the role of fungi in that event.
Just last night, I revisited Diego Footer's interview with Peter McCoy entitled Radical Mycology. Another drawn out discussion that's well worth your time. In it they discuss a myriad of fungal uses, including mushrooms' ability to clean up and digest industrial toxins and heal commercial agriculture land, as well as a really interesting foray into a theoretical concept of using mushroom cultures to quickly create your own antibiotics that are tailor made for a specific strain of ailment that you experience. Imagine a home kit where you swab your throat and introduce that culture to a mycelial mass that sprouts mushrooms that can fight the specific illness you're experiencing. The implications are truly radical.
I could go on, but there are two sentences I've found that really resonate with me:
If it works on cancer, it'll work on the common cold. I don't remember specifically where I saw this, but it is a powerful notion that I came across early in this adventure with relation to fungi.
"I think they're afraid of a truly nourished populace." Sally Fallon-Morell
Over seventy percent of TV advertisements are pharmaceutical advertisements (source). Much of the rest are advertisements for commercial processed foods, a strongly linked subject. We are not nourished people and we can change that by embracing a proper traditional diet as described by the Weston A. Price Foundation and by embracing plant medicines. I hope the gravity of that can help you as it has helped me.
Plant medicines are free. They are available. And they are powerful. They are the people's medicine and they are progressive.
Be blessed.
Be fruitful.
Stay relevant.
Nate.
---


Purchase sustainably produced seeds, textiles, medicines, and more for SBD from @homesteaderscoop at The Homesteader's Co-op Online Marketplace!


Follow @naturalmedicine and join the Natural Medicine discord channel today and come grow and learn with us!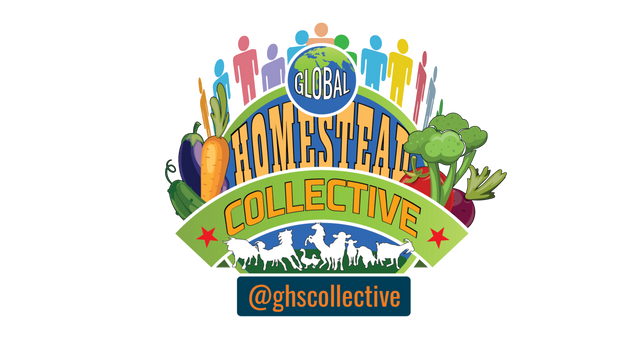 Join us on the GHSC Discord and follow @ghscollective to become part of a global network of homesteaders!