source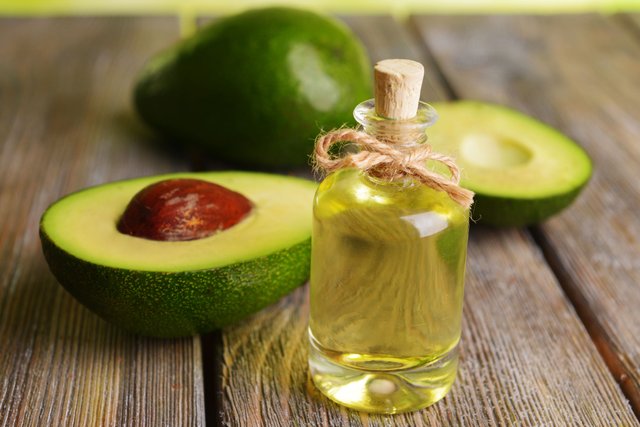 Receive a greeting from @elosolezama, I want you to know that nature brings many good things that we can take advantage of.
Avocado oil is a thick, greenish-yellow liquid with a pleasant, mild flavor that resembles peanut oil and an original pungent odor.
It is produced by cold pressing the pulp of an avocado, the fruit of a tall laurel tree. It is this technology that makes it possible to completely preserve all the properties of the oil, its minerals, vitamins, acids and other biologically active substances.
It is better to choose cold pressed oil, since high temperatures can destroy many of the beneficial ingredients found in oil.
In the kitchen avocado oil is used in traditional dishes of Latin American, Mediterranean and Spanish cuisines, and to roast seafood, chicken, vegetables and fish. When heated, avocado oil does not have a burnt smell and does not lose its excellent flavor. It is in perfect harmony with a variety of salads, soups and serves as an excellent addition to the special formula for babies.
Avocado oil, which has a high nutritional value and a delicious taste, contains a large amount of easily digestible fats, a variety of essential vitamins, micro and macronutrients and other biologically active substances, so it is classified as a useful dietary product .
Avocado oil contains many vitamins, including A, C, E, B and D. It is known that E in combination with A and C are not only an excellent antioxidant, but also a potent immunostimulant. And vitamin E in this oil is 5 times more than in olive oil.
The chlorophyll content gives this product a characteristic greenish tint. This substance is involved in metabolic processes, positively affecting all systems. Lecithin is also necessary for normal cardiovascular, nervous, genital and endocrine systems.
Avocado oil has wound healing, antifungal, antiviral and bactericidal properties, which make its use possible for the prevention of various injuries and diseases of the skin.
Magnesium and potassium are essential for the functioning of blood vessels and the heart. Vitamin E helps to reduce the level of pressure, prevents the appearance of blood clots and, together with vitamin C, strengthens blood vessels reliably.
The complex of unsaturated acids, vitamin E and beta-sitosterol helps reduce the level of harmful cholesterol. All of the above allows us to recommend the inclusion in the diet of the oil for the prevention and treatment of atherosclerosis, heart attacks, coronary diseases, strokes, hypertension.
In addition, avocado oil is able to stimulate the process of blood formation. Vitamins B, C in combination with copper, iron, cobalt, zinc and other beneficial trace elements are actively involved in the synthesis of hemoglobin, which is part of red blood cells. In this sense, oil is considered a useful product for people suffering from anemia.
Avocado oil helps to work the digestive system. Its systematic use helps to improve the metabolism and the digestion process. Avocado oil can have a beneficial effect on the mucous membrane of the stomach and intestines, which means that it is extremely effective in the prevention of gastritis, gastric ulcers and duodenal ulcers.
The oil also stimulates the secretion of bile, improving the metabolism of fats and the composition of bile, can be beneficial in cases of diseases such as cholelithiasis, cholecystitis, hepatitis, etc. In addition, with regular use, avocado oil will reliably protect the gastrointestinal tract from exposure to toxins, free radicals and also radionuclides and various heavy metals.
In addition, the oil can improve the functioning of the nervous system. Its constant use is an effective tool used in the prevention of various neuroses, headaches and insomnia. Avocado oil in the daily diet will help you improve your mood, as well as improve performance and mental abilities.
Avocado oil is also used in the prevention of osteoporosis and various diseases of the joints, the oral cavity, the thyroid gland and the urinary system.