Using the NaturalProducts.today front-end, Naturally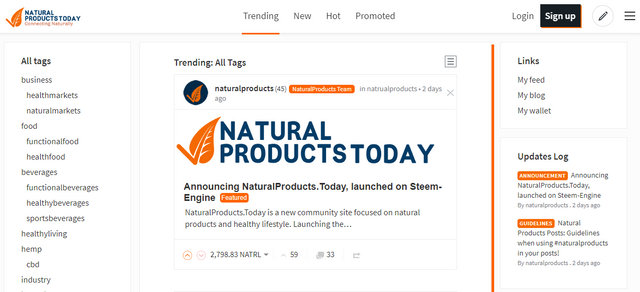 We thought that we would give a quick tutorial on using the naturalproduct.today front-end and how to do so effectively.
Our front-end is based on the Steemit condenser so if you've used Steemit you should be all set for posting.
Logging on
If you have a Steem account you are all set to go. Just click on the 'Login' link in the upper right-hand corner.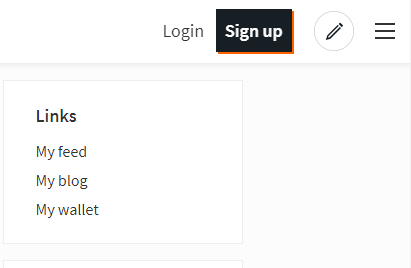 There are two methods to login on the site. The standard username and key (we would suggest using your Posting Key) or using the recommended Steem Keychain.
Use what ever method you are comfortable with, again we recommend the Steem Keychain plugin for Chrome or Firefox.
Posting
Once you've logged in click on the 'pencil' icon to get to the editor. We use the default Markdown editor (Markdown Style Guide) for the majority of our posts.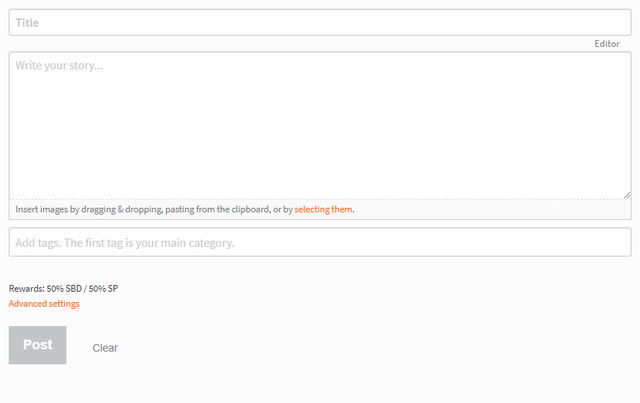 Now add a title, add your post content, add your tags and hit post... not so fast.
The Title
Your title is your title. It's your elevator pitch and should draw us in to your post. Keep it short and descriptive.
The Body of your post
The post itself. Be sure to review guidelines for posting to ensure maximum engagement. The first image in your post will be the thumbnail. Images really help a post, be sure to source them, if you use images that are not yours. If you use quotes from other sources, cite them. In general keep it original.
Tag your post
Here's where the rubber hits the road, so to speak. It's five words that could make or break your post. Our front-end only allows you to add up to five tags. It will automatically insert the natrualproducts tag, you don't have to worry about that (if using the naturalproducts.today front-end - using any other front-end you will need to add in order for it to show on naturalproducts.today).
See the tag list on the left? To start with, pick from that list. For example, if your post is about health food and vitamins, use the tags. 'food', 'healthfood' and 'vitamins'.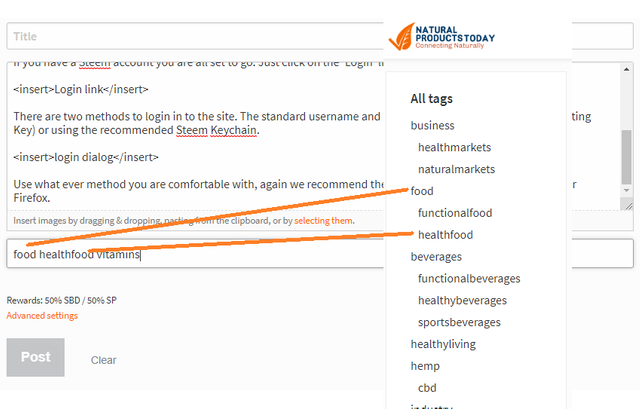 If you tag your post that way it will show up on the site under the tags 'food', 'healthfood' and 'vitamins'. Here's the added bonus to that. It will also show up in those tags on Steemit.com or other front-end, like Steempeak.com, Busy.org. It's a two-or-more-for-one.
Rewards and Advanced Settings
By default the rewards are set to 50% SBD/50% SP. You can change that by clicking on the 'Advanced Settings'.
In 'Advanced Settings' you can change the reward for the post to 'Decline' or 'Power-up 100%'.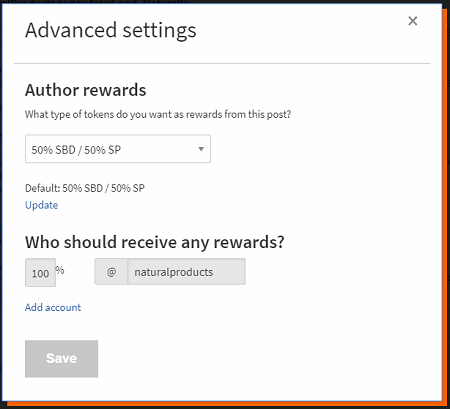 You can also designate beneficiaries, to any Steem account user. That means a portion of the earn out will go to the account. Our front-end automatically adds a 10% beneficiary to the community pot. That beneficiary will be used to help update/maintain the front-end and it will be used for future community efforts.
Other tips
If you are posting in another language other than English be sure to include a translated version of your post at the bottom. It will go a long way to helping with the curation and post promotion. Speaking of post promotion.
Post Promotion
After you post your content you can promote it or any other post on the front-end for that matter. There's a 'Promote' button on the bottom of each post. You can decide how much you want to spend to promote a post. The higher the amount the higher up your post will show in the list.
Here's the great thing. Any NATRL spent on the post promotion will be burned. It will be sent to the @naturalpromo account. All that NATRL will be sent to @null each week with a weekly burn report.
The post will be promoted until it's first payout. Here's an FAQ on the Steemit promote feature.
That's it. Post away!
Steem Keychain
https://steemit.com/steem/@yabapmatt/hate-putting-private-keys-into-websites-introducing-steem-keychain
References
https://steemit.com/faq.html#What_can_users_post_to_Steemit

---
The NATRL token is a utility token specific to the NaturalProducts.Today site (based on Steem) used for curation, rewards, and contest promotion. The token price is market driven and may never have any value.