MyCreditChain, rapidly emerging in the global market with marketing platform 'Cashtree'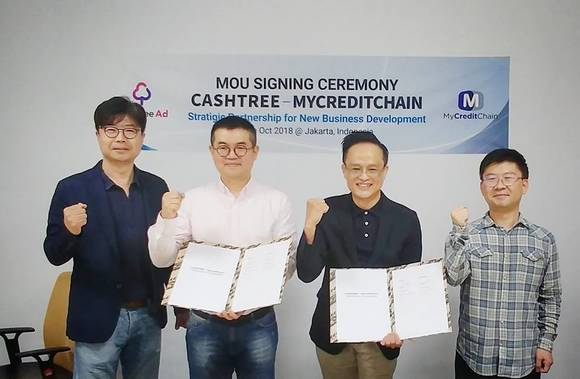 MyCreditChain (CEO, Kim Woo Sik), which successfully completed its ICO in September, has announced that it will begin the official service launch in December and began to expand its business scope to Southeast Asia by partnering with Indonesia's largest mobile advertising platform "Cashtree".
According to MyCreditChain's announcement, in order to establish a personal information distribution platform and expand its network, the company signed a Memorandum of Understanding (MOU) and created a Strategic Partnership with Cashtree which is emerging in the IT market in Southeast Asia and have secured 16 million subscribers in Indonesia.
Cashtree is a Korean start-up that started its service in Indonesia in November 2015. It provides advertisements with news and provides rewards through the lock screen of any smartphones. The users can earn points which can be exchanged for Pulsa, which is used to pay mobile telecommunication charges in Indonesia. So far, over 10 billion Ad impressions have been made and the annual sales growth rate is 2,800% positioning itself alongside advertising platforms Facebook and Google in the competitive digital advertising market in Indonesia.
MyCreditChain has developed a BlockChain/Crypto based personal information and data distribution platform service that introduces 'Seeding', a unique Gift Economy incentive scheme introduced by MyCreditChain. It introduces Personal Closeness Networking in which MCC tokens are provided as rewards for an individual's activities with others, and a Trust index can be computed through the personal interaction networking among members. Since May, they have been collaborating with the Industrial & Mathematical Data Analytics Research Centre at Seoul National University for their research.
Through this MOU, MyCreditChain, which has been analyzing the Southeast Asian markets and consumers since the beginning of their ICO, will be able to provided seeds and MCC tokens to subscribers of Cashtree. This will contribute to the growth of MyCreditChain's ecosystem and network infrastructure.
The CEO of MyCreditChain Kim, Woo-sik, has stated quote, "With a specialized BlockChain-based data platform and advanced Trust evaluation techniques, the company's vision will provide the most benefit to many underprivileged groups in Indonesia by providing services incomparable to existing services. The project will initially be conducted for the 16 million Cashtree subscribers, and the network will be expanded to other Southeast Asian countries in the future."
On the other hand, the MyCreditChain is in full swing for the "Good Morning MCC" service platform that will utilize seed networking technology. The new concept of the Good Morning platform is a monetary greeting, which allows one to send and receive monetary value through seeds. They will be launching a Pre-Registration event through the teaser homepage (http://www.goodmorn.io) and will be giving away the latest iPhone XS to 3 lucky winners. The official service will be opened in mid-December.
Source: Digital Daily Reporter Park Ki-Rock [email protected]
============================================================
Building Trust with Your Data!
▶Homepage▶Telegram ▶facebook ▶twitter ▶YouTube
A trust information innovation project in which individuals have the ability to capitalize on their own information and expand relationships in the MyCreditchain network to create new credibility where before was not available. Our goal is to return the ownership of personal information back to the individual, and to create a free and fair society by giving the ability for each individuals to reap the benefits from their personal information and trust index.