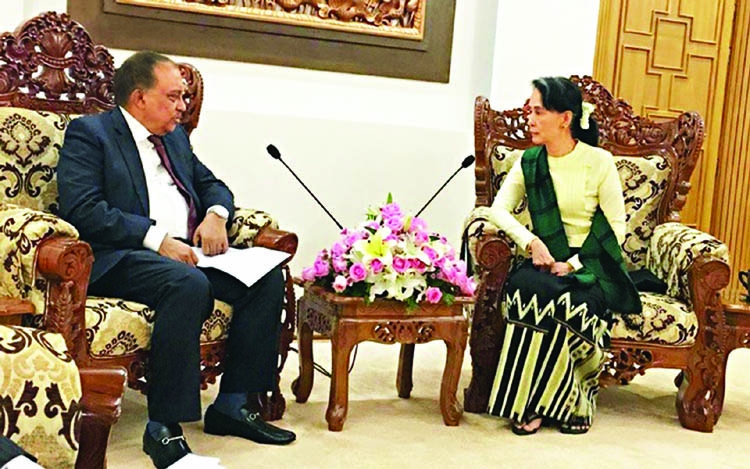 The Myanmar government has begun to work on taking back those who crossed the border into Bangladesh from Rakhine state, says the country's de-facto leader Aung San Suu Kyi.
The Myanmar state counselor and leader of the ruling party made the statement during a meeting with Bangladesh Home Minister Asaduzzaman Khan in the capital city of Naypyidaw on Wednesday. A ten-member delegation led by Khan attended the hour-long discussion with Suu Kyi, said Home Ministry Public Relations Officer Sharif Mahmud Apu.
Suu Kyi said her government is working on the repatriation of Rohingyas to Myanmar. She also spoke of adopting the recommendations of the Kofi Annan commission, according to Apu, reports bdnews24.com.
Apu said the home minister invited Suu Kyi for a visit to Bangladesh on behalf of Prime Minister Sheikh Hasina. "She told the home minister that she would make the trip at a time convenient to both countries."
On Aug 25, Rohingya insurgents attacked 30 police border posts and a military encampment in Myanmar's Rakhine state. In response, the military began a violent crackdown that forced members of the Rohingya minority to flee across the border to Bangladesh.
Eight weeks later, over 600,000 Rohingyas have crossed the border and the stream of refugees has yet to cease. Bangladesh is also providing refuge to nearly 400,000 Rohingya refugees who fled across the border at various times in the past few decades. The fleeing refugees have reported numerous cases of murder, rape and looting.
A recent Human Rights Watch report analyzing satellite imagery has said that 288 Rohingya villages have been set aflame since the start of the military operation.
Suu Kyi has described the operation as a 'fight against militants', but the UN has called it a case of 'ethnic cleansing'. The US and the EU are considering new sanctions against Myanmar over the crisis.