I have to admit that I don't particularly like the musical genre of country & western. However, there are some nuggets that even I can appreciate, like "I'm on fire" by Bruce Springsteen and Dolly Parton's "Jolene".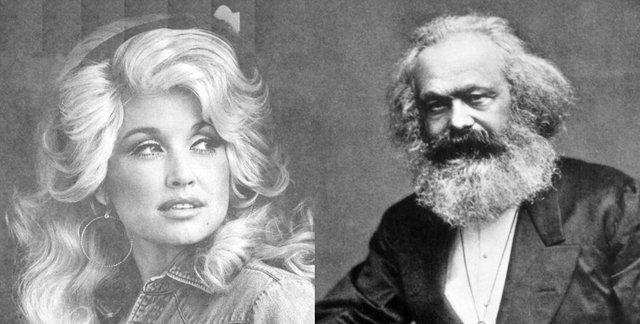 source: Wikimedia Commons and Wikipedia
A couple of days ago my attention was drawn by a YouTube video with the title "The Very Radical Politics Of Dolly Parton's '9 to 5'"; That song was one of my mother's favorites, so I heard it many times as a young teenager in the early 1980s. Back then I didn't know that there was also this movie, a comedy, with the same title; I don't know if my mother ever saw that film and if it had anything to do with her love for the song, and it's too late to ask her now she's gone. The YouTube video, which is linked below this post, surprised me, as I never really listened to the song, the lyrics, that my mother loved so much; it's a full-blown protest song, a lament over the exploitation of employees by their employers, an outcry for social justice for all marginalized groups of our society.
The song was included on her album "9 to 5 and Odd Jobs" which also included songs like "Sing For The Common Man", "Poor Folks Town" and "Deportee", the latter being a protest against the fact that a group of Mexicans that died in a plane-wreck at Los Gatos were referred to in the media not as people, but only as "deportees". I don't know about you, dear reader, but I never suspected this icon of American Country & Western music to be a genuine ans outspoken warrior for social justice. Somehow, learning this about Dolly Parton gives me hope in these times of extreme nationalism, xenophobia and dangerously increasing inequality. Listening to the actual text of "9 to 5" now, I don't see how I've missed this for all these years:
Workin' 9 to 5, what a way to make a livin'
Barely gettin' by, it's all takin' and no givin'
They just use your mind and they never give you credit
It's enough to drive you crazy if you let it.
That's basically Marx's theory of alienation in an ultra compressed nutshell! I think it's brilliant and a reminder of how our basic and universal wish for more equality, justice and simple humanity doesn't change with time, nor with gender or race. Parton's song for equal rights in the workplace originates in the same place where reggae music's protest against "Babylon" and "400 years of slavery" comes from. Exploitation of labor that creates a sharp class-hierarchy is the common denominator here, and the resulting fight for equality, the fight against this deeply felt injustice. Wow... I've actually managed to link Dolly Parton to Karl Marx AND reggae in one small post. These are crazy times indeed...
The Very Radical Politics Of Dolly Parton's '9 to 5'
---
Thanks so much for visiting my blog and reading my posts dear reader, I appreciate that a lot :-) If you like my content, please consider leaving a comment, upvote or resteem. I'll be back here tomorrow and sincerely hope you'll join me. Until then, keep steeming!

Recent articles you might be interested in:





Thanks for stopping by and reading. If you really liked this content, if you disagree (or if you do agree), please leave a comment. Of course, upvotes, follows, resteems are all greatly appreciated, but nothing brings me and you more growth than sharing our ideas. It's what Steemit is made for!





I am a proud helpinaut! @Helpie is looking for new members! Helpie has been growing nicely and we are always on the lookout for new valuable members. We are very supportive and community oriented. If you would like to be scouted for @helpie , please drop a comment on THIS POST or contact @paintingangels on discord at paintingangels(serena)#3668.




Just for Full Disclosure, I'm invested in these crypto-currencies:

Bitcoin | Litecoin | EOS | OmiseGo | FunFair | KIN | Pillar | DENT | Polymath | XDCE | 0x | Decred | Ethereum | Carmel | XYO





@helpie is a WITNESS now! So please help @helpie help you by voting for us here!