Klangmuseum in Wien. Wien spielte in der Entwicklung der klassischen Musik eine große Rolle. Ab 1770 entwickelte sich ein eigener Musikstil, der als "Wiener Klassik" in die Musikgeschichte einging. Drei der größten Komponisten der damaligen Zeit prägten diese Musikrichtung entscheidend mit: Joseph Haydn, Wolfgang Amadeus Mozart und Ludwig van Beethoven, der, am Übergang zur nächsten Epoche, bereits als Wegbereiter der "Romantik" gilt.
Sound Museum in Vienna Vienna played an important role in the development of classical music. From 1770 onwards, a musical style of its own developed, which went down in music history as "Viennese Classicism". Three of the greatest composers of that time decisively shaped this musical style: Joseph Haydn, Wolfgang Amadeus Mozart and Ludwig van Beethoven, who, at the transition to the next epoch, is already considered a pioneer of "Romanticism".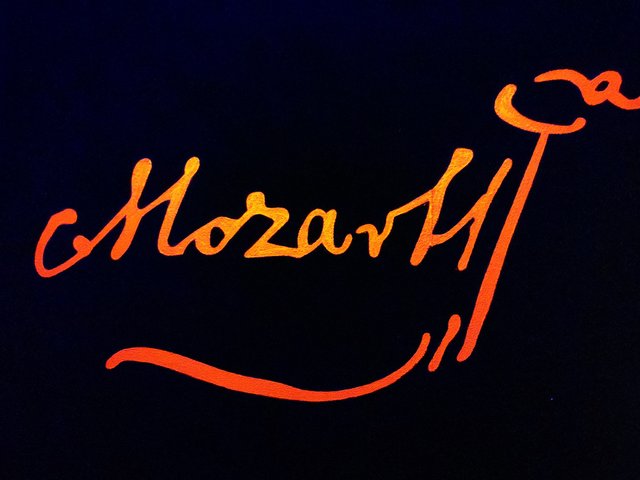 Haus der Musik - Wien
Neben den drei oben Genannten widmet das Haus der Musik noch weiteren Komponisten, die in Wien gelebt und gewirkt haben, einen eigenen Ausstellungsraum: Franz Schubert, Johann Strauss (Sohn) und Gustav Mahler. Auch die Protagonisten der Zweiten Wiener Schule, Arnold Schönberg, Alban Berg und Anton von Webern werden gewürdigt.
In addition to the three mentioned above, the Haus der Musik also dedicates an own exhibition space to other composers who have lived and worked in Vienna: Franz Schubert, Johann Strauss II and Gustav Mahler. The protagonists of the Second Viennese School, Arnold Schönberg, Alban Berg and Anton von Webern are also honored.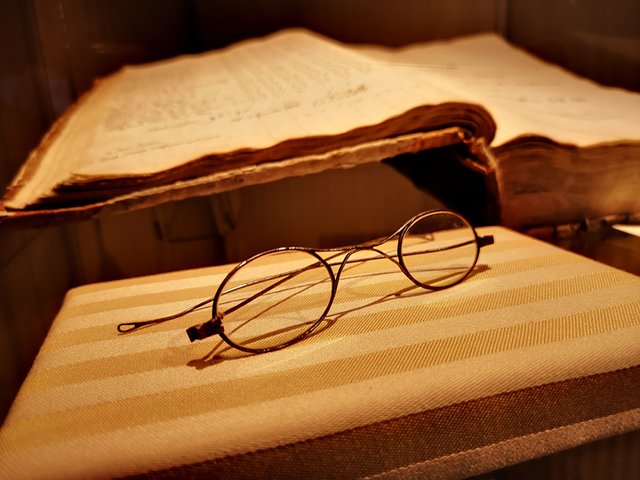 Haus der Musik - Wien
Persönliche Gegenstände, Bilder, Informationstafeln, Instrumente, Zeitdokumente und kostbare Originale ermöglichen einen Zugang zu den Meistern der klassischen Musik. Audioguides liefern zusätzlich historisches Hintergrundwissen. Natürlich kann man sich bei Hörstationen auch dem Genuss beschwingter Quartette, gefühlvoller Sonaten oder eindrucksvoller Symphonien hingeben.
Personal objects, pictures, information boards, instruments, contemporary documents and precious originals provide access to the masters of classical music. Audio guides offer historical background knowledge in addition. Of course, at listening stations you can also enjoy lively quartets, soulful sonatas or impressive symphonies.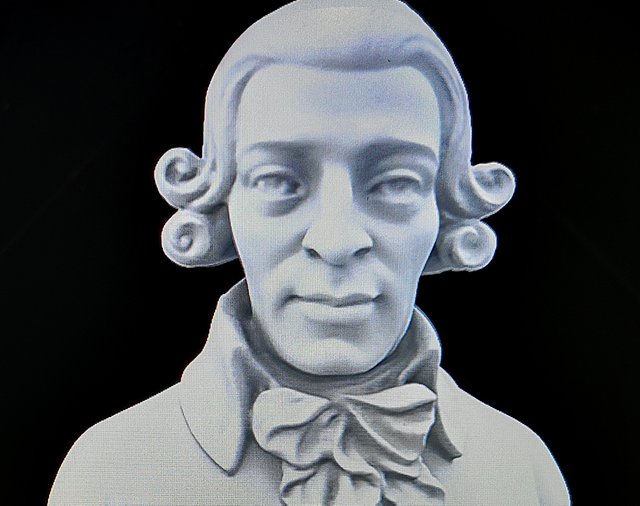 Joseph Haydn (Haus der Musik - Wien)
Frei im Raum schwebend, in Form von Hologrammen, begrüßen die Komponisten die Besucher. Das Werk von Joseph Haydn leitet die musikalische Epoche der Wiener Klassik (1770-1830) ein. Es war eine Zeit, die von den Idealen und Vorstellungen der Aufklärung und der Französischen Revolution geprägt war. Die Residenzstadt Wien entwickelte sich zum kulturellen Zentrum Europas. Die Fürstenhöfe, die Kunst und Musik stark förderten, zogen zahlreiche Musiker an. Alle Hauptvertreter der Wiener Klassik wurden außerhalb von Wien geboren.
Floating freely in space, in the form of holograms, the composers welcome the visitors. The work of Joseph Haydn introduces the musical epoch of the Viennese Classicism (1770-1830). It was a time marked by the ideals and ideas of the Enlightenment and the French Revolution. The imperial residence city of Vienna developed into a cultural center of Europe. The princely courts, which strongly promoted art and music, attracted numerous musicians. All the main representatives of Viennese classical music were born outside Vienna.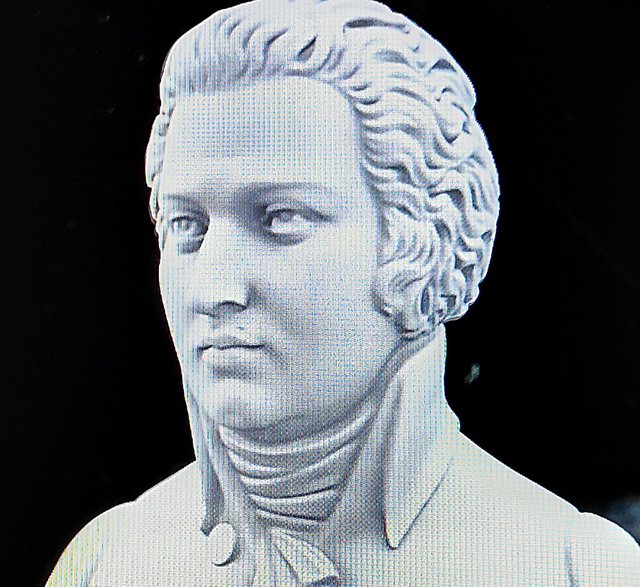 Wolfgang Amadeus Mozart (Haus der Musik - Wien)
Wolfgang Amadeus Mozart kam 1756 in Salzburg zur Welt. Bereits im Alter von sechs Jahren begeisterte er mit seinem Klavierspiel Kaiserin Maria Theresia im Schloss Schönbrunn in Wien. Konzertreisen quer durch Europa prägten seine Jugendjahre. Mit 25 Jahren ließ er sich in Wien nieder, in jener Stadt, die zur letzten Station in seinem kurzen Leben werden sollte.
Wolfgang Amadeus Mozart was born in Salzburg in 1756. Already at the age of six he inspired Empress Maria Theresia with his piano playing at Schönbrunn Palace in Vienna. Concert tours throughout Europe shaped his youth. At the age of 25 he settled in Vienna, the city that was to become the last stop in his short life.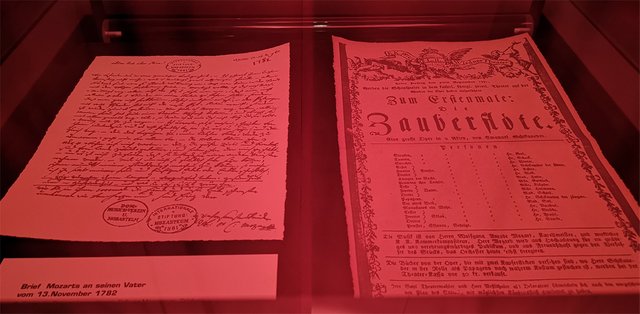 Haus der Musik - Wien
Nahezu die Hälfte seines Gesamtwerkes schuf Mozart in seinen letzten zehn Lebensjahren in Wien. Neben zahlreichen Orchester-, Klavier-, Kirchen- und Kammermusikwerken entstanden in dieser Zeit auch mehrere Opern, darunter "Le nozze di Figaro", "Don Giovanni" und "Così fan tutte". Die "Zauberflöte" schuf Mozart in seinem Todesjahr 1791. Sein letztes Auftragswerk, das "Requiem" hinterließ er unvollendet. Mozart starb im Alter von 35 Jahren. Das vorzeitige Ableben gibt auch heute noch Anlass zu Spekulationen. Einen Beitrag über die Vermarktung des einstigen "Wunderkindes" kann
hier
nachgelesen werden.
Nearly half of Mozart's complete works were created in Vienna during the last ten years of his life. In addition to numerous orchestral, piano, church and chamber music works, several operas were written during this time, including "Le nozze di Figaro", "Don Giovanni" and "Così fan tutte". Mozart created the "Magic Flute" in 1791, the year of his death, and left his last commissioned work, the "Requiem" unfinished. Mozart died at the age of 35. The premature death still gives rise to speculation today. A post about the marketing of the former "Wunderkind" (child prodigy) can be read
here
.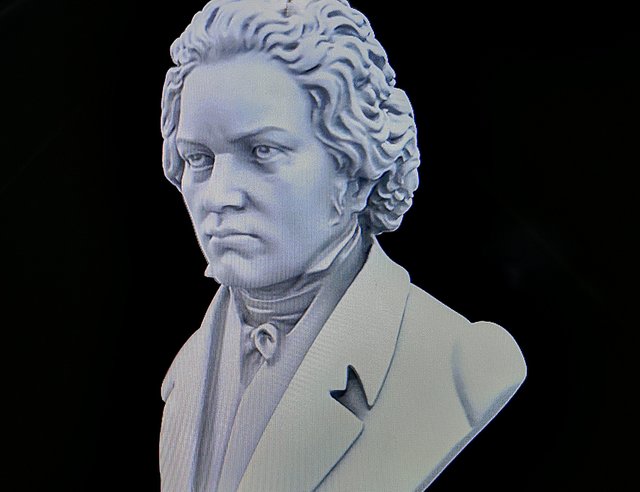 Ludwig van Beethoven (Haus der Musik - Wien)
Ludwig van Beethoven (1770-1827) wurde in Bonn geboren. Mit 24 Jahren kam er nach Wien, wo er auch bis zu seinem Tod lebte. Obwohl er unter einem schweren Gehörleiden litt, das schließlich zur völligen Taubheit führte, komponierte er an die 250 Werke, darunter viele Klavierkonzerte, Streichquartette, Klaviersonaten und neun Sinfonien. "Fidelio", seine einzige Oper, wurde 1805 uraufgeführt.
Ludwig van Beethoven (1770-1827) was born in Bonn. At the age of 24 he came to Vienna, where he lived until his death. Although he suffered from severe hearing loss, which eventually led to complete deafness, he composed about 250 works, including many piano concertos, string quartets, piano sonatas and nine symphonies. "Fidelio", his only opera, was premiered in 1805.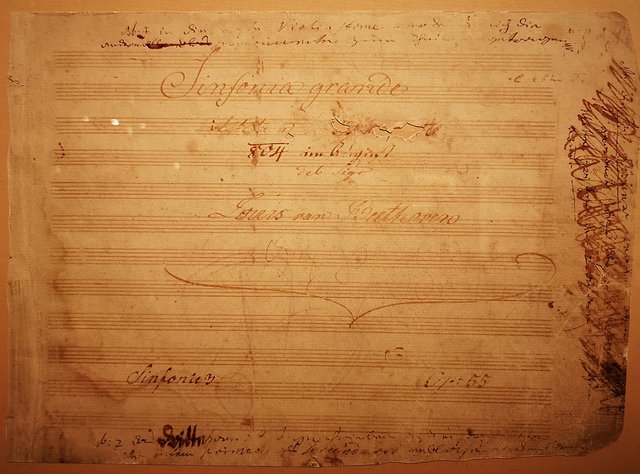 Symphonie Nr. 3 (Eroica), (Haus der Musik - Wien
Die im Jahr 1803 entstandene 3. Symphonie in Es-Dur, op. 55, auch Eroica genannt, widmete Beethoven ursprünglich Napoléon Bonaparte. Als sich dieser ein Jahr später selbst zum Kaiser der Franzosen krönte, soll Beethoven aus Verärgerung darüber das Titelblatt der Partitur zerrissen und das Werk einem seiner Förderer gewidmet haben.
Beethoven composed the Symphony No. 3 in E-flat major, op. 55 (Eroica) in 1803 and originally dedicated it to Napoléon Bonaparte. One year later, when Napoléon crowned himself Emperor of the French, Beethoven is said to have torn the title page of the score and dedicated the work to one of his patrons.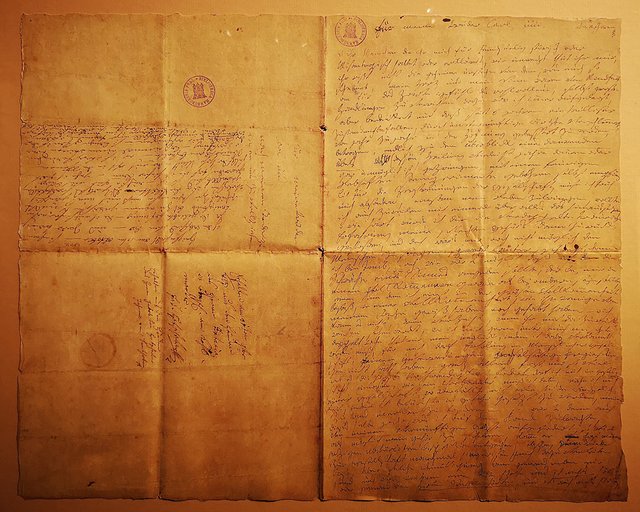 Heiligenstädter Testament (Haus der Musik - Wien)
Beethoven war erst 32 Jahre alt, als er das "Heiligenstädter Testament" verfasste. Zu jener Zeit erreichte die Depression wegen seines rasch fortschreitenden Gehörverlustes einen ersten Tiefpunkt. Es scheint, als ob sich Beethoven seine Qualen buchstäblich von der Seele geschrieben hätte, denn nach der Niederschrift trat er mit neuem Elan in eine fruchtbare Schaffensperiode ein.
Beethoven was 32 years old when he wrote the "Heiligenstädter Testament". At that time the depression of the composer reached its first low point because of his rapidly progressing hearing loss. It seems as if Beethoven had literally written his agonies from his soul, for after the writing he entered a fruitful creative period with renewed vigour.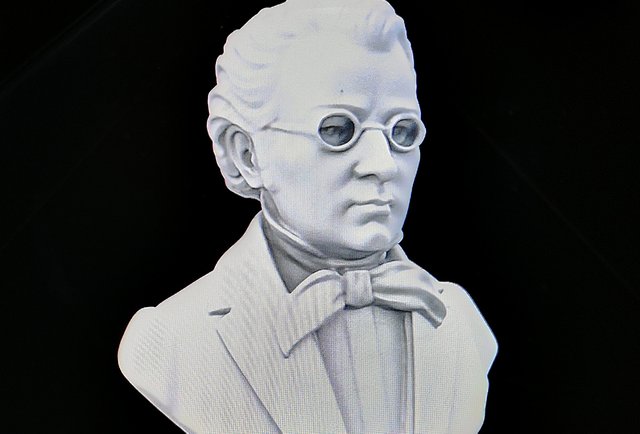 Franz Schubert (Haus der Musik - Wien)
Wie bereits weiter oben erwähnt, wird in der 3. Etage des Klangmuseums noch weiteren großen Komponisten Platz eingeräumt: Franz Schubert, Johann Strauss (Sohn), Gustav Mahler, Arnold Schönberg, Alban Berg und Anton von Webern.
As mentioned above, on the 3rd floor of the Sound Museum there are exhibition rooms for further great composers: Franz Schubert, Johann Strauss II, Gustav Mahler, Arnold Schönberg, Alban Berg and Anton von Webern.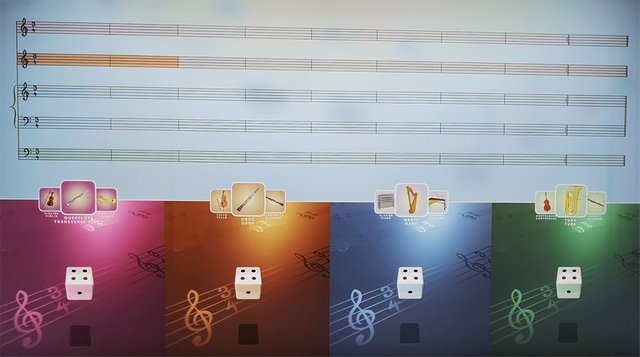 Walzer-Würfel-Spiel / Waltz Dice Game (Haus der Musik - Wien)
Zahlreiche interaktive Stationen, die über das ganze Museum verteilt sind, laden zum Mitmachen ein. Beim Walzer-Würfel-Spiel können die Besucher ihren eigenen Walzer würfeln. Jeder Zahl des Würfels sind zwei Takte zugeordnet. Takt für Takt entsteht auf diese Weise eine einzigartige Walzer-Partitur, die als vierstimmige Komposition erklingt. NAMADEUS ist ein interaktives Computerprogramm, das Mozarts musikalischem Spiel KV 516f nachempfunden wurde. Hier kann der eigene Name eingegeben werden, der in eine originale Mozart Interpretation umgewandelt wird.
Numerous interactive stations throughout the museum invite visitors to join in. In the waltz-dice game, visitors can dice their own waltz. Two beats are assigned to each number of the dice. In this way, bar after bar, a unique waltz score is created, which sounds as a four-part composition. NAMADEUS is an interactive computer program based on Mozart's KV 516f musical game. Here you can enter your own name, which will be converted into an original Mozart interpretation.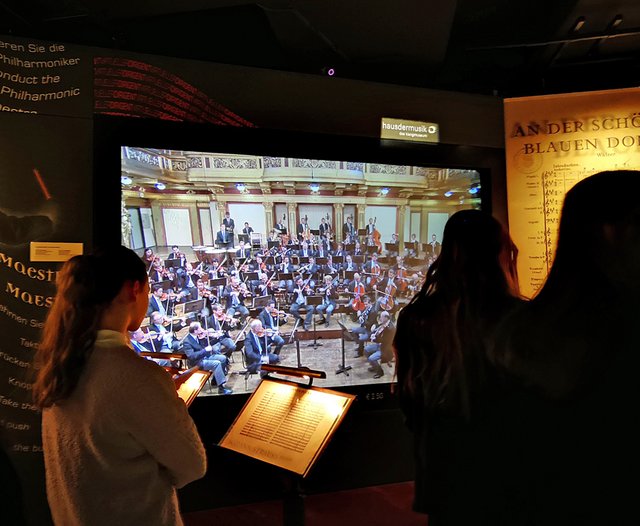 Haus der Musik - Wien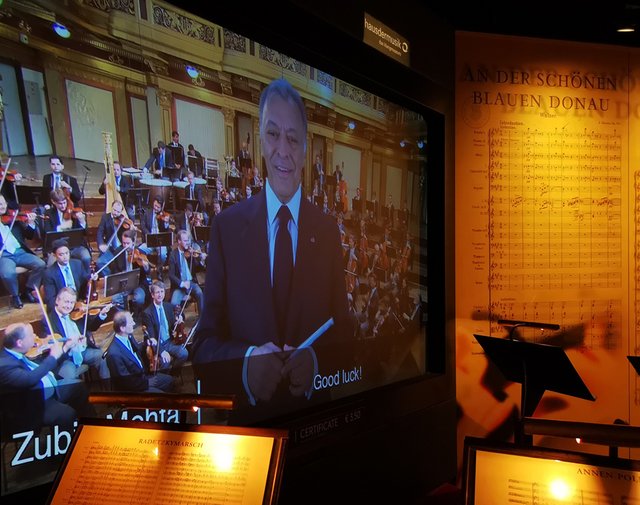 Haus der Musik - Wien
Ein Publikumsmagnet ist der Virtuelle Dirigent, bei dem die Besucher den Ton angeben. Dabei folgt das Orchester der Wiener Symphoniker den Bewegungen des Taktstockes, wobei es auf das richtige Tempo und gutes Rhythmusgefühl ankommt. Aber Achtung: Falsches Taktempfinden wird von den Musikern lautstark mit Kritik quittiert. Es stehen mehrere Musikstücke zur Auswahl, darunter auch der weltberühmte Donauwalzer von Johann Strauß.
One attraction is the Virtual Conductor, where visitors set the tone. The Vienna Symphony Orchestra follows the movements of the baton, whereby the right tempo and good sense of rhythm are important. But beware: the musicians loudly criticize a lack of sense of rhythm. There are several pieces of music to choose from, including the world-famous Danube Waltz by Johann Strauss.
---
Den Klängen auf der Spur (Teil 1) / Tracking down the sounds (Part 1)
Haus der Musik
Seilerstätte 30, 1010 Wien
Webseite / website