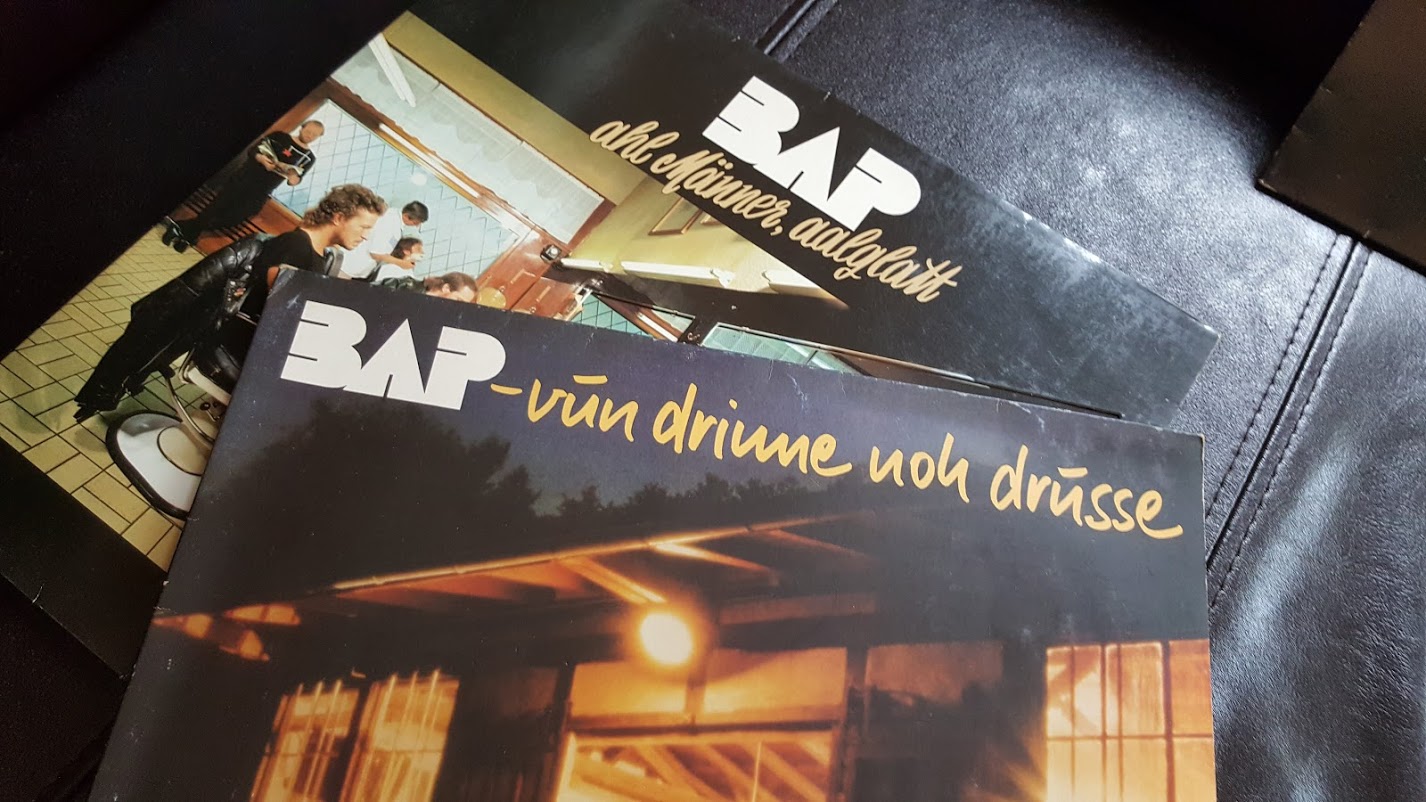 Rock auf Kölsch
Hallo Steemians - es geht weniger um Rock Musik unter Einfluß eines alkoholhaltigen Getränkes - nein der Header bezieht sich auf die Herkunft einer Mega Band, die ich 3 mal live sehen durfte und die mich auch durch die Pubertät musikalisch begleitet haben.
Ich lernte die hier vorgestellte Gruppe durch die Begeisterung meiner Cousine aus Bonn kennen, die damals schon fast eine Art Groupie von BAP war. Zu der Zeit hab ich einige Zeit in der damaligen Hauptstadt der BRD verbracht und den Sound von BAP lieben gelernt - auch wenn ich von den Texten quasi nix verstanden habe.
Hier eine Vorstellung mit Stücken diverser Platten aus den 80ern - u.a.:
Für usszeschnigge!
Vun drinne noh drusse
Ahl Männer, aalglatt
Nachdem ich die Spliff Platte kürzlich im Keller entdeckte habe, war ich auch in der Lage ein paar verstaubte BAP Vinyls wieder zu finden, und diese gar mit herrlichen Hintergrund (unser braunes Sofa) visuell attraktiv aufzubereiten, wie ihr im Einstiegsfoto oben sehen konntet.
Also, ich fasse mich kurz und lasse Musik sprechen - haha - BAP gibt es seit 1976 gegründet als Kölschrockband von Frontmann Wolfgang Niedecken, der immer noch singt und die Band lenkt. BAP ist eine der erfolgreichsten deutschsprachigen Rockbands. Alleine die Chart Positionen sind überzeugend: Von den 23 BAP-Alben erreichten 19 die Top 10, elf wurden Nummer 1 der deutschen Album-Charts.
Bis 1982 trat die Band unter dem Namen Wolfgang Niedecken's BAP auf, danach bis 2014 als BAP. Nach dem Ausstieg der Bandmitglieder Jürgen Zöller und Helmut Krumminga gab Niedecken im September 2014 bekannt, zukünftig in wechselnden Formationen unter der Bezeichnung Niedeckens BAP aufzutreten.
Cologne Rock Idols - BAP
BAP - which means Dad in Cologne - are a part of my youth. I learned about the band when I was 12 years old during a stay with my cousins in Bonn (former capital of Germany, near Cologne). One of my cousins was an avid supporter of the Band that wrote lyrics hardly anyone outside the region can understand. I did not get all the lyrics but I loved the sound so here comes one of top rock acts of Germany in history.
About the Band
Wikipedia tells you more about the band my Non-German speaking friends - even my German friends might be interested as the German language in Cologne sounds different.
BAP s a German rock group from Cologne. With eleven albums reaching the number one in the German record charts, BAP is one of the most successful rock acts in their home country.
Nearly all of BAP's lyrics are written in Kölsch, the dialect of Cologne, or more precisely in a Kölsch-influenced derivation of Eifelplatt, a regional variant of the Ripuarian language spoken in the nearby rural Eifel. Wolfgang Niedecken is the band leader and singer and was most prominent musical influenced especially early in his career, by Bob Dylan, the Kinks, Bruce Springsteen, the Rolling Stones, and Wolfgang Ambros.
Sources: my youth, my cousin, my cellar, Wikipedia