I met Lenny Dee about 24 years ago on a flight from Pittsburgh to Milwaukee. We were going to play at Drop Bass Network's "Genesis" party. I told Lenny it was the first time I'd ever been flown to play at a rave, and I remember him telling me, "And you know the best thing about it? After that, it never stops." Decades later, I've chalked that up as yet another example of Lenny's ability to glimpse into the future. I'm still flying to play raves in Milwaukee, and we're all celebrating a quarter century of Industrial Strength Record's commitment to hard electronic dance music.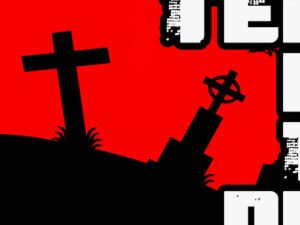 ISR25 No Tears For The Dead
The funny thing about it though, is that to me, it still feels like a beginning. When Lenny started Industrial Strength back in 1991, it was ahead of its time, and even today, with the release of this 64 track monster compilation, ISR is still introducing the world to new talent at a frenetic clip. "No Tears For The Dead" pretty much sums up the last 25 years because there hasn't been time to even pause for much reflection as maximal effort has always been needed to push forward and simply survive.
So, other labels would generally repackage their "hits" after 25 years, but the closest we get to that here is the latest and greatest darlings of the hardcore techno world re-mixing classic tunes. For example, The Sickest Squad remixed "Extreme Terror" and Outside Agency got to remix "Fucking Hostile."
I'm reminded of a conversation I butted into at the 1994 Winter Music Conference. I overheard a few people remarking about Lenny and his label, marveling about how he could release such hard music. I told them that Lenny was ahead of his time and that one day they would understand what he did… that almost everyone else at the conference was recycling the same stuff and Lenny was a visionary. And you know, my feeling about that hasn't changed two and a half decades later, and this compilation just pushes the vision and sound even further into the future.
For those of us bound to the sound of the hard electronic, there is still no time for tears. There is still so much work to be done for the future. There might be a few great, shiny compilations of repackaged hits cobbled together by the big festivals this year, but I doubt if any of them will match the intensity and cohesive vision of Industrial Strength Record's No Tears for the Dead.