Last weekend I finally found time to check out Amelie Lens. Loveland hosted the infamous Italian Circo Loco guys who run a very successful night in DC10 during the party season on Ibiza. Circo Loco I consider the best concept at Ibiza, already for years. These Italian guys understand quality, and therefore stand out. I'm not sure who decided to book Amelie at Loveland, I suppose this is a collaboration between the Loveland and Circo Loco crew. Amelie was programmed in the basement of the Mediahaven Amsterdam venue.
Recently, she shows up in many upcoming and hot DJ lists, maybe because she is good looking? But I realised about an half an hour into her set: She is GOOD! Her style is on the harder side of the techno spectrum; Maybe that helps. But as I said, it is for sure not only her looks, and her techno style; She spins quality records, knows how to mix and most importantly, knows how to create an interesting and dynamic set resulting in a great vibe! From all the artists I heard at Amsterdam Dance Event last week, Amelie's set belongs to the best!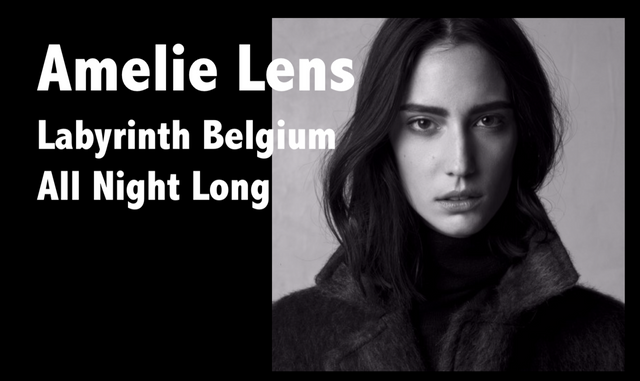 I think we will hear a lot of Amelie in the future. This Belgium DJ and producer released already at Adam Beyer's well respected Drumcode label (DC178) and is frequently booked at maybe the most successful Techno events of the world, Awakenings.
Her most recent recording on Soundcloud I share with you today, an all nighter at Labyrinth club in Hasselt, Belgium; more than 8 hours listening pleasure. At 1 hour and 3 minutes in the second part you can find one of my most favourite Techno tracks "ONYX" by Heiko Laux!
Artist: Amelie Lens
Set: All Night Long | Labyrinth Club
Year: 2017
NJOY

Amelie Lens - All Night Long | Labyrinth Club | part 1 (2017)

Amelie Lens - All Night Long | Labyrinth Club | part 2 (2017)
Music
Spotify
Beatport
Soundcloud
YouTube
Discography
Gigs
Artist

media sources [1][2]
brought to you by @qsounds