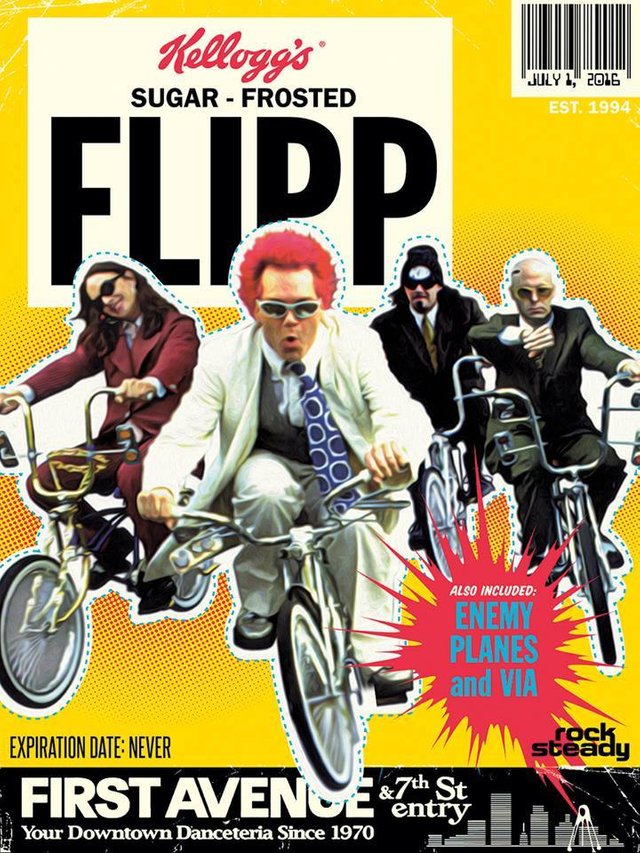 Flipp is a glam-rock band started in the mid-90s (you read that right), had a fairly successful run for a handful of years but finally petered out in 2003. I was never too aware of them when they were originally active, aside from really digging their song "Hairdo" on a radio station's compilation album. Years later I did some tech work for one of the band members, who casually mentioned to me: "Oh yeah I used to be in this band called Flipp." It took my brain a couple seconds, but the song Hairdo came to my mind and I was taken back to rocking out to that song.
Flipp were known for bizzare stage personas and show antics including dumping a crapload of Kaboom! cereal over the crowd from a helicopter at an outdoor rock festival. They'd also play garage shows for contest winners.
Not the best recording but here's a taste of the song I dug played for a lucky winner of a garage show contest

Some years later, about a month ago, I saw the poster for their reunion! Fuck yeah. Last Friday, July 1st was the show, and I was very happy to make it. After a couple openers, Flipp took the stage in grand fashion. Brynn Arens, the lead singer and guitarist has been in bands since but for some of these guys they picked the rockstar stage persona back up like it was riding a bike. Also on stage were Chia Karaoke (Brynn's brother), Kilo Bale, Cherry Forever, and some guy whose name I don't remember that wasn't part of the original band.

Chia Karaoke
The crowd was excited and there were many old school fans there to rock with Flipp again. They kicked off their set strong and got the crowd going. Between songs Chia took a out a box of cereal that was printed like the poster and started chomping on it like an animal, then started throwing it out to the crowd. Then out of a big picnic basket started throwing mini-size boxes of it into the crowd. Like a good 90s show some in the crowd started moshing, and barely slowed down when they played a slower kinda-emo song. During Hairdo they busted into some small covers of rock songs, which you get a sense of in the video above. Brynn invited a couple fans from the crowd up on stage, strapped his guitar on them, and had them do rock jumps which was really funny.

Brynn Arens, from Scott Jungmann
Their whole set lasted over two hours and they put their everything into it. I found myself wanting more, even after their encore. I might just get my wish, they say this might not be a one-and-done show.

Setlist, thanks to Kyle Hansen

left to right: original band members Cherry Forever, Kilo Bale, Brynn Arens, Chia Karaoke, and that other guy
from the Flipp facebook page