One of my longtime hobbies has been playing the electric guitar, exactly for 12 years, I love to play Rock/Metal and in this article I'll use my experiences to give you a good overall advice in that crucial moment of buying your first electric guitar!
Uno de mis hobbies desde hace muchos años ha sido el tocar la guitarra, exactamente 12 años, me gusta tocar más que todo Rock/Metal y en este articulo usare mi experiencia para darles unos cuantos consejos en ese momento tan crucial como lo es comprar tu primera guitarra electrica! .
---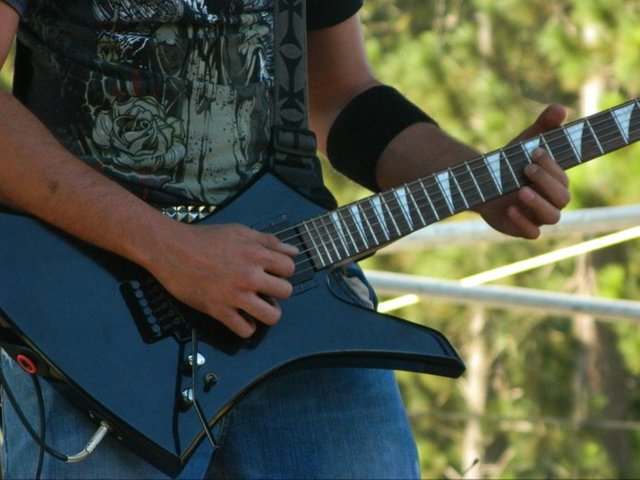 ---
Parts of a guitar?/ Partes de una Guitarra?
---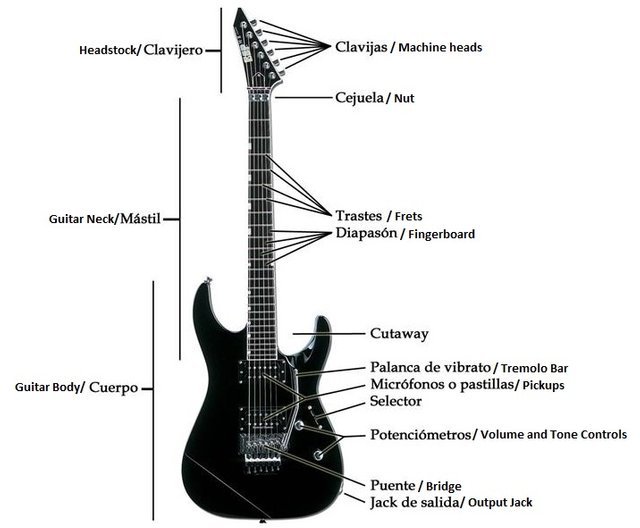 ---
Headstock
Its main function is to hold the Machine Heads and have a proper design to maintain the string tension once the tuning its done.
Machine Heads
There are six of them or at least one of them for each string and its main function is to rotate in its own axis in order to lower/raise the tension of the string in order to tune them.
Guitar Neck
A fundamental part of the instrument where the fretboards and the fingerboard. Also, it has the responsibility of holding all the tension of the strings.
Fretboard
Small metal parts that are across the guitar neck where the guitar strings rest once pressed by the musician in order to change its relative length to vary the notes created when the strings vibrate.
Pickups
As its name says, it pickups the vibration of the strings and transform it into an electric signal.
Selector
With this part, we can select which one of the pickups it is working.
Bridge
Part of the instrument where the strings are tightened near the base of the body to then being set on the headstock machine heads.
Output Jack
Place where we connect the guitar cable that transfers the electric signal that comes out of the pickups to transfer it to the guitar amplifier.
---
Clavijero.
Su función principal es alojar las clavijas y tener un diseño adecuado para mantener la tensión de las cuerdas.
Clavijas.
Existen seis clavijas, una por cada cuerda de la guitarra, y su función principal es rotar para disminuir/aumentar la tensión de las mismas para poder afinarlas.
Mástil.
Parte fundamental de la guitarra en donde se encuentran los trastes y el diapasón de la guitarra.
Trastes.
Pequeñas tiras de metal en las cuales se apoyan las cuerdas al ser presionadas por el guitarrista, para de esta forma cambiar la longitud relativa al puente del instrumento y varias las notas creadas por la vibración de las cuerdas.
Micrófonos.
Se encargan de recoger la vibración de las cuerdas y convertirlas en una señal eléctrica.
Selector.
Con el mismo seleccionamos cual de los micrófonos se encuentra en funcionamiento.
Puente.
Parte del instrumento en donde se sujetan las cuerdas para luego ser enrolladas en las clavijas.
Jack.
En el mismo se conecta el cable que transmite la señal eléctrica recogida por los micrófonos de la guitarra.
First Advice / Primer Consejo
My first advice it is that the most important thing to know when buying your first electric guitar is knowing which music genre attracts you the most because you need to buy an instrument that suits better the style you would develop once you start learning how to play the guitar.
And I know some seasoned guitar players will read this and think: Wait! There are many versatile models that suit many styles, then why you say so??
Ahora bien, como primer consejo considero que lo más importante para comprar tu primera guitarra es saber por cual genero musical te sientes más atraído para tocar, ya que deberás comprar un instrumento que se acople al estilo que más tocaras en el futuro.
Y ya se que algun musico leerá esto y pensara: oye pero sí existen muchos modelos muy versátiles que se adaptan a varios estilos, por qué dices esto??.
---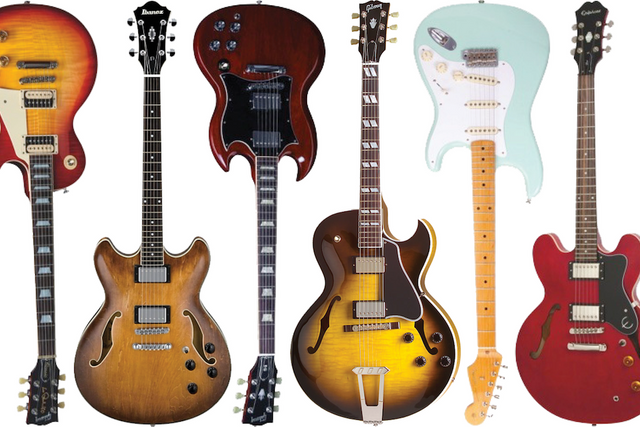 ---
Because that is the whole point! What we must avoid is to buy a guitar developed to suit only one style that won't serve you in the future, for example if we love funk or jazz we should never buy a guitar designed to play metal just because it looks cool, because at the end we would have to change it and the expense would be the double at the end.
The best choice is to buy a versatile guitar with simple features that suit a great variety of styles, like a Standard Fender Stratocaster or a Gibson Les Paul Studio.
Y ese es todo el punto! Lo que hay que evitar es comprar una guitarra que se encuentre muy enfocada en un estilo musical que no sea de tú agrado por desconocimiento, por ejemplo, sí nos encanta el funk o el Jazz jamás deberíamos de comprar una guitarra orientada al Metal porque al final tendriamos que cambiarla y sería doble el gasto.
Lo mejor es comprar una guitarra versátil con características sencillas que se acoplen a una gran variedad de estilos, por ejemplo una guitarra modelo Stratocaster o una guitarra modelo Les Paul.
---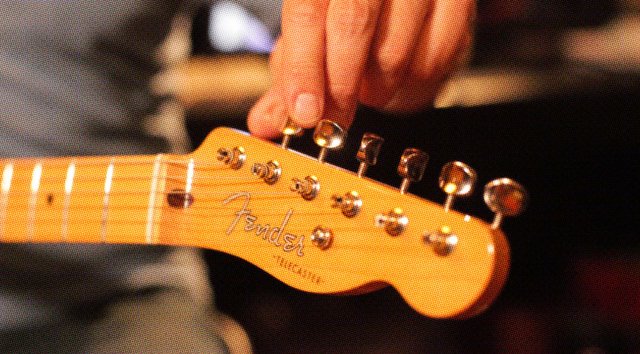 ---
Buy the Best Guitar you can afford! / Compra la mejor guitarra que puedas!
Another very important factor is how much money you have to buy the guitar because there are a lot of instruments to choose from the beginners range but I truly believe that one must always buy the best guitar you can afford, because as you get better at playing the guitar you will reach a point where you will have an instrument that instead of facilitating the execution of the techniques you learn you will realize thousands of details in the design of the instrument that will slow down your progress.
Otro factor super importante es que cantidad de dinero dispones para comprar la guitarra ya que a pesar de que existen una gran cantidad de instrumentos en la gama de principiantes considero que lo mejor es comprar siempre lo mejor de acuerdo a cuánto puedes gastar ya que, a medida que vayamos avanzando llegarás a un punto que tendrás un instrumento que en vez de facilitarte la ejecución de ciertas técnicas, harán un infierno la curva de aprendizaje porque a medidas que vayas mejorando te darás cuenta de miles de detalles en el diseño de la guitarra que entorpeceran tu avance como guitarrista.
---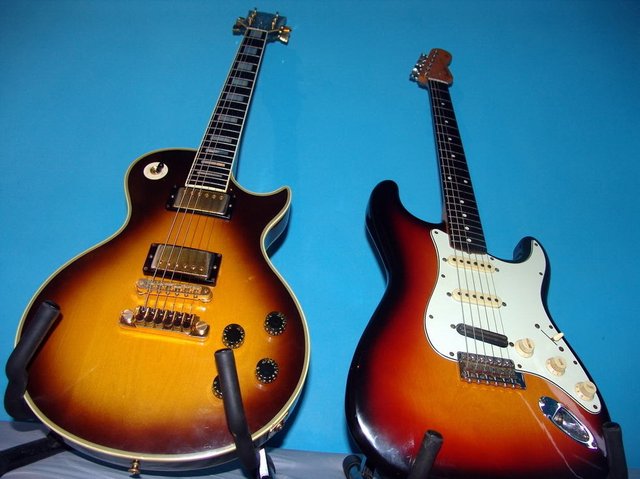 ---
Let me explain this better with a simple example, the tuning of the guitar, at first your ear will not be trained and you will need the help of a tuner or another experienced musician to tune your guitar, after tuning the guitar you can play it for a good time before you realize that it is out of tune again but after you start to develop your ear it will be impossible to play the instrument if it is not properly tuned and you will find yourself fighting constantly against this situation. And this reason is why we should, at least, buy a guitar that stays tuned.
Permítanme explicarles esto un poco más con un simple ejemplo, la afinación, al principio tú oído estará poco entrenado y necesitarás la ayuda de un afinador eléctrico o de otro músico experimentado para afinar tu guitarra, luego de ser asistido para afinarla podrás tocarla por un buen tiempo antes de darte cuenta que está desafinada nuevamente pero al desarrollar un poco más tu oído te será imposible tocar el instrumento si no está afinado apropiadamente y lucharás constantemente contra la desafinación de tu instrumento, lo cual te restará tiempo de práctica ya que perderás mucho tiempo afinando la guitarra cada vez que pierda su afinación.
Y esto es solo un ejemplo del por que deberiamos de comprar la mejor guitarra posible al principio, o al menos una que cumpla con la funcion de mantenerse afinada.
---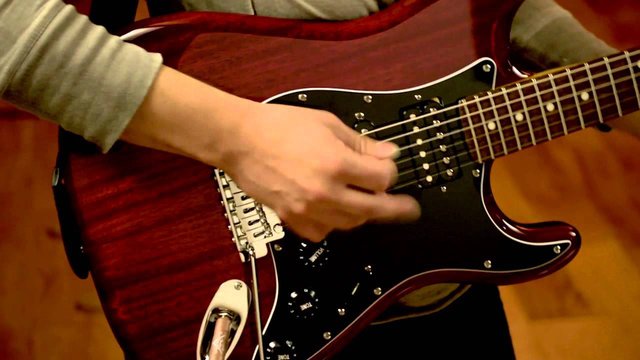 ---
Final Recommendation/ Recomendación final.
I will give you a tip that would have helped me a lot when I bought my first guitar:
DO NOT BUY AS A FIRST GUITAR ONE THAT HAS THE FLOYD ROSE BRIDGE SYSTEM !!!
Why do I tell you this ?? This system, despite being one of the best when it comes to the freedom at he time of execution because it allows drastically change the tuning when manipulating the tremolo bar, it really is one of the most complicated when it comes to fine-tune the instrument because the tension the strings depends on the balance of a system of springs that counter-tension the strings at the back of the bridge. Therefore you can imagine the great difficulty of having to tune a guitar with this type of bridge for a beginner musician, because it adds the difficulty of training the ear to the different notes of the six string to also learn the manipulation of this complicated mechanism.
That is the reason why I recommend buying a guitar with a fixed bridge that has no moving parts and in the case that your desired style requires a floating bridge, buy a guitar with a semi-floating system like the one that comes on a Stratocaster guitar, which is much more stable than the Floyd Rose as it only allows the movement on one direction.
---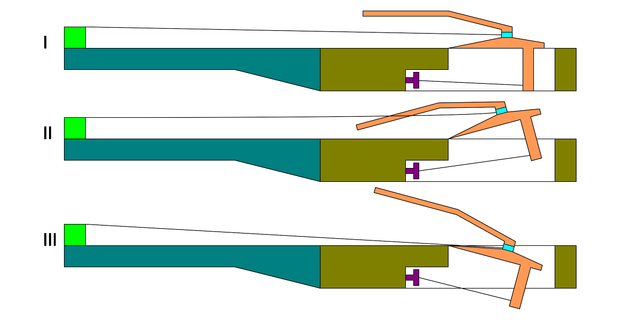 Sistema Floyd Rose / Floyd Rose System
---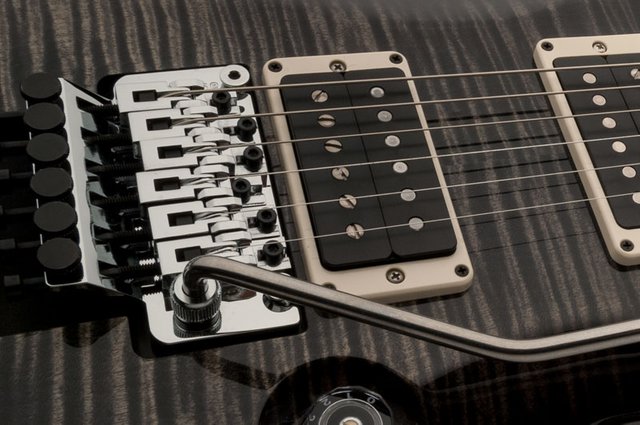 Puente Floyd Rose / Floyd Rose Bridge
---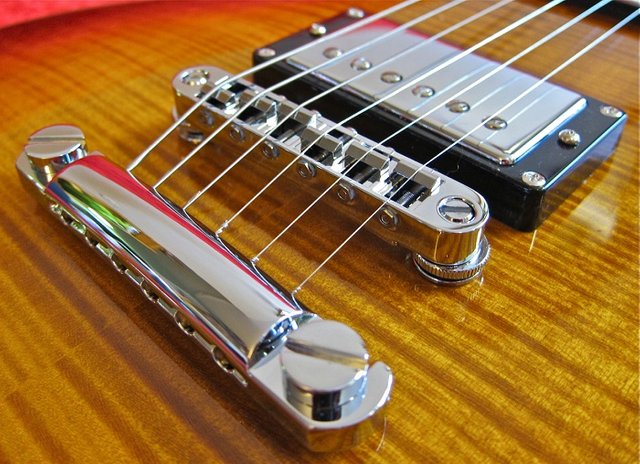 Puente Fijo Tune O Matic / Tune o Matic Fixed Bridge
---
Como última recomendación les daré un tip que me hubiera ayudado muchísimo cuando compre mi primera guitarra y es el siguiente: .
NO COMPREN COMO PRIMERA GUITARRA UNA QUE TENGA EL SISTEMA DE PUENTE FLOYD ROSE!!!
Por qué les digo esto?? Este sistema a pesar de ser uno de los que da más libertad a la hora de ejecución del instrumento ya que permite cambiar drásticamente la afinación de la misma al manipular una palanca sujeta al puente de la guitarra, es realmente uno de los más complicados a la hora de afinar ya que la tensión de cada una de las cuerdas depende del equilibrio en la tensión total de ellas en conjunto con un sistema de resortes que hacen contra tensión en la parte de atras del puente flotante.
Se podrán imaginar la gran dificultad de afinar un instrumento con este tipo de puente para un músico principiante, ya que se añade a la dificultad de entrenar el oído a las distintas notas de las seis cuerda al de también aprender a manipular este complicado mecanismo para llegar a la afinación perfecta.
Es por ello que les recomiendo comprar una guitarra con puente fijo sin piezas movibles y en el caso de que el estilo al cual quieren llegar requiera un puente flotante, comprar una guitarra con un sistema semi flotante como el que viene en las guitarras Stratocaster, que permite solo la acción hacia los graves y es mucho más estable que los floyd rose.
---
---
Conclusion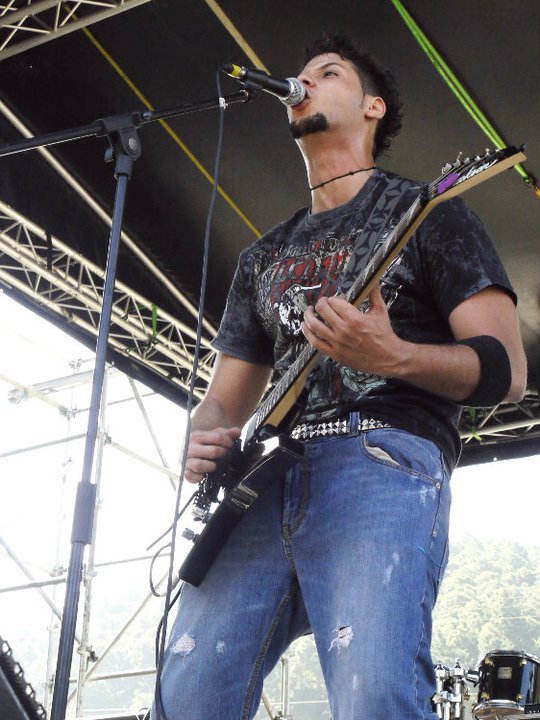 ---
I would like to close this post saying that I wanted to do it as short as possible since it is a topic i could talk much more in depth but I feel that if we focus on these small aspects mentioned in the article you guys will be able to choose your first electric guitar easily.
Please I would also like you to read your concerns and questions in the comments in order to give you a more personalized advice, or if you already have an electric guitar please let us know the reasons why you bought it!
Thank you very much for reading this post and do not forget to leave your comments below! !!
Conclusión
Finalmente quisiera cerrar este post diciendo que quise hacerlo lo más breve posible ya que es un tema que da para demasiado pero siento que sí nos enfocamos en estos pequeños aspectos mencionados en el artículo podrán elegir más fácilmente su primer guitarra eléctrica.
También me gustaría que dejaran en los comentarios sus inquietudes y preguntas sí van a comprar su primer guitarra y desean un consejo más personalizado, o si simplemente ya posee una guitarra eléctrica y desean hablar de ella y el por que la eligieron en su momento!
Muchas gracias por pasar por aca y no olvides dejar tus comentarios más abajo!!
---