Amiga Mía | Alejandro Sanz || Karen Manrique [Cover Violín🎻]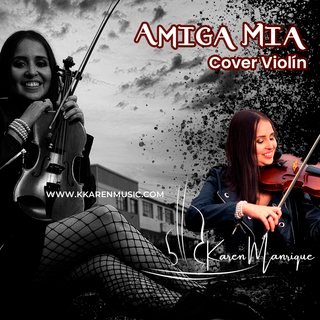 Quiero compartir contigo este audio de Alejandro Sanz, a pesar de ser una canción vieja sigue siendo icono de este gran artista.
"Amiga mía" está inspirada en una amiga muy cercana al artista, y no, él no estaba enamorado de ella, sino que ella estaba enamorada de otro amigo suyo. Fue lanzada en el año 1997 y es del género pop.
Este audio es un pedido especial, asi que si quieres escuchar alguno en especial; no dudes de comunicarte conmigo en mi canal de Discord kkarenmp#0234 👾

I want to share with you this audio of Alejandro Sanz, despite being an old song, it is still an icon of this great artist.
"My friend" is inspired by a very close friend of the artist, and no, he was not in love with her, but she was in love with another friend of hers. It was released in 1997 and is of the pop genre.
This audio is a special request, so if you want to listen to something in particular; feel free to contact me on my Discord channel kkarenmp#0234 👾

Aquí está el enlace de YouTube / Here is a YouTube link: