Good day to everyone on steemit!
Have to apologize again for the lack of continuity but there's little I can do about it at the moment. I can just hope that things will settle down during this month and the next.
Today I wanted to continue with my DREXCIYAN LEGACY posts by starting more or less with the beggining.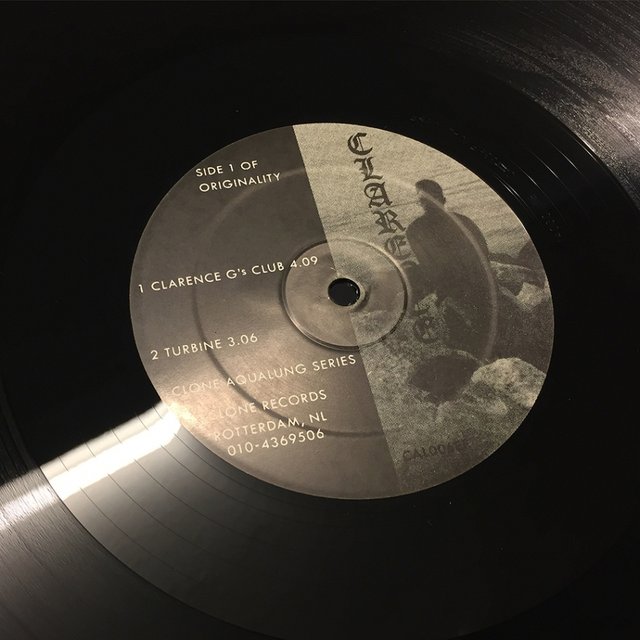 The first production by James Marcel Stinson to be released was the 12" EP 'Hyperspace Sound Lab' which came out under the name Clarence G in 1991 on Fluorescent Forest Records.
In the 18 intervening years this has certainly become the big one as far as collectors are concerned, currently being sold on Discogs for 700 $ aprox and it's rumoured that it's been sold on Ebay years ago at 1000 $.
Personally if I ever came across it I would never pay anything like this. It might turn out to be a good investment in the long term and that might be part of the reasoning for someone willing to pay the big bucks but it's all about the music and that we thankfully have.
And of course not to mention that Clone repressed this and it's available por 10$ in online shops!
It's a shame that the price of the record is probably the first thing people talk about and I know I am doing the same but it's worth tackling that issue up front before getting to the far more interesting music it contains. I wonder how often a record said to be worth a 1000 $ gets played anyway?
So on that note let's leave all these boring financial details behind and get to the musical part.
Lot of rapping on this record. Althought a lot of people consider it a hip hop record I think it's really far from that. Sure, it has a "Rock it" and Bambaata vibe to it sometimes but that doesn't make it hip hop, it actually brings it closer to electro.
I think the one rapping is Stinson himself adding a bit more greatnes to his persona.
The rap itself is the classic clichéd boastful fantasy rapping about playing to an adoring audience, proving himself and even winning over the beautiful lady.
It's quite shocking listening to this to think that within a year he would be on a whole other trip with L.A.M. then quickly followed by a far deeper one with Drexciya.
The second track on this side is totally different.
Whatever equipment he is using for "Turbine" would surely be the same but how he is using it is very different.
The sounds used are all quite heavy and industrial sounding
Cause I said it Right is the first track on Side 2 of Originality. This is the second track with raps on the record. I enjoy these tracks quite a lot and definitely enjoy mixing them from time to time.
Back in the days when I used to have an afro
My Mom said go get a job you know
but I chill not ill just contemplate
That is why I'm not able to demonstrate
The final track, 'Data Transfer', is also superb no question, this is another glimpse of Stinson's future right here.
The track starts off with a long cymbal line and then jumps about with tons of interesting and unique sounds coming at you.
It drives along insistently throughout the beat with focus on the lines of synth and effects.
This EP is a total must have in any format as it marks the Genesis of an amazing career for this man and it's quite interesting to watch the whole evolution.
That is all for today dear underwater steemians. I hope that today's dive was as revigorating for you as it was for me .
See you soon and have a great year everybody!
Peace,love and respect